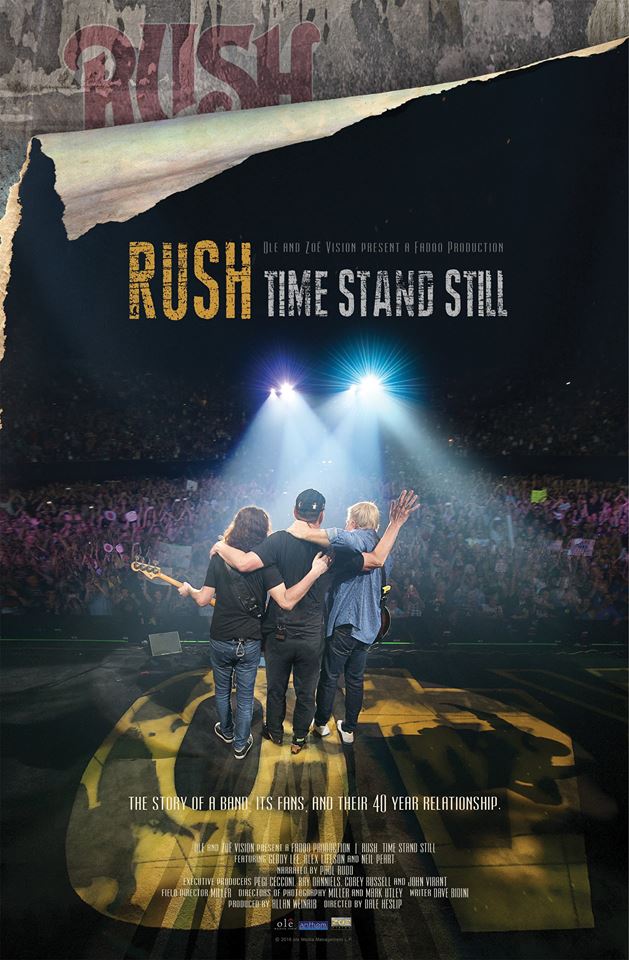 The Rush: Time Stand Still documentary has been out for over two months now, and several fans, critics and reviewers received the DVD/Blu-ray over the Holidays, spurring a second wave of reviews along with appearances on a number of year-end best-of lists over the last few weeks which you can check out in this post. This past weekend Annie Zaleski wrote this heartfelt review of the film for Salon.com which does a great job of summing up how many Rush fans felt after viewing the documentary:
... By the end of watching the film, I was growing teary along with all the fans in attendance at the final R40 show in Los Angeles. In fact, several of them were filmed visibly losing it as Rush ran through its breakthrough U.S. single, "Working Man," one last time. It might seem like an overly dramatic reaction to become misty-eyed when a rock band finishes a show, even if this is reportedly the act's last concert ever. A retreat from the spotlight, however, is as transformative as a death, and fans have every right to feel bereft at the end of experiencing Rush's music in a certain way. Going forward, the fan-band relationship will be irrevocably transformed. It's perhaps less communal and more individual, for instance, and intimate rather than grandiose and immersive. ... "Time Stand Still" illuminates the deeply personal relationship between Rush fans and the band but also takes great pains to convey that such a connection is stronger than any ending. That's a lesson 2016 taught music fans, over and over again. But it's also how people move forward: holding those experiences tight and treasuring the joy, beauty and solace they have provided.
The Rush Podcast is back after taking a break over the Holidays and their latest episode focuses solely on the documentary, where host Jay Mantis argues that the retirement alluded to in the film is a good thing for Rush fans in the long run. You can check out the podcast below or at this location. Trailers and clips from the documentary are available online at the Rush YouTube channel, and John over at Cygnus-X1.net has transcribed/scanned the artwork and liner notes and made them available online (liner notes, scans). You can order your copy of Rush: Time Stand Still on DVD or Blu-ray if you haven't already obtained one.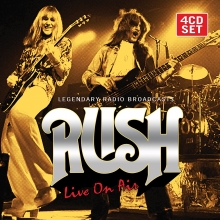 A compilation of four live recordings of Rush made for radio broadcasts between 1975 and 1980 titled Rush: Live On Air 1975-1980: Legendary Radio Broadcast was recently released in Europe and will be available as an import in North America next month. Several of these radio broadcast "bootlegs" have been released in Europe over the past few years due to the less stringent copyright laws that exist there as opposed to North America, including Beneath, Between And Behind: F.M. Broadcast 1975, Lady Gone Electric, Spirit of the Airwaves and Rush ABC 1974. Judging by the tracklist of each CD as seen here, discs 1 and 4 are very probably repackaged from the above-mentioned Spirit of the Airwaves and Beneath, Between And Behind: F.M. Broadcast 1975 respectively, while the other two discs seem to be from some Hemispheres-era recording. Rush: Live On Air 1975-1980: Legendary Radio Broadcast is slated to release on February 10th and you can pre-order your copy here. Here's the complete tracklisting:
Disc 1: 2112 Overture, The Temples Of Syrinx, Discovery, Presentation, Soliloquy, Grand Finale, Bytor And The Snow Dog, Xanadu, The Spirit Of Radio, Natural Science, Beneath, Between, Behind, Working Man, Finding My Way, Anthem, Bastille Day, In The Mood, Drum Solo, La Villa Strangiato

Disc 2: Opening, Anthem, A Passage To Bangkok, By-Tor & The Snow Dog, Xanadu, Something For Nothing, The Trees, Cygnus X-1, Cygnus X-1 Book II: Hemispheres, Closer To The Heart

Disc 3: Circumstances, A Farewell To Kings, La Villa Strangiato, 2112, Working Man, Bastille Day, In The Mood, Drum Solo

Disc 4: Finding My Way, The Best I Can, What You're Doing, Anthem, Beneath, Between & Behind, In The End, Fly By Night, Working Man, In The Mood, Need Some Love, Bad Boy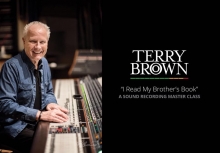 Former Rush producer Terry Brown will be hosting a full-day Sound Recording Master Class at Phase One Studio in Toronto on Saturday March 25th with the David Barrett Trio and Michael Sadler (Saga). From the Facebook event details:
This is a full day master class with legendary record producer Terry Brown. Terry will go through the entire recording process at Phase One studios in Toronto, with David Barrett Trio featuring Michael Sadler (Saga). The day will start with a meet and greet at 11am followed by microphone placement, bed tracks, overdubs, and finally the mixing process. All attendees will be in the control room with Terry and have a hands on experience as we finish a song from front to back. An informal Q&A session with Terry entitled "I Read My Brother's Book" will take place followed by a nightime reception with an in studio performance by David Barrett Trio and Michael Sadler. This event will be fully catered.
Terry Brown began working with the David Barrett Trio (aka DB3) last year. DB3 is a Toronto-based instrumental trio that had their first two albums produced by Alex Lifeson, and recently recruited Sadler to provide some vocals. Tickets for the workshop can be obtained via ticketscene.ca.
The annual NAMM show is taking place all this weekend in Anaheim, CA and Tech 21 is on hand to show off their new Geddy Lee Signature SansAmp. The product page for the SansAmp up on the Tech 21 website includes this nifty quote from Geddy himself:
The GED-2112 is really a continuation of my long-time approach to bass tone. A 'deep clean' tone coupled with the 'edgy crunch' I get from the SansAmp RPM now all in one box. With selectable A/B inputs, and separate balanced and unbalanced direct outputs, this box is the foundation for great bass tone in any setup. Plus it's green!
You can watch a video of the GED-2112 in action here, and check it out in person at booth #5982 at NAMM 2017 all this weekend.
That's all for this week. Have a great weekend everyone!!