UPDATE - 12/15@4:45PM: Here's a review from The Prog Report.
UPDATE - 12/1@12:48PM: Here's a recent review from Geeks of Doom.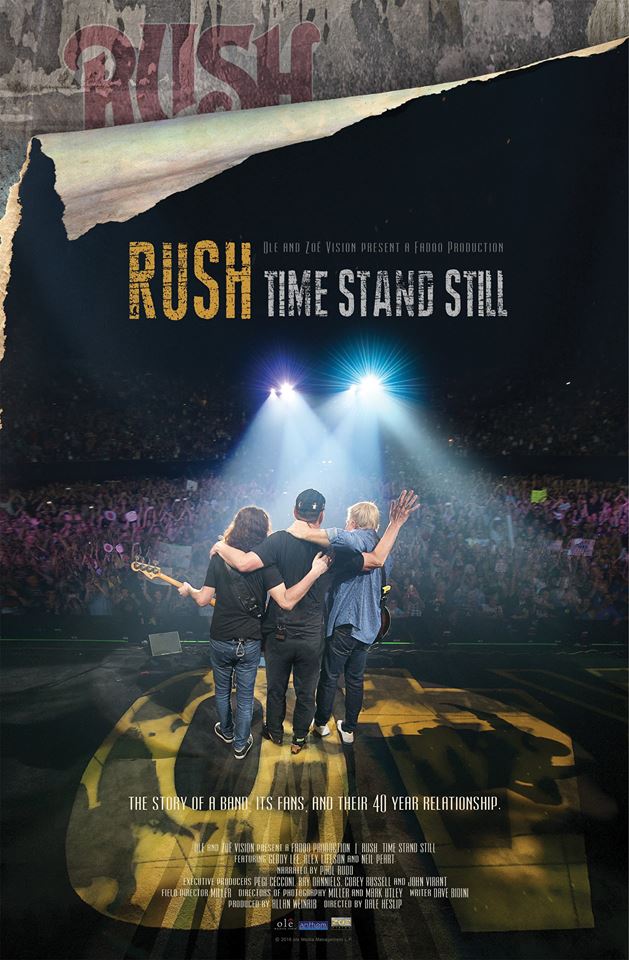 The new Rush R40 Live tour documentary Rush: Time Stand Still will be officially released on DVD/Blu-ray tomorrow, November 18th and is now available to order (DVD, Blu-ray). Several retailers will be offering in-store promotions with the purchase of the DVD/Blu-ray including Best Buy, FYE and others as outlined in this promotional video. The DVD/Blu-ray will include 67 minutes of unreleased footage from the band's Presto tour (it looks like it's from Rush's March 8th, 1990 show at the Palace in Auburn Hills), but it will not include any of the pre-film content shown during the film's premiere screening in theaters earlier this month. Speaking of which, due to the overwhelmingly positive response, they are offering encore screenings across North America this evening; just check rushtimestandstill.com for theaters/showtimes in your area. The theater screening was prefaced by a short animated film produced by FANTOONS called The Early Days of Neil Peart which you can preview here. They then showed a 20-minute mini-documentary titled Rush: A Salute to Kings where Gene Simmons (KISS), Chad Smith (Red Hot Chili Peppers), Taylor Hawkins (Foo Fighters), Ann & Nancy Wilson (Heart), Scott Gorham (Thin Lizzy), and the band's producer Nick Raskulinecz shared their unique stories about Rush over the last 40 years. You can watch clips of both Chad Smith's and Gene Simmons' portion of the documentary, and watch the trailer here. The film itself ran for just over an hour-and-a-half and was primarily a documentary about the band's R40 Live tour, with particular focus on it likely being the band's final tour, along with a good deal of attention paid to Rush's rabid and loyal fan base. Several trailers and clips from the documentary are available online at the Rush YouTube channel. Geddy Lee's brother and one of the film's producers - Allan Weinrib - hit the interview circuit to promote the film the week prior to the November 3rd premiere. He appeared on Breakfast Television (video here), and spoke with London's FM96 (audio here). Both Allan and director Dale Heslip also appeared on Q107 to discuss the film. Several reviews of the documentary are also now available from the following publications:
[The Prog Report]
[Geeks of Doom]
[Huffington Post]
[GeekDad]
[Drew's Reviews]
[HMV]
[Rolling Stone]
[Toronto Sun] (4 stars)
[Now Toronto]
[Montreal Gazette] (4 stars).
You can order your copy of Rush: Time Stand Still on DVD or Blu-ray, or pick it up in stores tomorrow.
Related Posts:
[Win tickets to an exclusive UK screening of the Rush: Time Stand Still documentary]
[Rush: Time Stand Still R40 tour documentary theatrical premiere tonight]
[Rolling Stone reveals 10 Things We Learned from the Rush: Time Stand Still R40 tour documentary]
[Rush fans featured in latest trailer for the Rush: Time Stand Still R40 tour documentary]
[Watch Chad Smith talk 2112 in new clip from the Rush: Time Stand Still R40 tour documentary]
[Meet Jillian - Rush-Fan-In-Chief in new clip from the Rush: Time Stand Still R40 tour documentary]
[New trailer for the Rush: Time Stand Still R40 tour documentary, and RIAB ticket sweepstakes]
[Rush: Time Stand Still R40 tour documentary DVD/Blu-ray now available for pre-order]
[Rush: Time Stand Still R40 tour documentary screening details and DVD/Blu-ray release]
[Rush: Time Stand Still R40 tour documentary screening coming November 3rd]