UPDATE - 12/16@2:42PM: Note that the Steven Wilson cover of Twilight Zone is also now available for streaming (thanks Eric at Power Windows):
----- snip -----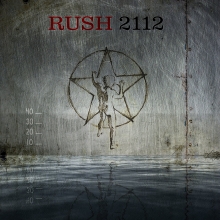 Rush's new 2112 40th anniversary edition box set officially releases today. The standard edition is a 2CD+DVD set which includes a CD of 2112 remastered (the version from last year's 2112 vinyl reissue), another CD of some rock celebrity covers of a few of the various songs on the album along with some live outtakes, and a DVD of the newly-restored Live at Capitol Theatre 1976 show along with some other bonus videos. There's also a 3 LP version with the same content as the CDs along with a few bonus goodies. The Super Deluxe edition contains both the 2CD+DVD and 3 LP sets along with some additional bonus content. The cover songs included on the set are 2112: Overture from members of the Foo Fighters, A Passage to Bangkok from Billy Talent, The Twilight Zone by Steven Wilson, Something for Nothing by Jacob Moon and Tears by Alice In Chains. You can listen to the Billy Talent cover of A Passage to Bangkok online at this location, Alice in Chains' take on Tears at this link, and the Foo Fighters cover of 2112: Overture here (at the 46 minute mark). One of the live outtakes on the bonus CD is a 1976 Massey Hall recording of Something for Nothing which is also available for streaming online here. Here's a review of the set from the Tribune Chronicle's Andy Gray that was posted earlier today. You can get all the details regarding the contents of the 2112 40th anniversary edition via the official Rush.com press release and also watch a 1-and-a-half minute promotional unboxing video which highlights the contents of the box set here. Ultimate Classic Rock has opened up voting for their annual Ultimate Classic Rock Awards and the 2112 box set is in the running in the Archival Live Album / Video of the Year category, so go vote for Rush at this location. You can order the 2112 40th anniversary edtion on Amazon (2CD+DVD, 3 LP, Super Deluxe), or pick it up at your local retailer.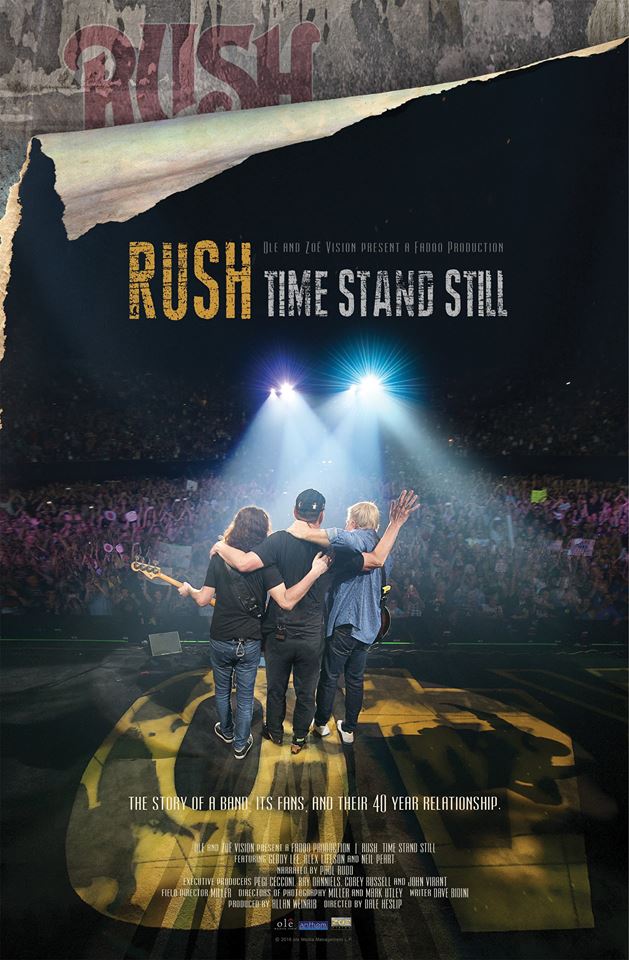 The new Rush R40 Live tour documentary Rush: Time Stand Still officially released last month on DVD/Blu-ray and is now available to order online (DVD, Blu-ray) or purchase in stores. The documentary ended up debuting at #2 on the Billboard Music Video chart, and has maintained that position into its 3rd week on the charts, just behind The Beatles' Eight Days a Week. Several retailers are offering in-store promotions with the purchase of the DVD/Blu-ray including Best Buy, FYE and others as outlined in this promotional video. The DVD/Blu-ray includes 67 minutes of unreleased footage from the band's Presto tour, but it does not include any of the pre-film content shown during the documentary's screening in theaters last month. The film runs for just over an hour-and-a-half and is primarily a documentary about the band's R40 Live tour, with particular focus on it likely being the band's final tour, along with a good deal of attention paid to Rush's rabid and loyal fan base. Trailers and clips from the documentary are available online at the Rush YouTube channel, and you can check out several reviews of the film in this post, incluing this recent review from The Prog Report. John over at Cygnus-X1.net has transcribed/scanned the artwork and liner notes and made them available online (liner notes, scans). Rush and FANTOONS launched a new online contest/sweepstakes earlier this week where one lucky winner will get a limited edition, FANTOONS Geddy Leesa print along with some other prizes. To enter the contest, fans just need to take this short quiz on how well they know the Rush: Time Stand Still documentary. The contest runs through 12AM on December 19th, and you get all the details and submit your entry at rushtimestandstill.com/fantoons.



Speaking of FANTOONS, they recently added a 52-page Rush coloring book to their inventory of officially licensed Rush swag, and the book is now available to order via Amazon. They also recently launched a selection of Rush-themed Hanukkah and Christmas cards just in time for the holidays. You can check out the Holiday cards along with a bunch of other cool, officially-licensed Rush FANTOONS merchandise at their Etsy store here.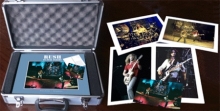 Independent UK publishing house Wymer UK Ltd. will be releasing a new collection of largely, previously unpublished photos of Rush next month titled Rush in Full Flight. From the product description:
... All the photos were taken between 1977-80 over 5 different gigs in Liverpool, Manchester and Coventry. Taking in the band's first UK tour in 1977, following the release of the double live All The World's A Stage album that paved the way for the Canadian trio to tour outside of North America for the first time. The bulk of the images come from the Hemispheres tour and concludes with images from the Permanent Waves tour.

Although many Rush photos from the UK around this time emanate from performances at London's Hammersmith Odeon, all the photos in this collection were taken at Manchester's Apollo Theatre, the Liverpool Empire and Coventry Theatre.

The book includes comments from the photographer plus additional text from rock author Jerry Bloom who wrote the 2005 publication Rush 1974 - 1981. The array of photos sees the band move and evolve during an extensive three year period. This full colour, hardback book sits neatly incased in foam within the aluminium flight case and is a beautiful addition to any Rush collection.

Rush In Full Flight offers a unique opportunity for Rush fans to own an exclusive item that fully reflects the band during a classic era and is bound to increase in value due to its limited nature. 

This strictly limited edition book comes with a set of 4 prints perfect for framing: One each of Geddy, Alex and Neil and one group photo. It also includes a pack of 10 postcards and 5 greeting cards all with the book's cover image on them. ...
Rush in Full Flight will be limited to 500 copies and is set to release on January 20th. You can pre-order your copy at this location.
Rage Against the Machine bassist Tim Commerford recently sat down with Mike Mettler for an interview at DigitalTrends.com to discuss his many projects including the RATM offshoot Prophets of Rage and his new band Wakrat. Wakrat just released their debut album last month and Mettler asked him about all the odd time signatures on the record, which led to a discussion of progressive rock and Rush:
... I was a huge prog rock fan as a kid in high school, and I'm so thankful for that. As much as I was over the top into the Sex Pistols, that was my one true love. I really went from the Sex Pistols to Rush, and ultimately to King Crimson, Pink Floyd, Led Zeppelin, and everything else. I'm really thankful that that's how I learned how to play my instrument, by emulating [Yes bassist] Chris Squire and people like that. ... Geddy Lee's approach to the instrument of bass is so - he plays so hard. When I went to see them play, I would notice how hard he would be hitting the strings, and that inspired me to want to do that. That really is the key to the way I play - it's not really the amp or the bass as much as it's the right-hand technique. And you hit the nail on the head. When Rage first got together, I had already known Zach [de la Rocha, vocalist/lyricist] all my life - and, believe it or not, he was the one who turned me on to both the Sex Pistols and Rush for the first time, when we were little kids! So when I was meeting Brad [Wilk, drummer] and Tom [Morello, guitarist] for the first time, it was easy for me to go, "Oh yeah, I love the Sex Pistols," but it wasn't as comfortable for me to say I was a total Rush fanatic geek. When I finally did muster up the courage to say that, Brad said, "Oh, man - me too!" That was our common ground, so he and I would jam on YYZ [an instrumental from 1981's Moving Pictures] at the end of rehearsals. That was always really fun. ... I really enjoy [a midrange bass tone]. On the [Prophets of Rage] EP we made [The Party's Over], I almost feel like there's too much low end on it. Like I said, I like Geddy Lee, man - I like that Moving Pictures bass sound, where it's very midrangey and grindy. ... Something like [the sound on Vital Signs], yeah. He got a great sound on all of those songs. I feel like that record was the quintessential Rush sound. It's not a lot of low end - it's more midrange, mid-low. ...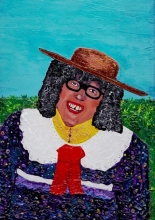 Alex Lifeson has been involved with the Kidney Foundation of Canada's A Brush of Hope charity auction for the past decade. His latest entry was titled Aquarium and ended up raising $8700 CAD in the organization's annual online auction back in October. Alex's 2015 painting was titled Blind Date Picnic and the Kidney Foundation recently made this painting available as a limited-edition print signed by Alex Lifeson which is available for purchase here. They also have signed prints of many of Alex's paintings from previous years available. Just visit the Kidney Foundation website here for all the details and to purchase a print. Alex's prints would make a great holiday gift for your favorite Rush fan and also go to support a great cause.
Digital music store HDTracks.com is offering a Rush sale this coming week, with up to 35% off select Rush titles through December 19th. For all the details and to make a purchase, go to this location (thanks Eric at Power Windows).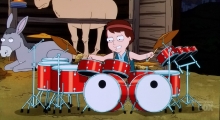 After featuring a major Rush reference on the show just a few weeks ago, this past Sunday night's Christmas episode (Season 15, Episode 9 - How the Griffin Stole Christmas) of the animated Fox sitcom Family Guy featured yet another Rush reference. At one point in the show Stewie laments about how he has ruined Christmas and says, "like the Little Drummer Boy when he got really into Neil Peart". They then cut to a scene of the Little Drummer Boy playing his signature song to the baby Jesus. In the middle of the song he throws away his single drum for a Neil Peart-inspired 13-drum kit and breaks into an epic drum solo as seen in this clip.

It's been another crazy holiday shopping season for Rush fans and I'd like to take a moment to thank everyone who has donated to the site, purchased items through my Amazon links, or clicked on any of my sponsor ads in the past few weeks. Every bit helps and I really appreciate it. If you'd like to make a donation yourself, you can do so at this link. Any donation of 3 bucks or more will get you a free RUSH IS A BAND bumper sticker. Also don't forget to follow RIAB on Facebook and Twitter, and keep sending in any Rush news tidbits you might come across. That's all for this week. Have a great weekend!!