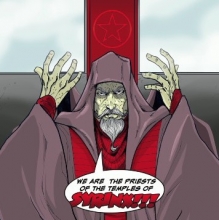 The 40th anniversary of 2112 has dominated the Rush news cycle for the past couple of weeks. The album was released sometime in March of 1976 with the exact date being lost to history, but April 1st has now somehow become the de facto release date used by rock publications, Wikipedia and even Rush themselves. For that reason a number of rock publications have been posting tributes and other 2112-related articles these past few weeks to mark the anniversary. The February edition of Prog magazine contained a huge cover feature on the album's anniversary complete with a new interview with Geddy Lee which you can read here, and watch the video version here. Portions of that same interview were also used on this week's edition of the Prog Magazine Radio Show on Teamrock Radio. Rush took part in the celebration as well, releasing a video adaptation of Tom Hodges' 2112 comic (from the 2112 Limited Super Deluxe Edition) set to the music of the entire 7-part, 20-minute 2112 suite. The video includes still frame shots (panning in and out) from the comic book, with a few additional animated transitions. You can watch the entire video below or online here. They also gave A Passage to Bangkok the comic book treatment and posted this video to Facebook.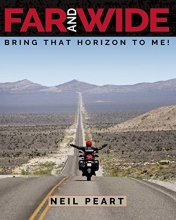 Neil Peart's next book is titled Far and Wide: Bring that Horizon to Me! and it chronicles his travels on last year's R40 Live tour. The book is slated to release via ECW Press on September 13th and is available for pre-ordere here. Earlier this week the Rush Backstage Club began taking pre-orders on a limited edition, signed hardcover edition of the book for $74.99 which quickly sold out. Each of the run of 1000 limited edition, numbered books has its own charcoal grey cloth slipcase adorned with a red stamp of Neil Peart's drumhead logo along with a bookplate on the inside cover autographed by Neil Peart. Far and Wide is listed at 312 pages and can be pre-ordered at this location.
Music Aficionado recently posted an exclusive interview with Rush's Alex Lifeson where he talks about the albums and artists that shaped him and remain close to his heart as well as the new line of signature acoustic guitars he's launched with PRS. Alex recommends artists such as Jefferson Airplane, Tom Cochrane and Steven Wilson, who he saw live in Toronto last month:
Steve is a guy whose work I greatly respect. I went to see him perform recently here in Toronto, and I've always loved his work with Porcupine Tree, and played on one of their albums [on the song, " Anesthetize "]. Last night was a performance of Steve's solo work, and they were so good, and sounded so great! He has great, great musicians with him, and it was so inspiring to see. It gave me hope that there are still people that really care about how they put music together and what it means to really work hard to be the best musician you can be. A lot of that is lost today-pop music has taken over and it's often more about the presentation than about the substance of the music or being a great musician. For me, Steve is one of the strongest artists out there today.
Alex also talks about Led Zeppelin's debut album, Jimi Hendrix's Electric Ladyland, his PRS SE Alex Lifeson Thinline Acoustic, and more. You can check out all of Alex's recommendations online here.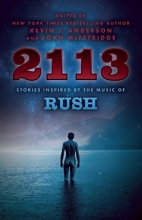 Clockwork Angels/Clockwork Lives author Kevin J. Anderson has co-edited an anthology of Rush-themed stories with John McFetridge titled 2113: Stories Inspired by the Music of Rush. The book is now available for purchase as an eBook for Kindle and also as an audiobook via Audible, and will release on paperback this coming Tuesday, April 12th. From the book's editorial description:
The music of Rush, one of the most successful bands in music history, is filled with fantastic stories, evocative images, thought-provoking futures and pasts. In this anthology, notable, best-selling, and award-winning writers each chose a Rush song as the spark for a new story, drawing inspiration from the visionary trio Geddy Lee, Alex Lifeson, and Neil Peart.

Enduring stark dystopian struggles or testing the limits of the human spirit, the characters populating 2113 find strength while searching for hope in a world that is repressive, dangerous, or just debilitatingly bland. Most of these tales are science fiction, but some are fantasies, thrillers, even edgy mainstream. Many of Rush's big hits are represented, as well as deeper cuts...with wonderful results. This anthology also includes the seminal stories that inspired the Rush classics "Red Barchetta" and "Roll the Bones", as well as Kevin J. Anderson's novella sequel to the groundbreaking Rush album 2112.

2113 contains stories by New York Times best-selling authors Kevin J. Anderson, Michael Z. Williamson, David Alan Mack, David Farland, Dayton Ward, and Mercedes Lackey; award winners Fritz Leiber, John McFetridge, Steven Savile, Brad R. Torgersen, Ron Collins, David Niall Wilson, and Brian Hodge, as well as many other authors with their imaginations on fire.
You can also get a FREE 2113 sneak preview booklet online here (you just have to pay for shipping). The booklet includes the short story Random Access Memory by John McFetridge, inspired by Rush's Lakeside Park. You can purchase your copy of 2113 for Kindle or Audible, and pre-order the paperback edition here.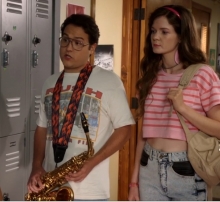 Early in Season 3 of the ABC '80s sitcom The Goldbergs a new recurring character named Johnny Atkins (played by Sean Marquette) was introduced. He's a cocky band geek who goes to school with Erica and is always shown wearing various Rush t-shirts and carrying a saxophone around his neck. He first appeared in the 2nd episode of the season (A Chrous Lie) where he was Erica's potential date to homecoming. In that episode he was shown wearing three separate Rush t-shirts at different points in the show; a Moving Pictures shirt, a Fly By Night shirt and a Hold Your Fire shirt. He also made appearances in several other episodes this season, but this coming week's episode promises to be the most Rush-reference-laden episode to date. The title of the episode is Rush and here's the official episode summary:
When Beverly gives Adam a "best son" trophy, Barry brings to her attention that she always favors Adam. Appalled, Beverly decides to ignore Adam (much to his delight) and smother Barry (much to his dislike), but it backfires. Meanwhile, Erica starts dating a boy who gets her to love the band Rush as much as he does and whom Murray doesn't approve of, on "The Goldbergs," WEDNESDAY, APRIL 13 (8:30-9:00 p.m. EDT) on the ABC Television Network.
The episode airs this coming Wednesday, April 13th and you can watch The Goldbergs on ABC or online at the ABC website here.

UDiscover Music and Rush are running a contest where the winner will get a custom Rush Starman Fender bass guitar as seen here. THe contest is open to all Spotify users who follow UDiscover's Classic Rock Icons playlist. The playlist features Rush's A Passage To Bangkok, Tom Sawyer, and Twilight Zone. The winner will also receive a vinyl prize pack (including vinyl from Rush, The Rolling Stones and The Who) and a 6-month premium subscription to Spotify. For all the details and to enter go to this link.
Geddy Lee and Alex Lifeson presented Don Bosse of Fredericton High School (FHS) in Fredericton, NB with the 2016 MusiCounts Teacher of the Year Award in Toronto last month. Rush partnered with the Canadian music education charity to co-sponsor the Award which recognizes teachers with outstanding dedication to inspiring and nurturing the musical growth of Canadian youth. Earlier this week MusiCounts posted a video of the presentation including some interview segments with Geddy and Alex (thanks TheSphere1729) which you can watch at this location. From the original announcement:
... Rush members Geddy Lee and Alex Lifeson surprised Bossé, who is a fan of the band, while he was in Toronto last week ... "When everything you have in life has come from the fountain of music, you want to spread that around and you want to encourage others," said Lee. "Music is a fantastic way to enrich your life and to express yourself, so to encourage teachers to help young people find that in themselves is a very noble cause." "It's also way more fun than math," added Lifeson. ... "The experience of receiving the MusiCounts Teacher of the Year award from MusiCounts and Rush was truly amazing. It is a day I will never forget," said Bossé. "The award means a lot because it validates the importance of what we do as music educators and teachers, and the positive impact we have in the lives of our students." ...
Speaking of great teachers who are Rush fans, the Red Star Drumline of Placer High School in Auburn, CA recently won the Northern California Band Association winter percussion championship. The 23-member drumline is named after Rush's iconic red star Starman logo. Placer music program director Dave Lawrenson is a huge Rush fan and each year the drumline arranges a performance around a Rush song. In the past they've covered Vital Signs, Red Lenses, The Garden, 2112, and The Trees. For this year's winning performance they tackled Rush's Natural Science. From the Auburn Journal:
... Lawrenson has an appreciation of Rush and progressive rock that reaches back to his teenage years. Lawrenson went to his first Rush concert as a 17-year-old and has heard the group live more than 30 times since then. What Lawrenson said has always struck him about Rush's music was the composition - a combination of relevant lyrics and musicianship that explored and then transcended progressive rock's musical landscape. "I never get bored listening to Rush because I always can hear something new," Lawrenson said. The Placer drumline's equipment travels in a trailer festooned on the side with its "Red Star" name and the red, star-shaped logo synonymous with Rush since it was emblazoned on the "2112" album sleeve. While Lawrenson said he doubted the judges recognized the Rush song being played during Placer drumline's championship turn, they could recognize a winning performance. "We peaked at the right time," he said. "When they had finished, I knew that we had done the best that we could do."
Here's some video of the Red Star Drumline's version of The Trees from last year's contest.
Longtime music industry legend Cliff Burnstein was recently interviewed by Billboard magazine to talk about his long career in A&R and band management. At one point he talks about working with Rush as an A&R man at Mercury Records back in the early '70s:
... All these f---ing stories, they're all true. So if you're the guy at the label -- like when I was working with Rush and they're going on Caress of Steel [the unsuccessful follow-up to the hit album Fly by Night], "Ugh, what are we gonna do?" The label isn't really doing anything with the album, and then I have to go to the band and say, "Ya know, we're not really doing anything." And then Rush delivers 2112 and the label is going "Oh God, a f---in' concept album." Again, nothing -- and I have to be the guy inside Mercury who's going, "Guys, this is f---in' genius, you need to really get behind this." And then with the band and the band's management I have to be the guy [calming them down] ... "Ya know, it's not gonna happen from the label, you have to do it yourselves." So that's a terrible position to be in. ...
Rush's Hold Your Fire made teamrock.com's list of 6 Of The Best Pop Prog Albums earlier this week (thanks RushFanForever):
Loathed and adored in equal measure by Rush purists, Hold Your Fire and its predecessor Power Windows are dismissed by many as the band's failed attempt at recording overtly commercial music. Yet for all that criticism, songs such as Mission and Time Stand Still are classy and seductive creations that retain a nimbleness that remains to this day. - Essential track: Prime Mover
A pair of Wall Street Journal crossword puzzles this past week contained Rush-related clues. For this past Monday, April 4th, the clue for 47 across is Rush, for one, and the answer is BAND. And for today's puzzle the clue for 53 down is Rush, e.g. with the answer being TRIO (thanks Michael S). Methinks crossword puzzle editor Mike Shenk just might be a Rush fan. :)
Rush were the winners of St. Louis radio station KSHE 95's March Bandness competition, defeating AC/DC in the final round. You can check out the final bracket here.
People magazine posted an article earlier this week on the Many Musicians Who Have Told Politicians to Stop Using Their Songs and one of the items featured was when Rush had Rand Paul stop using their music in his political campaign:
Avowed Libertarian Rand Paul is also a big Rush fan, which comes as no surprise - the group used Libertarian icon Ayn Rand as early inspiration. But they're not really fans of his, and have warned him off of using both "Tom Sawyer" and "The Spirit of Radio" during his campaigns.
Here's the comic book video adaptation of 2112:
That's all for this week. Have a great weekend!