UPDATE - 4/1@5:36PM: Music Vaultz has posted this 2112 Quiz in celebration of the anniversary.
UPDATE - 4/1@5:11PM: Rush is going all-in on the anniversary and are also offering this new 40th anniversary 2112 t-shirt at the Rush Backstage Club.
UPDATE - 4/1@2:39PM: Rolling Stone has just reported (thanks DrMike) that Rush will be releasing an online video version of Tom Hodges' 2112 comic that was included in the 2112 Limited Super Deluxe Edition. The entire 20-minute suite will be available on Rush.com 21 hours and 12 minutes from the time of the post (Saturday at approximately 9AM EST) and will be available for fans to watch for free until Monday at 9AM EST. As a preview, they've released the video for Overture which you can watch online here.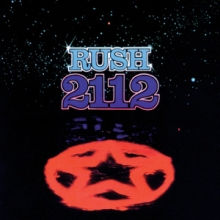 Forty years ago sometime in March of 1976, Rush released their groundbreaking 2112 album. The exact release date has been lost to history but is often mistakenly given as having occurred on April 1, 1976. For that reason a number of rock publications have posted tributes and other 2112-related articles today to mark the anniversary. The February edition of Prog magazine contained a huge cover feature on the album's anniversary complete with a new interview with Geddy Lee which you can read here. Earlier today Prog/Teamrock.com posted the video of that same Geddy Lee interview to YouTube which you can watch below or at this location. Glide Magazine celebrated the anniversary by posting a short article highlighting Rush's performance of 2112 at the Capitol Theatre in Passaic, NJ on December 10, 1976. Zach Blumenfeld of Consequence of Sound penned this tribute to 2112 and talks about how the album continues to inspire individualism four decades later:
... 2112 represents the success that often comes when an artist is given the freedom to chase their own creative muse, even when that muse leads them directly against conventional, industry-establishment wisdom. It's no coincidence that this album resonated so powerfully with musicians, misfits, and dreamers everywhere; the epic title song's concept is really a metanarrative of Rush's own middle finger raised to the label that wanted them to sound more "commercial." The band sums its mandate up nicely with the priests' words during "Presentation": "Forget about your silly whim/ It doesn't fit the plan." ...
Claudio D'Andrea wrote a piece for Medium.com in celebration of the album's anniversary where he compares Megadon (the futuristic city where the 2112 story takes place) to the Clockwork Angels universe's Albion. Earlier this week Rolling Stone posted a new interview with Alex Lifeson where he talks about the album. Here's what he had to say about the album's legacy:
I think it's one of the most important pieces of work that we've done. I think the influence that it had on a lot of listeners, just judging from the comments I read in the mail and even comments from other bands that have been influenced by us, that's really a signature record for all of them. And that's a wonderful thing. If you're going to leave something as your legacy, having something that is so influential on other people that it has improved their lives or just made them more understanding of something, I think that is the ultimate.
Rush themselves are taking part in the celebration by offering a one-day sale of the 2112 ‑ Limited Super Deluxe Edition - CD+Blu-ray Box Set for just $25.99 which you can purchase at this location.
Happy 40th anniversary 2112!!