UPDATE - 4/7@11:26AM: Last night's Prog Magazine Show is now available for listening on-demand. The Geddy Lee interview portion begins at about the 1:20:30 mark and lasts through about the 1:40 mark interspersed with a couple of 2112 tracks. Here's what Geddy had to say when asked whether there will be another Rush album:
I don't know. I hope so. I don't see why not. But I can't really say. I know that Alex and I have talked about getting together to write. Whether that will become a Rush album or whether it will become something else I don't know. That's kind of up to Neil.
Note that the interview portions aren't new and were taken from Wilding's previous interview with Geddy for the February Prog magazine 2112 feature which you can listen to here.
----- snip -----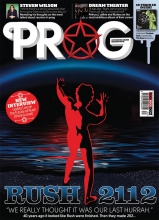 Geddy Lee will be the guest on tonight's edition of the Prog Magazine Radio Show on Teamrock Radio. He'll be chatting with host Philip Wilding about the 40th anniversary of 2112 and other subjects:
Geddy's in town to chat about the 40th Anniversary of 2112. So we'll be talking about kimonos among other things... And of course, there's the small matter of what on earth is happening in the Rush camp and do the band have a future. Philip will be talking to Geddy about that too. And because they're pals (Philip's told you they're great pals, right? Of course he has...) expect Geddy to be forthcoming in his replies...
The February edition of Prog magazine contained a huge cover feature on 2112's anniversary including an exclusive interview with Geddy Lee. The Prog Magazine Radio Show airs between 9-11PM UK time (4-6PM EST) and you can listen online at the TeamRock Radio site or via the TeamRock app for iPhone and Android. The show will also be available on demand after it airs. Thanks to Will C for the heads up.