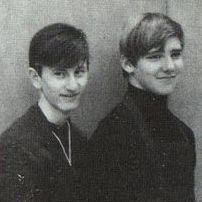 Earlier this week Classic Rock magazine posted a new interview with Geddy Lee and Alex Lifeson where the pair reflect on the early years of Rush; from their first meeting in junior high school 50 years ago, up until 1975 when the new guy Neil Peart took over the lyric-writing duties. Here's Geddy talking about the first time he met Alex:
... The first time I saw Alex he had a paisley shirt. He looked kind of cool. He was also a teacher's pet - a bit of a suck-up to the teachers. But he was very funny so I liked him. At school we had a blast together - we cracked each other up. And we understood where each other came from, culturally. We were sons of Eastern European immigrants who had left Europe after the Second World War to start a new life in Canada. So we were, both of us, a little bit different. ...
And here's Alex talking about when Neil Peart first joined the band in 1974:
... We were so blown away by Neil's playing. It was very Keith Moon-like, very active, and he hit his drums so hard. And then after we'd jammed, we chatted and he was so bright. We connected on many levels. I have to admit that on that first day I said to Geddy, 'You know, maybe we should still hold out and see who else is out there.' But when we talked again we were convinced he was the right guy. ... As soon as Neil was in the band, we started writing new material. We worked on most of the songs together in those days. But we were touring all the time back then, so we didn't have any time to go anywhere and write. We were writing on the road, in the backs of cars, going to gigs, dressing rooms. And it was still experimental for us. We were still feeling each other out. ...
If you were wondering what Geddy and Alex have been up to recently, it looks like Ged is vacationing in South America as demonstrated by this selfie photo from Chilean Rush fan Luis Bascuñán de Galaz from a couple of days ago. Next up for Alex will be an appearance at the 11th annual Toronto Sketch Comedy Festival's HELLO! THUNDER BAY! on Monday, March 7th at the Randolph Theatre. HELLO! THUNDER BAY! is an evening of comedy and music hosted by Dave Bidini of the Rheostatics. In addition to Alex Lifeson the show will feature Terra Lightfoot, David Quinton Steinberg, Tom Power, Odario Williams and others sharing their funniest stories from the road, while Canada's musically-inclined comedians such as Gavin Crawford, Jessica Holmes, and Sean Cullen, perform hilarious parody songs. For all the details and to purchase tickets visit the Toronto Sketch Comedy Festival website here.

The latest edition of Prog magazine (Prog #63) hit newsstands last Friday and includes a cover feature celebrating the upcoming 40th anniversary of Rush's 2112 album (the album was released sometime around the end of March/beginning of April in 1976). The cover displays the iconic Starman with a tagline that reads, "RUSH 2112: 'We really thought it was our last Hurrah.' 40 years ago it looked like Rush was finished. Then they made 2112 ...". The cover also includes a call-out saying, "New interview: Geddy Lee on the future of Rush (there is one)". Here's a description of the feature via the Prog website:
The brand new issue of Prog is on sale today, and we celebrate 40 years of Rush's iconic 2112 album... It was the album that pretty much saved the band's career and remains one of their most popular. Ironically we also discuss with the band themselves what the future might hold for the band following the recent R40 tour amid a raft of rumours suggesting the end might be in sight for Geddy Lee, Alex Lifeson and Neil Peart.
Speaking of the 40th anniversary of 2112, Sean K. Cureton at AudiencesEverywhere.net wrote an article earlier this week titled 2112 and Rush 40 Years Later where he examines the album and its historical impact.
Rush's 1981 classic Moving Pictures will celebrate the 35th anniversary of its release next Friday, February 12th and is the subject of an In The Studio with Redbeard rockumentary radio show which is airing all this week and is now available for streaming online at this location. The program consists of interview segments with all three members of Rush from past In the Studio interviews and runs about 25 minutes. For a list of stations and air times go here, and you can listen to the interview segments online here.

uDiscoverMusic.com is sponsoring a Rush R40 Live quiz and contest where you are directed to take a 10-question quiz about Rush's R40 Live tour. After the quiz you are given the opportunity to enter a contest to win a PRS SE Alex Lifeson Acoustic Guitar played by Alex himself. The contest runs through Tuesday, February 9th and you can take the quiz and enter the contest at this location. Good luck!!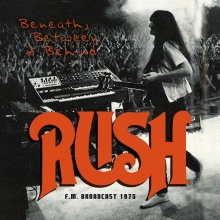 A live recording of Rush made for a radio broadcast in 1975 titled Beneath, Between And Behind: F.M. Broadcast 1975 will soon be available as an import and is slated for release next Friday, February 12th. Note that this is NOT an official Rush release. It's similar to the Lady Gone Electric, Spirit of the Airwaves and Rush ABC 1974 live releases from recent years, in that it is essentially a packaged release of a radio broadcast bootleg recording that's been around for many years. The particular bootlegs for this show are typically incorrectly labeled as occurring on May 15, 1975 when the show actually took place on April 7th at the Cleveland Agora and was aired live on WMMS. Also, there's yet another company/label in Europe releasing this same show as Rush: Ohio 1975 due to release as an import on April 8th.
Rush fan Dan Bell has put together an online charity drive raffle via YouCaring.com to organize Rush fans to get together and raise money for the National Kidney Foundation. Here are all the details via the website:
Even though THE BOYYZ aren't touring, it doesn't mean that we can't come together to have a little fun and raise some money for a great organization. Many of you may not be aware of it, but Lerxst lost his dad to kidney disease several years ago. He has been quite involved with Canada's Kidney Foundation, so I thought it would be a great change of pace to have our proceeds go to the National Kidney Foundation (www.kidney.org) here in the United States, since we've already raised almost $5000 for the American Cancer Society. ...
Tickets are $3.00 each or for every $21 donation, you get 12 tickets! This fund raiser will last from February 1st to at least February 15th and our grand prize will be a poster signed by ALEX & GEDDY. My goal is to raise at least $2500, so let's show Alex and RUSH that their fans are not only the most loyal, but also the most generous fans on the planet! If you don't feel comfortable donating on-line, please feel free to make out a check or money order to the National Kidney Foundation for the amount you wish to donate. Send me a private message and I'll provide you with my address. Thank you in advance for your generosity and participation. Keep RUSHing on!
UofMusic.com posted their list of the 20 Greatest 3 Piece Rock Bands Of All Time earlier this week and Rush made the cut at #20 (thanks Dave K).
CNBC's Power Lunch co-anchor Brian Sullivan referenced and quoted Rush's The Trees on last Friday's show, saying, "I quote Rush. 'There is unrest in the forest. There is trouble with the trees.' Co-host Tyler Mathisen then says, "that's a great lyric". To which Sullivan replies, "Geddy Lee baby." It's not clear what they were referring to. You can watch a video of the reference on YouTube (thanks Dean P).
28 years ago this past Wednesday, February 3rd, Rush played the Sports Arena in San Diego, CA on the Hold Your Fire tour with Tommy Shaw opening. They recorded Mission which was later released on A Show Of Hands. Here's the video version of Mission, which was filmed in the UK later in the tour.
Earlier today the United States Army band posted video of a performance of the U.S. Army Blues Swamp Romp playing Rush's Tom Sawyer with special guest Tom Holtz as part of the 2016 Tuba-Euphonium Workshop last night.
That's all for this week. Have a great weekend!