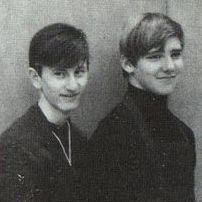 Classic Rock has posted a new interview with Geddy Lee and Alex Lifeson where the pair reflect on the early years of Rush; from their first meeting in junior high school 50 years ago, up until 1975 when the new guy Neil Peart took over the lyric-writing duties. Here's Geddy talking about the first time he met Alex:
... The first time I saw Alex he had a paisley shirt. He looked kind of cool. He was also a teacher's pet - a bit of a suck-up to the teachers. But he was very funny so I liked him. At school we had a blast together - we cracked each other up. And we understood where each other came from, culturally. We were sons of Eastern European immigrants who had left Europe after the Second World War to start a new life in Canada. So we were, both of us, a little bit different. ...
And here's Alex talking about when Neil Peart first joined the band in 1974:
... We were so blown away by Neil's playing. It was very Keith Moon-like, very active, and he hit his drums so hard. And then after we'd jammed, we chatted and he was so bright. We connected on many levels. I have to admit that on that first day I said to Geddy, 'You know, maybe we should still hold out and see who else is out there.' But when we talked again we were convinced he was the right guy. ... As soon as Neil was in the band, we started writing new material. We worked on most of the songs together in those days. But we were touring all the time back then, so we didn't have any time to go anywhere and write. We were writing on the road, in the backs of cars, going to gigs, dressing rooms. And it was still experimental for us. We were still feeling each other out. ...
You can read the entire article/interview online at this location.