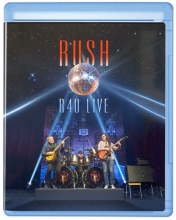 Happy New Year everyone! A lot can change in the course of one year. At this point last year, Rush fans were getting excited about the possibility of a new Rush tour in 2015. Now as 2016 gets underway, the future of the band is as uncertain as ever. Rush's 2015 R40 Live tour kicked off back in May of this past year, and was one of the band's most successful to date, selling out arenas across North America and garnering rave reviews from the music press. But as the tour came to a close back in August, it became apparent that the R40 Live tour would likely be the band's last major tour. Geddy Lee and Alex Lifeson seemed open to continuing, but Neil Peart made it clear that he was done with touring. That said, nobody in the band was ready to declare that Rush was "over", or that they would never play together or record again. Despite Neil Peart's declaration of "retirement" (from touring at least) in his Drumhead magazine article last month, he still left the door open for Rush working together again. Here's an exchange Neil had with Modern Drummer magazine after he had written the Drumhead article:
MD: What's in the future? If Rush isn't touring, will you still record? Write prose? Be a dad?

Neil: You just answered it. There's no strict answer, but those possibilities are all there.
So what's in store for Rush in 2016? Nobody really knows - including Rush themselves it sounds like! But there is hope. Here's what Geddy Lee told Paste magazine in an interview from earlier this week:
Well, I don't know, I can't tell you [if this is it for Rush]. [The R40 Live tour]'s intention was not a farewell tour; its intention was a look back and a celebration of 40 years of music. We happen to find ourselves in a very differing state of mind in terms of doing major tours. Neil is not up for the kind of work that it takes for him to be ready to put out a three-hour show the way we have for the last 20-odd years. So his interest in this kind of touring has dwindled. And that's sort of where we're at. It doesn't necessarily mean we won't do another record together, and it doesn't necessarily mean we won't play another concert together-it just means that for the moment we cannot agree on doing a big tour.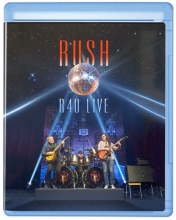 Rush's R40 Live concert film officially released back on November 20th in North America, debuting at #24 on the Billboard 200 album chart in its first week of release. The video and the band's associated tour made a few 2015 best of lists this past week including Music Radar's list of the 40 best live acts in the world, The Province's list of the best concerts of 2015 (thanks RushFanForever), and Keith Spera of the New Orleans Advocate's list of his favorite concerts of 2015. R40 Live is available as 2 DVDs, 1 Blu-ray disc or 3 Audio CDs along with various combo packages. Previews of several tracks from the video are available on the Rush YouTube channel, along with a 2-minute trailer for the film here. R40 Live's tracklisting mirrors the Friday, June 19th Toronto show setlist, with One Little Victory, Distant Early Warning and Red Barchetta from the June 17th Toronto show as bonus material on the DVD/Blu-ray. The CD also includes audio for Clockwork Angels, The Wreckers, The Camera Eye and Losing It with Jonathan Dinklage as bonus material. Eric at Power Windows has the liner notes here, and John at Cygnus-X1.net has posted artwork here. You can order the various R40 Live packages at the following locations:
[3-disc CD/Blu-ray Combo]
[3-disc CD/DVD Combo]
[3 Audio CDs]
[Blu-ray only]
[DVD only]
The news broke earlier this week that legendary Motorhead frontman and bass player Lemmy Kilmister passed away at the age of 70 from an aggressive form of cancer. Geddy Lee addressed Lemmy's passing with the following message via the Rush Facebook page:
"So sorry to hear of the sudden passing of fellow Bass man, Lemmy...of Motörhead and Hawkwind before that. He was a true original....who lived to rock....RIP Lemmy!" - Geddy Lee
Before Lemmy formed Motorhead back in 1975, he was the bass player for space rock band Hawkwind. Rush played a few shows with Hawkwind back in late 1974 when Lemmy was still in the band.

Last week I introduced a searchable Rush tour archive to the rushisaband.com website. The features contains a searchable list of all 2000+ of Rush's (known) tour dates along with venues, setlists and bands they played with. While in the process of putting all this together, I figured, "why not do this for other artists too?". So I expanded my initial mission to include all the bands that ever played with Rush, and from there I just kept going. And thus was born TourDateSearch.com. The site allows you to search through hundreds of thousands of historical tour dates and setlists for OVER ONE THOUSAND rock artists from the '60s on up through today, and using all the same search criteria I listed above; bands played with, song played, specific day in tour history and shows within a given distance from any location. The site is updated on a daily basis and you can also find out when/where a particular artist will be playing their next few shows. Search results include setlist information from setlist.fm and the ability to comment on any given show using Disqus. So please give the new tour search as well as the new site at tourdatesearch.com a whirl and let me know what you think. Thanks to everybody that's been giving me feedback so far - I really appreciate it. Also be sure to follow TourDateSearch.com on Facebook and Twitter for all the latest updates. New artists and new features are added every day so stay tuned!
Here's some official Rush video of fans at the band's R40 Live kick off show in Tulsa back on May 8th:
Happy New Year everyone! Peace, love and Rush to all!!!