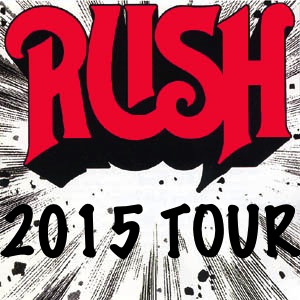 Happy New Year everyone! 2015 promises to be a great year for Rush and their fans given the tour rumors that began surfacing earlier this week. It all began this past Monday when Ticketmaster and Live Nation briefly listed 2 tour stops for Rush - a June 23rd concert at the TD Garden in Boston, and a June 29th show at Madison Square Garden in New York City (both listings have since been removed). These lent support to other rumors I'd been hearing regarding Rush shows being planned for June in Columbus, Buffalo, Chicago, Detroit and St. Louis, along with an early August show in Las Vegas. The appearance of the listings caused quite a stir on all of the various social networks and Rush forums, and it's looking like we might be getting some kind of official announcement of a tour as early as next week. There was also this tweet from Neil Peart drum tech Lorne Wheaton a few days ago:
Hope everyone had a great Holiday season, and WILL have a safe & Happy New Year!! See u all in the new year...oops, did I just say that?
Followed up by this tweet a couple of hours later:
Just to clarify my last twit.....I don't always work with NP. There ARE other drummers/bands on my resume. I ain't giving nutin up...copy?
Back in November Radio.com posted an interview where Geddy and Alex talk about a possible R40 tour along with Rush's future plans. Here's what Lifeson had to say:
... Some days I feel like being back out on the road and taking advantage of the fact that it's our 40th anniversary, and on other days, I kind of sit around here messing with musical ideas and I think, "We've got to get together and start writing." I think that whatever we do, it's not going to be until next year. I was over at Ged's the other day, in fact-he's just redone his little [home] studio, [and] we were both chomping at the bit to get together and start writing. He wants to try out his millions of new bass guitars that he's got now. So we'll do some writing, and we'll see where that goes. ...
Geddy was also enthusiastic about touring:
... I just want to play. I wouldn't mind going back on tour. I'm really dying to play, I have all of these new old instruments that I'm dying to try out. My curiosity tends to lean towards playing live. ...
The pair also remarked that they would consider playing another full album live, like they did with Moving Pictures on the Time Machine Tour. Alex went on to discuss the potential format of an R40 tour, and would prefer to have at least a couple of new tracks to try out live:
... I think it'd be more of a 40th anniversary celebration, much like R30 was. A fun trip back to the past with maybe some looking forward. In my mind, ideally, we'd go out with a couple of new songs, and revisit some old stuff, maybe stuff we haven't previously played. ... When we bring back some of these songs-I wouldn't call them "obscure," but songs that have been performed less often-they really go over well. "Jacob's Ladder" is one that, every tour, is on everyone's wish list. It's a long song, and it would take up a big portion of the set, we just weren't sure whether or not it would be interesting to do that. We thought the same thing with "The Camera Eye." We avoided playing that live until we did the Moving Pictures thing. And that ended up being our favorite song to play. Never mind if it went over well or not, we loved playing it every night. I would love to do "Fly By Night," for example. I said, "for example," by the way. I think it could be really great live, if we did a heavier version, because it's really poppy and clean. ...
Despite their expressed desire to write/record, if they truly are going to begin touring by early June, it's highly unlikely they'll have any new material to showcase given the timeframe, and that the tour will probably be another retrospective anniversary tour similar to R30. Please keep in mind that all of this information should be considered rumor and speculation until we get official word from the band! Hopefully that'll be forthcoming sooner than later. More information regarding rumored 2015 tour dates as we learn it. Stay tuned!
Back on November 7th Geddy Lee taped an episode of the new PBS series Speakeasy and was interviewed by his friend author Michael Chabon at the McKittrick Hotel in New York City. The first episode of Speakeasy will air on PBS this coming week with Geddy's episode (episode 5) airing later in the month. Check your local TV listings for specific air dates/times. Back around the time of the taping Rush.com posted this comment from Geddy regarding the interview:
"75 minutes flew by talking to one of my favorite writers and a truly awesome person" - Geddy Lee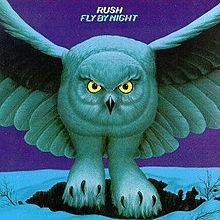 Rush announced a few weeks ago that they will be releasing all of the Mercury-era Rush albums on vinyl along with a few select titles on Blu-ray audio this year. They are calling it the 12 Months of Rush, as they will be releasing one or two titles a month each month beginning with Fly By Night in a few weeks on January 27th. All titles will be reissued on high-quality vinyl with a download card for a digital audio version, with Fly By Night, A Farewell to Kings and Signals also getting a Blu-ray Audio release. For all the details, check out the Rush.com press release. Here are the pre-order links along with the release dates for most of the titles:
Fly By Night (01/27/15) - Vinyl | Blu-ray audio
Caress of Steel (02/17/15) - Vinyl
2112 (03/17/15) - Vinyl
All the World's a Stage (03/17/15) - Vinyl
A Farewell to Kings (04/21/15) - Vinyl | Blu-ray Audio
Hemispheres (05/19/15) - Vinyl
Permanent Waves (06/16/15) - Vinyl
Moving Pictures (07/21/15) - Vinyl
Exit ... Stage Left (07/21/15) - Vinyl
Signals (08/18/15) - Vinyl | Blu-ray Audio
Grace Under Pressure (09/15/15) - Vinyl
Last year Neil Peart and Kevin J. Anderson began working on a new companion novel to Clockwork Angels titled Clockwork Lives which expands on the stories of some minor characters from Clockwork Angels. The first draft of the novel is now finished and Anderson has been teasing excerpts from it via his Twitter feed over the past few weeks. The other project Anderson is working on is an anthology of Rush-based stories that he'll be co-editing with John McFetridge for ECW Press (publisher of Clockwork Angels and Neil Peart's books). They have a team of award-winning and bestselling authors lined up to contribute short stories based on Rush songs. Anderson himself will be contributing a novella titled 2113, which is what he'll be working on next according to this tweet from earlier in the week:
Attention all planets of the Solar Federation. We have assumed control. (Yes, I'm gearing up for writing 2113-that'll be my next project.)
Speaking of Neil Peart, 2014 saw him publish his 6th travel book Far and Near: On Days Like These. Melissa Beck recently reviewed the book for her Book Binder's Daughter blog and had many great things to say about it:
... Far and Near is so much more than a travelogue. It is also a book of wonderful photography, a brief history of many small towns in North American and Europe and a history of the flora and fauna of those places as well. The book further serves as a personal memoir of the author as he reminisces about previous experience at each place he visits. Not only are pictures of the various touring destinations included in the book, but there are also descriptions of the photographic techniques that are employed for different situations. ...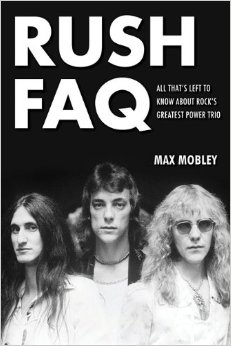 One of the many Rush books published in 2014 was Max Mobley's Rush FAQ: All That's Left To Know About Rock's Greatest Power Trio. Mobley has written for a number of music magazines including Crawdaddy! and Premier Guitar, and has interviewed Rush guitarist Alex Lifeson twice. He's also a huge Rush fan and has seen countless Rush shows dating back to the A Farewell to Kings tour. The book comes in at 250 pages and includes a foreword from Donna Halper. Brad Birzer at Progarchy.com wrote a short review of the book earlier this week, and although he dislikes the book's title, he feels just the opposite about its content:
... It's not just one of the best books on Rush I've ever read (and I've pretty much read them all), it's, simply put, a great book. Insightful, factual, captivating. Mobley can write like no one's business. He's a huge Rush fan, but he allows this aspect to become playful part of the book. I'm always a huge fan of good writing-whether it's Dante or about the latest software upgrade for the Mac. This is excellent writing. And, frankly, it's the equivalent in the book world of what BEYOND THE LIGHTED STAGE is in the movie world. ...
You can check out a copy of the book's introduction in this post and order your copy of Rush FAQ at this location.
One of the best movies of 2014 was the superhero blockbuster Guardians of the Galaxy. If you've seen the film you are no doubt familiar with its soundtrack - the Awesome Mix Vol. 1. Producer/DJ Mike Relm liked the movie and the soundtrack so much, he created an Awesome REmix Vol. 1 featuring a well-known Rush song which he posted to YouTube with the following note:
I am Groot!!!! Guardians of the Galaxy. A great movie with a ridiculous soundtrack. As soon as I saw this film, I wanted to get my paws on it for a remix. And yes, I am fully aware that Rush's Tom Sawyer was not in the film. I just really like that song.
Indie rock band Sebadoh's cover of Rush's Limelight for the A.V. Club's A.V. Undercover series made Minneapolis City Pages' list of the top 10 cover songs of 2014 (thanks RushFanForever):
... Watching lo-fi slouch rockers Sebadoh take on the canon of Canadian prog rockers Rush was uniquely surreal. The lack of the bass line and Lou Barlow's warbling vocal effect erase any trace of Geddy Lee's signature, though the Massachusetts indie legends' under-rehearsed reworking still retains the riffy backbone of the original. It's not the most pleasurable listen, but the creativity makes up for the discomfort.
WatchMojo.com posted a video news story where they counted down their list of the Top 10 Progressive Rock Bands and Rush made the cut at #2 (thanks Charlie).
This guy from the Panama City News Herald doesn't get Rush ... and no one cares.
Reader Dave P let me know that last week on December 22nd a group of Nashville drummers got together and performed a tribute to Neil Peart for their 5th annual Drummer Jam. Notable participants were Troy Luccketta (Tesla) and Ed Toth (Doobie Brothers, Vertical Horizon). Luccketta performed 2112 on a white Ludwig double kick kit, similar to what Neil used during the Hold Your Fire tour; and Ed Toth performed Xanadu as seen here.
Yesterday marked the 35th anniversary of the release of Rush's 7th studio album, Permanent Waves. Ultimate Classic Rock posted an article in tribute to the album and discuss the album's signature track The Spirit of Radio in the following excerpt:
... "Invisible airwaves crackle with life," Lee sings on the former track, a dedication to the joyous eclecticism of Toronto radio station CFNY. Opening with a frantic hammer-on spiral from Lifeson, the track pummels for a trim five minutes, shifting through riffs and hooks with newfound energy.

"It's about musical integrity," Peart told 'Modern Drummer' in 1980. "We wanted to get across the idea of a radio station playing a wide variety of music. For instance, 'The Spirit Of Radio' comes from the radio station at home called CFNY, and that's their slogan. They play all great music from reggae to R&B, to jazz, to new wave - everything that's good or interesting. It's a very satisfying radio station to me. They have introduced me to a lot of new music. There are bits of reggae in the song, and one or two verses have a new wave feel to it. We tried to get across all the different forms of music. There are no divisions there."...
Here's Rush performing the track, from the Clockwork Angels Tour video. Hopefully we'll soon be seeing them perform this song live yet again in 2015:
That's all for this week, and all for 2014. Happy New Year everybody!!