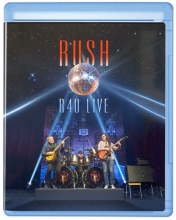 I hope all of my US readers had a happy Thanksgiving yesterday and are surviving the madness of Black Friday. Speaking of which, the Rush Backstage Club is running a Black Friday sale where they are offering a 15% discount on select items. Rush's R40 Live concert film officially released last Friday in North America (it releases December 4th in Europe) just in time for the Holidays, and is available as 2 DVDs, 1 Blu-ray disc or 3 Audio CDs along with various combo packages. Previews of Lakeside Park/Anthem, Xanadu, Subdivisions, Tom Sawyer, The Spirit of Radio, Roll the Bones, Closer to the Heart, and Jacob's Ladder are available for viewing online, along with a 2-minute trailer for the film here. R40 Live's tracklisting mirrors the Friday, June 19th Toronto show setlist, with One Little Victory, Distant Early Warning and Red Barchetta from the June 17th Toronto show as bonus material on the DVD/Blu-ray. The CD also includes audio for Clockwork Angels, The Wreckers, The Camera Eye and Losing It with Jonathan Dinklage as bonus material. Last week Sirius XM's Classic Rewind (Channel 25) hosted the radio premiere of the R40 Live CD, and they'll continue to broadcast the audio every other day or so from now through December 6th with the full broadcast schedule available here. John at Cygnus-X1.net has posted the liner notes, track list, artwork and more here. R40 Live reviews have been rolling in over the past week and you can check out a few of those at these links:
[JP's Music Blog]
[Classic Rock],
[PopMatters.com] (7/10)
[Progarchy.com]
[A.V. Club]
[Toronto Sun] (4/5)
You can order the various R40 Live packages at the following locations:
[3-disc CD/Blu-ray Combo]
[3-disc CD/DVD Combo]
[3 Audio CDs]
[Blu-ray only]
[DVD only]
Several new interviews with Geddy Lee and Alex Lifeson have been released over the last couple of weeks in promotion of the R40 Live release. On Wednesday evening Sirius XM's town hall interview with Geddy and Alex premiered. The town hall interview took place back on November 13th in New York City and was moderated by filmmaker Michael Moore. Subscribers were given a chance to attend the interview via an online sweepstakes where contestants were asked to submit questions for the band. John at Cygnus-X1.net was one of the lucky attendees and gave a detailed report of the event along with some photos here. Last week Rolling Stone posted an article with ten highlights from the interview along with a few audio clips at this location. A few photos of the event are available at the Getty Images site, and there's also this Instagram post. The interview will be rebroadcast over the next week with the full schedule available here. Rush made a few video clips from the interview available on YouTube including one where they discuss Dave Grohl & Geddy Lee's Rock Star Moms (1:27), the future of Rush after R40 (3:52), and Geddy Lee being a child of a holocaust survivor (3:07). The entire audio from the interview was also recorded and made available on YouTube here. If you aren't already a Sirius XM subscriber, you can get a free 30-day trial at this location.
In addition to the Sirius XM town hall interview, Geddy and Alex did interviews with Q107, Entertainment Weekly, Billboard, Rolling Stone, Q104.3, Prog, Canadian Musician, and Digital Trends. In the latter interview, Mike Mettler chatted with Geddy Lee for his The Audiophile column about the R40 Live tour and video release, and when the subject of Losing It came up, Mettler asked Geddy about the recent release of the Signals high-resolution 96-kHz/24-bit surround-sound mix. This led to him asking Geddy how he feels about surround sound these days:
... I think it's really a way of enlivening some of the material that people think they know. It gives it another dimension. And for audiophiles in particular, it takes them on an interesting journey. That's really the motivation behind it. ...
Mettler then mentions that Steven Wilson (Porcupine Tree) has expressed interest in wanting to remix Rush albums in 5.1, and upon hearing that Geddy says:
... That's fantastic! Yeah, we'd love to get him to do that for us. ...
On a related note, Mettler also penned an article/review in the December issue of Sound & Vision (page 74) where he sings the praises of the 3 Rush albums that were released on HD pure audio blu-ray: Fly by Night, A Farewell to Kings and Signals (thanks RushFanForever).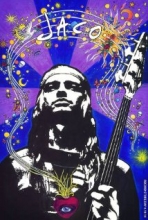 Jaco is a documentary film on legendary bassist Jaco Pastorius produced by Metallica bassist Robert Trujillo and directed by Paul Marchand and Stephan Kijak. Geddy Lee is one of the many musicians interviewed for the film and a short snippet of Geddy discussing fusion music from the documentary can be seen on YouTube here. The film was first screened last year at the Mill Valley Film Festival on October 6th and at the Grammy Museum on December 8th. It also headlined the first annual Asbury Park Music in Film Festival this past April where it was awarded the Foundation Award (Presented to the Asbury Park Music Foundation's selection for the APMFF premier film). The film was finally made available for purchase today via various on-demand/streaming services, digital download and on DVD/Blu-Ray as part of Record Store Day's Black Friday promotion. An associated soundtrack was also released via Sony/Legacy and that is available to order here.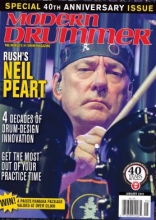 We learned a couple of weeks ago that Neil Peart is the subject of an interview and cover feature that appears in the January, 2016 issue of Modern Drummer magazine. The interview was conducted by Ilya Stemkovsky backstage at Rush's June 27th show in Newark. Neil covers a wide range of topics including the rigors of being a professional rock drummer in his sixties, continuing to grow and learn as a drummer, choosing songs for the R40 Live tour, his R40 Live drum kits, writing lyrics and more. The issue is now available via digital download and the print version will be available on December 1st. A transcription of the article is available online here.
Ultimate Classic Rock opened up voting in their 2015 Ultimate Classic Rock Awards earlier this week and Rush is in the running in several categories including Artist of the Year, Reissue of the Year for their vinyl reissue campaign, Live Album or Video of the Year for R40 Live, and Tour of the Year for the R40 Live tour. Rush needs your help in the voting, so go vote for Rush!! Voting is open until January 4th at 4PM.
Rush's Power Windows celebrated its 30th anniversary last month and will be the subject of an In The Studio with Redbeard rockumentary radio show set to air on December 14th (thanks Eric at Power Windows):
Rush is marking the 30th anniversary of 1985's Power Windows with "The Big Money","Manhattan Project","Marathon", "Mystic Rhythms"; and we will add 1993's terrific hard-rocking Counterparts sporting "Animate","Stick It Out", and the emotionally powerful "Nobody's Hero". Rush's Geddy Lee and Alex Lifeson host this thoughtful conversation In the Studio the week of December 14. -Redbeard
These programs are usually an hour long and typically consist of past In the Studio interviews with the band where they discuss and play tracks from the album(s). It's possible but unlikely that there will be some new or unreleased interviews included. The interview portion of the special is usually made available for streaming online the week it airs. For a list of stations and air times go here. The Power Windows vinyl reissue is slated for release on December 18th.
Coheed and Cambria frontman Claudio Sanchez was recently interviewed for STEAM Magazine and when asked whether his band's frequent comparisons to Rush bothered him he had this to say:
... That doesn't bother me. I can only dream to have the career that Rush has had. It's got longevity and I could only aspire to have that. I don't necessarily mind the comparison. I have a fun story about Rush and it involves my first playing guitar. I was a kid in junior high school, when I started my first band. At the time, I was going to be a drummer. ... A friend of mine was a singer. We had these ideas. So we went looking for a guitar player all over town that could accompany our Rock N Roll band. I didn't even have a drum set. So we find this guy and he comes to my friend's apartment and he sets up his guitar and amplifier and he's amazing. He goes to us and says, "If I'm going to be in this band, we're going to need to play Rush covers" and I don't even know who Rush is. And I'm the drummer. And I don't even have a drum set. So I just say, "Cool, we'll play Rush covers". That evening, he had a friend call my friend and say that he thought we were just a bunch of dreamers and nothing was going to happen for us and my friend calls me to tell me this and I'm like "f#$k that guy!" and that's how I started playing guitar ...
The whole article is available here on page 11 (thanks RushFanForever).
Joey Tempest of the band Europe was recently interviewed for Fox News and mentions Rush at one point:
... with a band like Rush, there are twists and turns here and there, and people are like, "What are they doing now?" But as a fan, you like it. It's challenging, and you follow them anyway. What we do as Europe goes all the way back to "Tom Sawyer." There were parts of "Tom Sawyer" where I thought, "With one guitar player, we could also have a keyboard player and add some depth, and do some different things." That's how it all started." ...
In last week's updates post I'd mentioned that Adam Sandler recently performed an updated version of his holiday classic The Chanukah Song at the Judd Apatow & Friends event at Carnegie Hall as part of the New York Comedy Festival. Sandler name drops a number of famous Jews in the updated song, including Rush's Geddy Lee. Sandler made some pro-shot video of the song available on YouTube here. He mentions Geddy at about the 1:30 mark saying, "... and if you need a higher voice to turn you on how 'bout Geddy Lee from Ruuuusssssshhhhh ..." where he sings the word Rush in a high falsetto voice.
Guitar World is running an online Gear Up for Fall contest to win a HUGE prize package which includes an Alex Lifeson Lerxst Chi amplifier. For all the details and to enter go here. All entries must be submitted by November 30, 2015.
In celebration of Thanksgiving yesterday, VH1 posted their Heavy Metal Turkey Shoot where they pick the 10 worst albums by 10 great bands. One of the chosen bands was Rush, for whom they picked Test for Echo as their worst album:
Dating back to their debut, before they even fully came together with drum deity Neil Peart, Rush has consistently issued one excellent LP after another. Selecting a dud amidst such a deluge of diamonds, then, proves a challenge. While many fans freaked over the rap interlude on Roll the Bones, overall it's a rock solid album. That leaves the relatively listless and meandering Test for Echo as the Rush collection that comes closest to qualifying as a miss. It happens to everyone, eh?
Here's some video of Geddy Lee addressing the future of Rush from the Sirius XM town hall interview:
That's all for this week. Have a great weekend!!