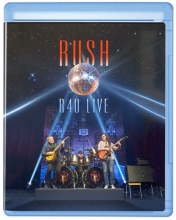 Rush's R40 Live concert film officially released today in North America just in time for the Holidays, and is available as 2 DVDs, 1 Blu-ray disc or 3 Audio CDs along with various combo packages. Unfortunately it looks like the European release has been delayed until December 4th for unknown reasons. The Rush Backstage Club includes an optional t-shirt (seen here) with any purchase, and Best Buy's package includes a Rush Starman flashlight (video of it in action here). Previews of Xanadu, Subdivisions, Tom Sawyer, The Spirit of Radio, Roll the Bones, Closer to the Heart, and Jacob's Ladder are available for viewing online, along with a 2-minute trailer for the film here. R40 Live's tracklisting mirrors the Friday, June 19th Toronto show setlist, with One Little Victory, Distant Early Warning and Red Barchetta from the June 17th Toronto show as bonus material on the DVD/Blu-ray. The CD will also include audio for Clockwork Angels, The Wreckers, The Camera Eye and Losing It with Jonathan Dinklage as bonus material. Last week Sirius XM's Classic Rewind (Channel 25) hosted the radio premiere of the R40 Live CD, and they'll continue to broadcast the audio every other day or so from now through December 6th with the full broadcast schedule available here. Eric at Power Windows has transcribed the liner notes and made them available online here. There was also a special London, UK screening of the film this past Tuesday. R40 Live reviews are starting to roll in. Here's one from JP's Music Blog, another from Classic Rock, and Popmatters.com posted this review where they give it a 7/10 and say the following:
... [Rush] give it their best every time, and R40 Live is no different. Fans should add this to their collection for the great performance, but also for its historical significance. It may be the last major tour stop at the band's home city of Toronto. They say that they aren't officially retired, so perhaps we'll hear more of them in the future. But if not, then R40 Live is a fine closing chapter for a band whose rock and roll legacy is peerless.
You can order the various R40 Live packages at the following links:
[3-disc CD/Blu-ray Combo]
[3-disc CD/DVD Combo]
[3 Audio CDs]
[Blu-ray only]
[DVD only]
Geddy Lee and Alex Lifeson hit the interview circuit last week to promote the R40 Live release. Sirius XM hosted a town hall interview with the pair at their New York City studios this past Friday afternoon which was moderated by filmmaker Michael Moore. Subscribers were given a chance to attend the interview via an online sweepstakes where contestants were asked to submit questions for the band. John at Cygnus-X1.net was one of the lucky attendees and gave a detailed report of the event along with some photos here. Everyone was given the chance to ask their question to Geddy and Alex, and were treated to a meet-n-greet and photo-op afterwards. On Wednesday Rolling Stone posted an article with ten highlights from the interview along with a few audio clips at this location. The interview will be broadcast as a one-hour show airing next Wednesday, November 25th at 6PM EST with several rebroadcasts the following week.
Geddy and Alex also conducted interviews with Q107, Billboard, Rolling Stone, Q104.3, Prog magazine and Canadian Musician magazine. In all the interviews Geddy and Alex address the future of Rush in a tentative way, not wanting to commit to anything but making it clear that - despite it being unlikely that Rush will tour again - Rush is not finished as a band. Both Alex and Geddy would have liked to extend the R40 Live tour, but deferred to Neil Peart who clearly has grown tired of the grind of touring. Here's what Alex had to say on that subject in his Prog magazine interview:
... I just wish we'd been able to do another 20 shows or so and it's too bad that we're going to miss the UK particularly. It just feels a little shy of a true finish, a complete resolution. But if that's the way it is then we'll adjust to it. I think we need to have a little space, a little time off to regroup and think about what we want to do in the future. If and when we want to record another record and if there's a possibility of us doing something in the future, I don't know. The ball is in Neil's court, clearly. ...
And here's what Geddy had to say to Rolling Stone:
We don't have any immediate plans for [touring]. Right now we're on holiday. I hope once the new year rolls around and the juices get flowing and we get hungry again we can talk about that. [The band is not done] in my mind. But I can't speak for everyone.
Both Geddy and Alex are "itching to start writing again" and kept bringing that up in all the interviews. Here's what Alex told Billboard:
... "I'm getting very itchy," Lifeson says. "There's nothing specific we're looking at, but I think ultimately I'd like to get back in with Ged and start writing and then have Neil join in and take it from there. That's how we always start: [Lee] and I jamming, and we'll do that for a little while, and then Neil will start sending lyrics and we'll kind of piece it together with what we're doing. So I'm hoping that's somewhere in the near future." ...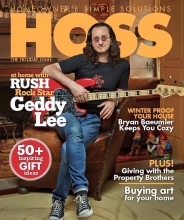 The Holiday edition of HOSS (Home Owner's Simple Solutions) magazine hit newsstands yesterday and includes a cover feature with Rush's Geddy Lee titled Closer to the heart with Geddy Lee of RUSH. In the feature they visit Geddy at his home in Toronto and get a firsthand look at his collections of wine, baseball memorabilia, bass guitars and art:
... "It didn't matter what city I was in, I would go to an art gallery. What kept me sane on that tour was learning about art," says Lee. "You can learn a lot by buying the books and going to every gallery you can and seeing what they have there - letting your eyes take it all in," he says. ... "I'm a child of the 50s, so I have great respect for the artists that came in the early part of the 20th century and survived the war," says Lee. "And their art survived too and has gone on to become important. I think that's why I'm fascinated by that period of history to a certain extent. They and their work endured. Art goes on and touches us and our history." ...

The magazine is also running a Closer to the Heart with Rush contest to win a custom Fender Squire vintage modified jazz bass 70s' guitar. The bass comes with a custom engraved R40 Pickguard, produced by Fender exclusively for Rush. The prize pack also includes the new R40 Live DVD Set, a Sonos prize package of Sonos Wireless HiFi Speakers, and the chance to win a one year free subscription to HOSS Magazine. You can enter the contest online at this location.
A few weeks ago Geddy Lee and Alex Lifeson visited the set of the NBC drama Chicago Fire to film a scene for an episode of the show titled 2112 (likely a reference to the NFPA 2112: Flash Fire Protection Standards as well as being a nod to the episode's special guests) that aired this past Tuesday evening on NBC. The basic premise regarding the Rush involvement centered around the team helping out a guy who happens to be a roadie for Rush, and in the scene he is wearing a Signals t-shirt (screenshot here). Apparently in the universe of the show, Rush decided to add an extra one-off Chicago show to the R40 Live tour. The roadie informs Mouch (Christian Stolte) - who happens to be a huge Rush fan - about the show, and in the next segment Mouch is searching the internet for some Rush tickets (screenshot here). The roadie later comes down to the station and gives the team four tickets to the show along with meet-n-greet passes (screenshot here). They then have a YYZ air-drum contest to determine who gets the tickets. In the final segment the guys go to the show and a very nervous Mouch, who is wearing a jean jacket and 2112 t-shirt (screenshot here), tells the band a story about how he and his friend wore numbers 21 and 12 in highschool. The story comes out a little wrong, making it sound like he said he had seen the band when he was 21 with his 12-year-old friend, which caused Al and Ged to raise their eyebrows a bit (screenshot here). The team then takes a photo with the band (screenshot here). They then realize that their backstage tickets were really behind-the-stage tickets and their view of the show is obstructed. The complete episode is available for viewing on the NBC website here, and there's also this video of just the Rush scenes. The show's creators Michael Brandt and Derek Haas are huge Rush fans as pointed out in this TV Trippin article previewing the episode where they talk to the cast and crew about getting to meet/work with Rush:
... The co-creators of "Chicago Fire" light up like a five-alarm fire when talking about Tuesday's episode featuring the legendary rock band Rush. "We've been friends with the Rush guys for years," Michael Brandt said. "They're hilarious. Total hams. They did us a favor." ... The storyline involves Rush performing a concert in Chicago. A few lucky Firehouse 51 fans snag free tickets to the show. "We've been thinking about [having them on] for four years, so the fact that they finished their last tour and said that they would do it is awesome," co-creator Derek Haas told me during an interview Monday at NBC press day in Chicago. ... "We originally were approached by NASCAR to do a crossover episode," showrunner Matt Olmstead said. "We explored it. As oftentimes happens ... logistics got the best of everybody. So we had to pull that storyline." ... Instead of getting tickets to a NASCAR event, why not have the firefighters get freebies to a concert, Olmstead suggested. "Derek's like, 'Rush! It's gotta be Rush!'" Olmstead said. "Thus began the whole process of clearing rights to music. Those guys [Haas and Brandt] wrote the Rush substitute storyline in about five minutes. That came from deep, deep, deep. Lifelong dream realized for those two guys." ...
Earlier this week Gibson Custom announced the release of a new limited edition Alex Lifeson signature double-neck guitar. From TheMusicZoo.com:
Gibson Custom is excited to announce a very limited edition replica of Alex Lifeson's 70's Gibson Double Neck, crafted in close collaboration with the Artist. This limited run of 100 EDS-1275's is a replica of Alex's famous Farewell to Kings Double Neck. Based on hands-on analysis and digital scans of the original's neck and body profiles, each one is a literal copy of the guitar that Alex acquired in the mid-1970's and one that would go on to become a visual and tonal icon.

"I acquired this [white] one in 1976, along with a cherry one which I later gave to Eric Johnson. It's been with me ever since, playing a constant role in the Farewell to Kings tour between 1977 and 1983, then again from 1991-1996, primarily for the song Xanadu. It was used to record the songs Xanadu, Something for Nothing, and Vapor Trails. Also on others for accent, but I can't recall them all!" ...
Image Comics (creators of The Walking Dead and Saga) has a new series called We Stand on Guard that has been generating a lot of buzz recently. The series is the subject of this lfpress.com story from earlier this week. The comic tells the story of a future American occupation of Canada, and is set simultaneously in 2112 and 2124 (thanks RushFanForever).
British electronic music duo Disclosure, consisting of the siblings Howard and Guy Lawrence, were recently interviewed for Radio.com and talk about being Rush fans and their favorite Rush songs:
... Howard: Rush was like the soundtrack to me learning bass guitar. I learned all Rush songs; that's how I learned bass guitar. So yeah, there's quite a few to choose from.

Guy: I learned the drums to one song, which was a tough one because it slips into different time signatures and stuff, which was why my dad would play it. "Manhattan Project."

Howard: Oh, yeah, that's a great song, "Manhattan Project." I think one of my favorites is definitely "Subdivisions," "Tom Sawyer" is one of the best songs ever. "YYZ" is a f-ing amazing song. "Fly by Night" is a brilliant song. "Red Barchetta," I could just keep going. ...
Popmatters posted their list of The 25 Best Classic Progressive Rock Albums this past week and three Rush albums made the cut; 2112 at #22, Hemispheres at #12, and Moving Pictures at #6:
... Moving Pictures is, without any question, not only Rush's masterpiece, but one of those rare albums that epitomizes an era. It represents both a culmination and a progression: the peak of the band's development as well as the blueprint for Rush's subsequent work. More, it is a template of sorts for the way rock albums were made in the early '80s. ...
Adam Sandler helped ring the holiday season in over this past weekend in New York City by perfoming an updated version of his holiday classic The Chanukah Song at the Judd Apatow & Friends event at Carnegie Hall as part of the New York Comedy Festival. Sandler name drops a number of famous Jews in the updated song, including Rush's Geddy Lee. Speaking of Geddy, reader uh.tales let me know that Ged gets mentioned in CinemaSins' Everything Wrong With Tomorrowland In 18 Minutes Or Less video around 16:28 mark.
Ultimate Classic Rock is running yet another bracket contest - this time in celebration of the upcoming release of the next Star Wars movie next month. They are calling the contest Rock Star Wars and they are pitting space-themed rock songs against one another. Rush's Cygnus-X1 is currently up against Def Leppard's Rocket. So go vote for Rush!
Here is Geddy and Alex's entire 15-minute interview with Q104.3:
That's all for this week! Be sure to order your copy of R40 Live if you haven't already. For those of you in the US, have a great Thanksgiving Holiday next week!! Happy Friday everyone!