Several new, Rush-related books were released this past week including Kevin J. Anderson and Neil Peart's follow-up to their best-selling Clockwork Angels novel - Clockwork Lives - which officially released via ECW Press on Tuesday. It is described as a steampunk Canterbury Tales and further explores some of the people and places from the Clockwork Angels universe. The book contains illustrations from Clockwork Angels graphic novel artist Nick Robles, and Anderson posted previews of the first 10 illustrations to his blog last week. Anderson has several signed, hard copy editions available for order via his Wordfire Press website here for $35, and the Rush Backstage Club has made a sample chapter (The Pickpocket's Tale) from the book available for free download here. You can order your copy of Clockwork Lives via Amazon at this location. In addition to Clockwork Lives, a single-volume, complete graphic novel version of the Clockwork Angels graphic novel was also officially released on Tuesday and can be ordered here. The graphic novel version of Kevin J. Anderson and Neil Peart's Clockwork Angels was originally released in 6 volumes via BOOM! Studios between March and November of last year. Nick Robles handled all the artwork while Kevin J. Anderson wrote the scripts with some help from Neil Peart. Anderson made these scripts available via his Wordfire Press publishing company last December as Clockwork Angels: The Comic Scripts. A signed, hard copy edition of the graphic novel can also be purchased via Anderson's Wordfire Press website here. Anderson's Wordfire Press also released author Bradley J. Birzer's new book Neil Peart: Cultural Repercussions this past Tuesday, and it can be ordered online here. The book is a biographical, in-depth examination of the words, ideas and professional life of Neil Peart. You can check out a high-res scan of the book's cover here. And last but not least, a new book detailing a chronological history of Rush from author Patrick Lemieux titled The Rush Chronology was released this past Wednesday and can be purchased at this location.

A new Fender limited edition USA Geddy Lee Jazz Bass with a maple neck and a transparent crimson red finish was recently made available in a limited run of 100 and is currently selling for a retail price of $1999.99 from a number of online dealers including Reverb.com and Cream City Music. From the product description:
Geddy Lee's iconic bass playing helped propel Rush to the forefront of prog-rock stardom, and now you can get a bass that's built to combine the best of his three favorite basses with this Limited Edition USA Jazz Bass. Its maple neck features a bolder profile than standard Jazz Basses, giving it a thick, comfortable feel in-hand that provides plenty of stability without compromising a bit of comfort. A pair of Fender Vintage-Style single coil '70s pickups are specifically voiced to sound like Geddy's original 1972 model, dealing out booming, yet well-defined tone. Aesthetically, the bass is a classic treat, with traditional black block inlays, black fingerboard binding, a 4-ply black pearloid pickguard, and a transparent Crimson Red finish that shows off a gorgeously figured flame maple top. Part of a limited run of only 100 basses, this perfectly designed homage to one of history's greats won't last long, so get yours while you can!
Speaking of Geddy and bass guitars, it looks like Ged has been spending some of his time off in London, England as he was recently spotted at New Kings Road Vintage Guitars in London as seen in this Facebook photo:
Wow. Just had a visit from one of our all time heroes, Rush bass supremo Geddy Lee. What a super cool guy. We became our fourteen year old selves again and got him to sign our prized Rush albums. Luckily he didn't show up on Friday as that's our Rushfest day which could have been embarrassing....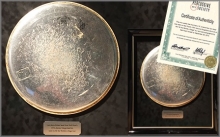 The Percussive Arts Society is currently conducting a raffle for an autographed Neil Peart All the Worlds a Stage drumhead to benefit DrumsForCures. This Evans 16" chrome drumhead was used on Neil Peart's 1974 chrome Slingerland drum kit on the All the Worlds a Stage tour and was autographed by Neil Peart himself on September 26, 2010. The drumhead is professionally framed with museum rated non-glare, UV protected glass, and is valued at $4,000. You can buy tickets for the raffle online at this location and the drawing will take place on November 14, 2015 at 5PM.
The Dallas Observer ran an article today on Luscher's Red Hots restaurant in Dallas, which has a weekday Rush Hour as described here:
... Assuming you're a fan of Toronto's greatest contribution to rock n' roll (except for maybe Barenaked Ladies), you're really going to dig Luscher's new weekday special. Luscher's Red Hots is offering "Rush Hour" from 5 p.m.-7 p.m. Monday through Friday. In that time, you can snag cheap beers and hot dogs while "rocking out to the legendary band Rush!" For those who really enjoy the combination of classic rock and perfectly stuffed sausages, Luscher's new offering could prove to be a really tempting draw. ...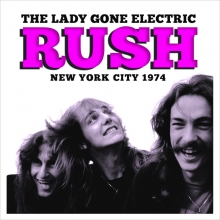 Back in April a live radio broadcast recording of a December, 1974 Rush appearance at the Electric Lady Studios in New York City was released on CD in Europe. It's titled The Lady Gone Electric and was originally recorded in front of a small audience of around 10 people for FM radio broadcast. The CD is now also available in North America as an import only and can be ordered online from various sellers here. It will also be getting a release on 180-gram vinyl this coming December and can be pre-ordered here. More details on the vinyl release are also available at SoundStageDirect. From the Amazon UK description:
... this sublime Rush performance was given in front of an audience of 8-12 people in the small studio, and thus provides a fine example of this remarkable band's early live sound. This was also the earliest recording made with Neil Peart on drums, Peart having replaced their former skins-man John Rutsy, a few months before this show. They perform material from their first album and new songs from the soon to be released Fly by Night LP. The show was undertaken to provide a live broadcast for FM Radio, and was transmitted across the airwaves prior to the release of Fly by Night. Neil had only been with the band for a few months at this point, but the playing is tight and precise. The FBN songs are still coming together, so some, notably Best I Can, contain some alternate lyrics. The structure of Fly by Night is different, with the guitar solo coming after the vocal bridge and a completely different ending. We get a rare treat in Working Man, when Alex delivers a guitar solo outside of the normal structure of the song. Bad Boy is introduced as a Beatles song, although it was originally written and performed by Larry Williams. It s amusing to hear the polite clapping of what sounds like about five or ten folks in the studio. Geddy's soft-spoken comments in between songs are a sharp contrast to the very hard-edged performance. Apparently, several mics were set up around the studio, with only a very basic soundboard feed. The result is a very well-mixed sound - so much so, in places it sounds as though it s lifted direct from the first album. The three bonus cuts included are from the group s first US television performance on the legendary Don Kirshner Rock Show programme in October 74.
It's available in the US and Canada as an import only due to differing copyright laws in North America and Europe, and it's NOT an official Rush release. It's similar to the Spirit of the Airwaves and Rush ABC 1974 live releases from a few years back, in that it is essentially a packaged release of a radio broadcast bootleg recording that's been around for many years. Here's the recording from their performance of Bad Boy that appears on the CD:
That's all for this week. Have a great weekend everybody!