UPDATE - 1/17@9:08AM: Apparently Razor on 96.1 KLPX in Tuscon mentioned on air yesterday that Rush would be hitting Phoenix on July 27th, so I'll go ahead and add that to our list too (thanks Sean).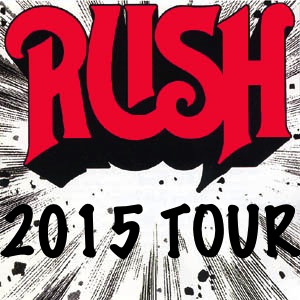 Despite the many Rush 2015 tour rumors that have been swirling around the last few weeks, another week has gone by without any kind of official word from the one source that matters - the band itself. The rumor mill kicked into high gear a couple of weeks ago when Ticketmaster and Live Nation briefly listed 2 tour stops for Rush - a June 23rd concert at the TD Garden in Boston, and a June 29th show at Madison Square Garden in New York City (both listings have since been removed). These listings lent support to other rumors regarding Rush shows being planned for June for several US cities, and earlier this week I posted some rumored (unconfirmed/unofficial!) cities/dates for these shows. There have also been a few tweets from folks in the Rush camp over the last few weeks that tend to lend support to an impending Rush tour as well. You can check those out along with the details surrounding some of the other rumors in this post from earlier in the week. Here's a rundown of the rumored cities/dates so far.
Columbus, OH (6/8)
Buffalo, NY (6/10)
Chicago, IL (6/12)
Detroit, MI (6/14)
Boston, MA - TD Garden (6/23) - briefly listed at TM/LN
New York, NY - Madison Square Garden (6/29) - briefly listed at TM/LN
St. Louis, MO (6/??)
Tulsa, OK - BOK Center (7/19) - allegedly briefly listed at BOK Center website
Phoenix, AZ (7/27)
Las Vegas, NV (8/1)
Hartford/New Haven, CT (??) - toward end of summer according to promoter Jim Koplik
Note that these are just some rumored dates I'd heard from industry and other sources - they are NOT confirmed/official, nor is this an exhaustive list. My guess is that the entire summer leg will consist of 30-35 dates once announced. There's no telling when we'll get that official announcement though. So for the time being, just take these rumors with a big grain of salt and have fun with the speculation game. It doesn't look like the band will have any new material to showcase on this tour, so it will likely be another anniversary/retrospective tour similar to R30. Will there be an R40 Overture? Will they play a full album such as Permanent Waves (it's that album's 35th anniversary this year)? What do you think? Let us know in the comments.
This coming March Rush will get to add another item to the long list of awards and accolades given to them over the years when the band will be presented with the 2015 Allan Waters Humanitarian Award at the 2015 Juno Awards. We learned yesterday via a press release that the band would be the recipients of the award which recognizes outstanding Canadian artists whose contributions have positively enhanced the social fabric of Canada. The 2015 Juno Awards will take place on March 14th in Hamilton, ON. Here's Rush's response to the news:
"We are sincerely grateful to be recognized as this year's recipients of the Allan Waters Humanitarian Award. We are proud, honoured and humbled to be in the company of all Canadians who find it within their hearts to help those in need." - Rush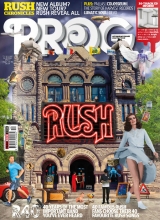 So now that it looks like Rush will tour this year, what about a new Rush album? Geddy Lee briefly addressed that topic in a new interview in issue #52 of the UK's Prog magazine for their recent cover feature on Rush. The interview is titled Entre Nous and Geddy talks about his recent performance at The Who's benefit show, wine, Alex's golf game, and a future Rush album:
... I certainly believe we have enough mojo to do another really good record and I still love to play and write, but that's something that I'm afraid only time will tell.
Prog #52 is now available in the UK and the cover is a collage of 40 Rush-related images. The issue also includes a new interview with Neil Peart along with a series of short interviews with 40 famous Rush fans talking about the band and some of their favorite songs. The latter feature is available online at the Team Rock website here, and excerpts from the Neil Peart interview - which was covered in this post - can be seen here.
Speaking of Geddy Lee, the 2015 NAMM Show will take place next week in Anaheim, CA and Fender will be featuring several new guitar models for 2015, including a new Geddy Lee signature Jazz bass. Here's the overview from the product description page:
Bassists have loved the signature Geddy Lee Jazz Bass for years. The new U.S.A. Geddy Lee Jazz Bass is a new version that combines the specs and features of Lee's three favorite basses-two Fender Custom Shop versions of his signature model and the original sleek black '72 Jazz Bass that Rush's revered bassist/ vocalist has riffed away on in front of millions of devoted fans worldwide and on many a megaselling album. The neck has a thicker custom profile, topped by a maple fingerboard with elegant white binding and white pearloid block inlays. For enormous tone that crackles with life and bristles with the energy, its two vintagestyle single-coil Jazz Bass pickups are specially wound and voiced to sound like those on Lee's prized 1972 original, and a Geddy Lee signature High-Mass bridge provides rock-solid intonation.
Clockwork Angels author Keven J. Anderson announced this past summer at RushCon plans for an anthology of Rush-based stories that he'll be co-editing with John McFetridge for ECW Press (publisher of Clockwork Angels and Neil Peart's books). They have a team of award-winning and bestselling authors lined up to contribute short stories based on Rush songs, with Anderson himself contributing a novella titled 2113. Anderson announced earlier this week via his blog that he had finished the 2113 novella and revealed some more details about the project including the list of authors and that it will include a reprint of Richard Foster's story A Nice Morning Drive (the original inspiration for Red Barchetta) and Fritz Leiber's Roll the Bones.
Heavy metal drumming legend Gene Hoglan was a guest on Full Metal Jackie's weekend radio show last week to discuss his The Atomic Clock: The Clock Strikes Two instructional DVD, and he mentions Neil Peart at one point:
... I grew up being a Neil Peart worshiper. He as well as Peter Criss, he was my first No. 1 when I was a kid when I turned 9 or 10, I discovered Neil Peart. He was my God for years and years. I didn't appreciate when he broke down his drummer and started working with Freddie Gruber out in New York. The things, for me, that made Neil magical - all that outside of the box thinking. All that "I'm going to shove this lick into this rock song" - it's not going to fit, but it'll be awesome! It seems like he abandoned that when he broke down his drumming style. I still love him, but I must admit it's the older Neil that really grabs my attention. ...
Back in 2011 members of the Swedish metal band In Flames opened a new restaurant in Gothenburg, Sweden named Restaurant 2112 as a tribute to Rush's 2112 album. Earlier this year co-owners Peter Iwers and Bjorn Gelotte released a book titled Restaurant 2112 - A Tale Of Meat And Metal which details how the restaurant came to be and gives a glimpse into the touring life of a heavy metal band, and it was just recently made available in English. For more information on the restaurant and to check out some pictures you can go to their website or visit them on Facebook. There's also this video interview from Metal Hammer magazine on location at the restaurant with co-owner Peter Iwers.
Peter Silva used Rush's Analog Kid and Digital Man to demonstrate his point in a recent SYS-COM MEDIA article titled Internet of Things and the Analog Generation:
... Generation X, specifically, might also remember a Rush song called The Analog Kid. While not as frequently played as Tom Sawyer or Subdivisions, it has always been my favorite Rush song. Driving bass, awesome guitar solo, amazing imagery and Peart. I am that Generation. The Analog Generation. ...
Back on November 7th Geddy Lee taped an episode of the new PBS series Speakeasy and was interviewed by his friend, author Michael Chabon at the McKittrick Hotel in New York City. The first episode of Speakeasy aired on PBS last week with Geddy's episode (episode 5) airing later in the month on January 29th. Check your local TV listings for specific air dates/times. The Speakeasy YouTube channel recently posted a couple of preview clips from Geddy's episode, the first of which is a short clip giving an overview of the many topics discussed during the interview, while the second is a more in-depth clip about 3 minutes long where Geddy talks about how he and Alex Lifeson typically go about writing music.
That's all for this week. Have a great weekend everybody!!