UPDATE - 1/6@10:03AM: The transcript has been removed per Prog's request, but the R40 feature is still available at the Team Rock website here, and excerpts from the Neil Peart interview can be seen here.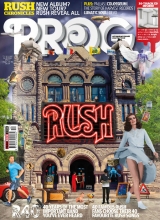 Issue #52 of the UK's Prog magazine contains a cover feature on Rush and is now available for purchase in the UK. The cover is a collage of 40 Rush-related images, and the issue includes a new interview with Neil Peart along with a series of short interviews with 40 famous Rush fans talking about the band and some of their favorite songs. Eric over at Power Windows has transcribed the entire feature and made it available online at this location. The Neil Peart interview is by Phil Wildling and titled New World Man. Neil spends most of the interview discussing his latest book Far and Near: On Days Like These although he does also touch on his stance regarding a potential 2015 Rush tour:
... It's a true dilemma, there's no right answer. People say to me, 'Are you still excited when you go out on tour?' Should I be excited about leaving my family? No, and no one should. It's as simple as that: if you put aside the fantasy of it, it is what it is and has to be done, and that's fine and I pour my entire energy and enthusiasm into it, but, of course, I'm of two minds about the whole idea. ... Me, Ged and Alex all met together about a month ago now I was in Toronto and we all got together and discussed things and playing was the activity that we all most wanted to do, though we've made no real decisions yet. We're all in our sixties and we did feel that with Clockwork Angels live we reached a prime that we're all very proud of and pleased with, but that is the hardest thing by far, performing. You can fiddle around in the studio until your dotage, but as far as going out there and playing, especially drumming, for me it's such an athletic undertaking, we really want to utilise that while we still have it.
The second feature is title R40 and includes quotes from 40 well-known Rush fans including Terry Brown, Taylor Hawkins, Steven Wilson, and Mike Portnoy. You can read the entire feature and the Neil Peart interview at this location.