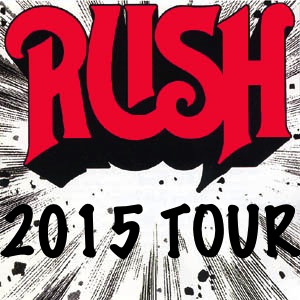 Last week Alex Lifeson revealed via a Rolling Stone interview that Rush is making plans to embark on some kind of anniversary tour in 2015. Since that interview was posted no further details regarding the tour have come to light. Given the timing and the band's insistence that they'd be taking at least a year off, it's unlikely we'll see a full length Rush album released before this tour. However, there's always a chance they'll release a song or two before then - similar to what was done with the Caravan/BU2B single release prior to the Time Machine Tour. Here's what Alex had to say about the proposed tour:
Rush wrapped up their worldwide Clockwork Angels tour just seven months ago, but they're already planning a lengthy "41st anniversary" tour for 2015, according to guitarist Alex Lifeson. "The three of us just had a meeting," Lifeson tells Rolling Stone. "We said, 'Let's not talk about anything band-wise for the next year. Let's separate ourselves and come back rejuvenated.' Unfortunately, the other people at that meeting didn't hear what we were talking about, so there are already plans being made for spring of 2015. It's going to be a 41st anniversary tour, or whatever they're going to call it." ... "We haven't really talked seriously about what we want to do," ... "But I think we're probably going to lean towards making it a real sort of fan event, and really try to put something together that's very pleasing for the fans across the board. That's always been difficult, for us to sort of balance things." ... "We want to try and play different material this time," ... "I've always wanted to do some rarer Rush material, and this should be a good opportunity to do that. I also think it's going to be a long tour. We just need to stay healthy until then." ...
In celebration of the planned tour, last week's Rolling Stone Readers' Poll asked folks to vote for their 10 Greatest Rush Albums. The results were posted yesterday and you can check them out online here.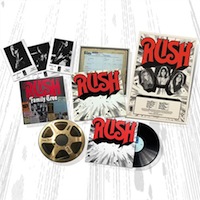 Radio.com posted an article yesterday titled Not Fade Away: Rush's Simple, Straight-Ahead Debut Turns 40 which takes a look back at Rush's 1974 debut album. The article includes some new interview snippets with Geddy Lee from a recent Radio.com interview conducted late last year. Geddy has the following to say about Working Man - the track that helped break the band back in 1974:
... "Our parents were hard-working," ... "Life was a struggle for most people, no one was wealthy. You thought a lot about your future, and what kind of life do you want to live? Is it going to be enough for me to have that kind of life, where it's all about work, and a beer at the end of the day and a hug from your kids, and do it all again? So, it's kind of an ode to that guy who we worked so hard not to be, in a sense. We wanted to be musicians, and that was our ticket out of there. That was our escape for what was sort of inevitable for all of our friends and the world that we came from." ...
Here's what Geddy had to say about the recording of that first album:
... "It's hard to hear the record without going back in time. Your first record is such a milestone. It's like the impossible feat: you never think you're going to get signed, you never think you're going to get to make a record." ... "The first version of our first record was really crappy, and that's when we met the guy who really changed our lives, which was Terry Brown. And he became our producer for the next 10 years and taught us so much about making records." ... "He saved that album, when I think of that album, I think of him, I think of that first session, when we took those poorly recorded versions of those songs, and he decided what was salvageable and what we should just re-record." ...
The band will be celebrating the 40th anniversary of the release of the album with a special Rush ReDISCovered LP box set containing a re-mastered version of the album on 200g vinyl, which is due for release on April 15th. You can get all the details in the Rush.com press release and pre-order your copy at this location. The band released a 40-second promo video via YouTube earlier today which you can check out here.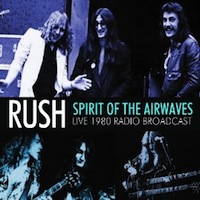 A live radio broadcast recording of a February, 1980 Rush concert titled Spirit of the Airwaves was released on CD and vinyl in Europe this month, and the CD is now available as an import in the US/Canada; the vinyl version will be available this coming Tuesday, April 1st. It was recorded over a series of shows in mid-February of 1980 at the Kiel Auditorium in St. Louis during the Permanent Waves tour. The release has actually already been available for digital download in Europe since December 9th and can currently be purchased on iTunes and other digital music providers there (but not in the US/Canada). This unofficial release is similar to the Rush ABC 1974 live CD from a few years back, and is essentially a packaged release of a bootleg that's been around for many years; namely the St. Louis '80 bootleg that was sourced from a direct A/D transfer of the original 2LP (4-sided) record set provided to radio stations for broadcast.
Guitarist John Wesley will be releasing his latest album Disconnect next week and Rush's Alex Lifeson makes a guest appearance on the album, playing a guitar solo on the track Once a Warrior. Disconnect will release this coming Monday, March 31st in the UK and on Tuesday, April 1st in the US, and can be pre-ordered now at this location. 30-second previews of all the tracks on the album are available for listening online here and the official music video for the title track can be seen at this location.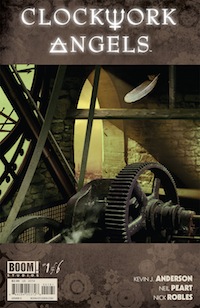 The first of six issues of the graphic novel version of Clockwork Angels released last week. There are a number of different covers of the issue available as described in this post from a couple of weeks ago. There are 3 standard covers of the 1st issue available (Cover A, Cover B, and Cover C) along with another exclusive Rush and BOOM! Studios cover. The A, B, and C covers are available in comic stores, but the exclusive cover can only be purchased via the Rush Backstage Club or through BOOM! Studios. There are also a number of different subscription packages available as shown on the BOOM! Studios website. Subsequent issues of the graphic novel series will have 2 covers available; the standard cover and the Rush/BOOM! Studios exclusive cover. There is also an exclusive cover of the first issue available for purchase at the Emerald City Comic Con in Seattle this weekend, and yet another exclusive cover available only at Larry's Comics.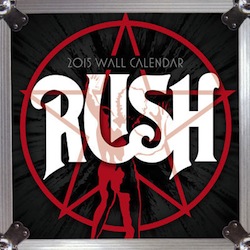 The cover art for the official Rush 2015 wall calendar was recently revealed by NMR Distribution via this product listing on their website, although the theme of the calendar isn't completely clear. The cover has the look of a roadcase and depicts the band's Starman logo in red with a white RUSH explosion logo and the words 2015 Wall Calendar overlain on top of it. This 12"x12", 16-month calendar will officially release sometime this summer and is actually already available for pre-order via Amazon. The band's official 2014 calendar celebrates their 40th anniversary and can be purchased online here.
Last week new Cleveland Indians closing pitcher John Axford asked fans to help him determine what intro song he should use before entering games this season via an online poll. One of the choices given in the poll is Rush's Working Man. The track has made it into the final round of voting where it's up against Sabotage by the Beastie Boys. Voting closes this coming Monday, March 31st so go vote for Rush!

There was a brief Rush 2112 reference in a recent episode of Cartoon Network's Adventure Time (Season 5, Episode 49 - Bad Timing - aired 3/4/2014). Towards the beginning of the episode Princess Bubblegum unveils her new orb-shaped time travel machine, and explains how it works and how it is controlled by a pair of special gloves. The green pair of gloves display the time and, for one split second as she is adjusting the time, it reads 21:12. You can watch the episode online here and the reference occurs at about the 50-second mark, but if you blink you'll miss it so here's a screenshot.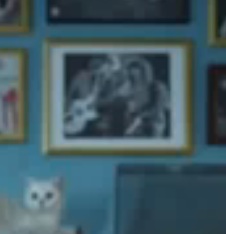 Eagle-eyed reader Marcel noticed a Rush picture hanging on the wall in this Dutch Vodafone 4G commercial which has been airing regularly on Dutch TV. The photo can be seen right in the center of the wall above the LP rack, and it seems to be a photo of Alex and Geddy taken at the Ahoy in Rotterdam 1981.

Ben Bolch's NBA power rankings from this past Saturday's Los Angeles Times list the rankings in 5 separate categories, all named after Rush songs. The categories in order from best to worst are, The Big Money, Limelight, A Farewell to Kings, Distant Early Warning, and Fly By Night. Unfortunately all the online versions of his rankings seem to leave out the categories, but you can check out a photo scan of the article here (thanks Scott B).
Dream Theater are currently on tour and guitarist John Petrucci was interviewed by The Burlington County Times in the lead-up to their show at the Tower Theater earlier this week. He spoke a bit about the band's progressive rock roots, saying the following:
... "I remember the first time I heard Yes and Rush and it just had such an impact on me. But other bands had an effect on me, as well. Led Zeppelin and Pink Floyd and Metallica all had something to do with the music I've been inspired to play. "But Rush and Yes were huge with my friends while I was growing up on Long Island. We loved to listen to the Yes album 'Close to the Edge' and Rush's '2112.' " ...

Reader Dan recently visited a vascular surgeon in Naples, and noticed this humorous sign posted on the door leading to the procedure suite. The sign shows the Rush starman image with the words Intergalactic Endovascular Center of Excellence superimposed over it. Heh. :)
US tire manufacturer Goodyear recently unveiled the designs for its new blimp and are running a contest to determine what to name it. Christophe Silvey at TVMix.com came up with a few naming suggestions of his own including this Rush-themed one:
The Spirit of Radio - since Goodyear's Zeppelin partner is unashamedly playing the 'steampunk' card to attract retro-attention to its endeavors, why not also honor the rocking Rush opener, off their Permanent Waves album, which honors an increasingly archaic medium as well as being perfectly appropriate at sporting events all over the world (better that than 'Tom Sawyer,' I'd say).
Here's the Rush ReDISCovered LP box set promo video that Rush posted to YouTube earlier today:
That's all for this week. Have a great weekend!