UPDATE - 1/31@12:45PM: It's Rush vs. Led Zeppelin in Denver's 103.5 The Fox Super Bowl of Rock and Roll, so go vote for Rush! (thanks Sesq)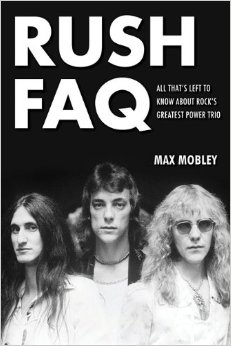 Although there hasn't been much Rush news to report lately, we did hear about some new upcoming Rush releases this past week. Rush's first 12 studio albums will be re-issued on SHM-CD in Japan next month, a 1980 Rush live radio broadcast will be released in Europe in March, and a new Rush book will be released in late April. Rush FAQ: All That's Left To Know About Rock's Greatest Power Trio will be released on April 29th and is currently available for pre-order. The book comes in at 400 pages and was written by veteran music writer Max Mobley (Crawdaddy!, Premier Guitar), who has interviewed Rush guitarist Alex Lifeson twice and seen countless Rush shows dating back to the A Farewell to Kings tour. You can check out a copy of the book's introduction in this post and pre-order your copy of Rush FAQ at this location.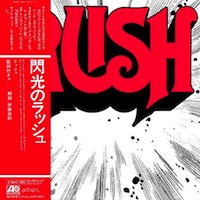 According to listings at CD Japan, Warner Music Japan will be releasing re-issues of Rush's first 12 studio albums as Mini-LP Super High Material CDs (SHM-CDs) on February 26th. Versions of these 12 albums based off the 1997 remasters had been previously released on SHM-CD back in June of 2009, so these are likely individual re-issues of the Sector remasters that were released digitally last year (unconfirmed).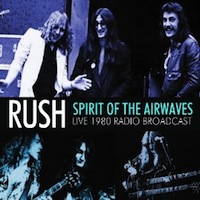 A live radio broadcast recording of a February, 1980 Rush concert titled Spirit of the Airwaves will be released on CD and vinyl in Europe this coming March. It was recorded over a series of shows in mid-February of 1980 at the Kiel Auditorium in St. Louis during the Permanent Waves tour. The release was actually already made available for digital download this past December 9th and can currently be purchased on iTunes and other digital music providers in Europe. It will be available in the US and Canada as an import only - likely due to legal issues as it's not an official Rush release. Similar to the Rush ABC 1974 live release from a few years back, this is essentially a packaged release of a bootleg that's been around for many years; namely the St. Louis '80 bootleg that was sourced from a direct A/D transfer of the original 4LP record set provided to radio stations for broadcast.
Alex Lifeson is featured in the January, 2014 issue of Guitar Techniques magazine for a piece by Paul Bielatowicz titled Alex Lifeson: Rush's Prog Master. It's a short profile of Lifeson and his guitar techniques and includes some sample music but no new interview snippets. John at Cygnus-X1.net has transcribed the article and made it available online here.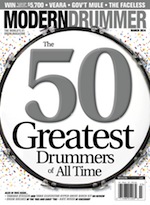 The March, 2014 issue of Modern Drummer will hit newsstands next week and features their list of the 50 greatest drummers of all time. According to subscriber reports, Neil Peart came in at #3 on the list just behind John Bonham at #2 and Buddy Rich at #1. Along those same lines, reader Doug B let me know that Neil Peart came in at #8 on Green Label Sound's list of The 10 Best Drummers of All Time.
Potential Republican presidential candidate and current Senator Rand Paul was profiled for a piece in the New York Times this past weekend titled Rand Paul's Mixed Inheritance. The piece focuses on the Senator's libertarian-leaning philosophy and mentions Rush at one point when discussing Paul's high school years. During Paul's run for Senate back in 2010 he would regularly use Rush music in his campaign videos, but Rush eventually got wind of this and had their lawyer send the campaign a letter asking him to stop.
The Red Hot Chili Peppers will be a special guest of Bruno Mars at the halftime show of the Superbowl this coming Sunday at MetLife Stadium in New Jersey. Chili Peppers' drummer Chad Smith was a guest on the Kevin & Bean radio show Wednesday morning on KROQ to talk about the upcoming performance. Rumors had been circulating that the band would be covering a Led Zeppelin song after the drummer had cracked a joke to reporters last weekend at the Grammys, but Smith assured everyone in the interview that this was just a rumor. He then jokingly said that the band would instead be performing side one of Rush's 2112.
Daniel Wilcox at 411mania.com posted his list of The Top 50 Music Moments of 2013 earlier this week, and Rush's Rock Hall induction came in at #42 on his list:
To say it had been a long time coming would be something of an understatement. After years of fans clamouring for their induction, it was announced that Rush would finally be inducted into the Rock and Roll Hall of Fame. Fans can and will debate the relative merits of the Rock and Roll Hall of Fame but it is undeniable that Rush is a band who deserve their spot in the Hall and the induction was long overdue. The announcement came in December 2012, the induction came later in 2013 as the Canadian trio of Geddy Lee, Alex Lifeson and Neil Peart were inducted as the marquee act ahead of a class that included Heart, Quincy Jones, Public Enemy and Randy Newman. Some people put a lot of stock into such achievement and for those people it was no doubt the right call putting the band into the Hall after so long.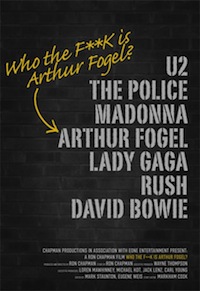 Back in December I mentioned how Canadian concert promoter Arthur Fogel is the subject of the documentary Who the f**k is Arthur Fogel?, which released early last year. Fogel - a musician himself - is the President of Global Touring and Chairman of Global Music for Live Nation and is widely credited for revolutionizing the global concert touring industry with his hands-on approach. This Ron Chapman documentary features an in-depth interview with Fogel, as well as an appearance by Geddy Lee and many other artists including Bono, The Edge, Sting, Andy Summers, Madonna, Lady Gaga, David Bowie, and many more. It also includes many rarely seen concert performances including some footage of Rush. The film was screened at several Canadian film festivals last year and was supposed to get its television premiere on EPIX Wednesday night, but the premiere has instead been delayed until March 19th. You can check out the film's trailer at this location. The trailer doesn't include any interview footage with Geddy, but does contain some flashes of Rush in concert.
Eric over at the Power Windows site is looking to improve the quality of his ticket scan archive for his awesome Rush Tour Archive and would like your help. If you are willing and able, please send him your HIGH QUALITY ticket stub scans on a white background, not photographs. Just email them to this email address.


Five years ago this coming Thursday, February 6th the film Fanboys was released. This Kyle Newman film with a script by Ernie Cline follows a group of Star Wars-loving geeks in 1998 who travel cross country so that their dying friend's dream of watching Star Wars: The Phantom Menace at Skywalker Ranch before its release can come true. One of the main characters (Hutch) is a huge Rush fan and spends most of the film wearing a Rush t-shirt. He also keeps a cassette case containing only Rush tapes in his van. In one scene with the gang all riding in the van, Eric (Sam Huntington) opens the cassette case and says, What the hell Hutch, it's all Rush, what if we wanted a little variety?, and Hutch (Dan Fogler) replies, Rush is variety, Bitch! Rule number one: in my van, its Rush! All Rush, all the time...no exceptions. Here's a YouTube clip of this very scene:
That's all for this week. Have a great weekend everybody!