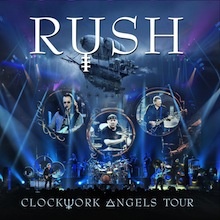 Rush's Clockwork Angels Tour CD/DVD/Blu-ray released earlier this week on Tuesday in North America, along with a one-night theatrical premiere this past Monday. The 2-hour, 25-minute theatrical cut of the film consisted of concert footage of the 2nd set only along with the Can't Stop Thinking Big tour documentary, at the end of which is a short interview with the gnomes which includes a playful jab at the comments/commenters on rushisaband.com! The film will also be getting a television premiere on VH1 Classic next Sunday, December 1st from 9-11:30PM. Given that commercials will be shown throughout the broadcast, the television cut will likely just consist of the 2nd set concert footage that was shown in theaters and not include the documentary. Eric over at Power Windows has transcribed the liner notes from both the CD and video and made them available online here, and John at Cygnus-X1.net has scanned the CD/DVD booklet and made it available here. The Power Windows site has also added Clockwork Angels Tour artwork to the desktop wallpaper page. You can see the official trailer for the film here and order your copy at this location (DVD, Blu-ray, CD). For those of you looking to pick up the DVD/Blu-ray in person, Best Buy is running a t-shirt giveaway with every purchase; details here. Rush is also offering a limited edition deluxe package exclusively available at the Rush Backstage Club for $99.99. Clockwork Angels Tour is also available for digital purchase on iTunes, and is also available on Spotify and other online streaming services. Several videos from the DVD are available for viewing on YouTube including Subdivisions, Red Sector A, Middletown Dreams and The Garden. Some reviews of the release are starting to come out including this one from Jeff Miers of The Buffalo News who gives it 4 stars. There's also this great review from PopDose (thanks whdupree). Prog magazine in the UK is giving away a copy of the CD, DVD and Blu-ray along with a Geddy Lee Signature Squier Bass. For all the details and to enter just go to this link. For my next poll I'm asking everyone what aspects of the DVD/Blu-ray they like. Please take the poll and let us know.
Geddy Lee and Alex Lifeson have been hitting the interview circuit over the last couple of weeks promoting the Clockwork Angels Tour release. Geddy spoke with VH1 last week to break down 8 tracks from it in this 14-minute video interview and he also chatted with Radio.com for a video interview which you can check out on YouTube here. Alex did a few radio interviews over in the UK including one with BBC WM and another with Planet Rock. Billboard also posted a great interview with Alex last Friday where, in addition to discussing the live release, Alex talks about Rush's plan to take a year off:
... "We've committed to taking about a year off," ... "We all agreed when we finished this ('Clockwork Angels') tour (in early August) we were going to take this time off and we weren't going to talk about band stuff or make any plans. We committed to a year, so that's going to take us through to the end of next summer, for sure. That's the minimum. We haven't stopped or quit. Right now we're just relaxing. We're taking it easy and just enjoying our current employment." ... Lifeson acknowledges that he and ... Geddy ... "typically get a little bored, and so we enjoy writing and working together and I wouldn't doubt that some time in the new year we'll probably gravitate towards each other and start doing some writing. It's going to be interesting to see where we do go next. You know, the album is dying as a format. We're so used to it and we're so old school in that format, but will we get more mileage by doing a few new songs at a time, or do we do another album? It's hard to say what the future holds, and it's just changing so rapidly. It's always hard to speculate where you're going to go." ...
He also revealed who has his vote for the 2014 Rock Hall induction:
... "I put my votes in," says Lifeson, whose impromptu "blah, blah, blah" speech was a highlight of the 2012 induction ceremony. "Certainly with Deep Purple and Yes and Nirvana, I think they're all candidates, and I think Kiss deserves to be in there, too. We have lots of great memories of working together with them, and I think they've been influential and worked for a very long time and worked very hard. I think for all the indifference we had before, actually going through it and feeling the love in the room and the sense of community we felt with all the other musicians that are in there, it's a good thing provided it's inclusive and it's broad." ...
Alex will also be a guest on Planet Rock's One Man And His Prog show with Darren Redick this coming Sunday at midnight (7PM EST). Over the course of the 1-hour show Darren talks with Alex about a number of subjects including the Clockwork Angels Tour release. He also has Alex choose some deep Rush tracks to play including Natural Science, Losing It and Finding My Way, with Alex providing some stories and commentary with each one. The show can be heard at PlanetRock.com on Sunday, November 25th at midnight (7PM EST) and again on Thursday, November 28th at 9PM (4PM EST). Alex recorded the show while he was in London for the Classic Rock Awards last week. Alex will also be Philip Wilding's guest on the Prog Magazine Show on TeamRock Radio this coming Sunday. And Geddy Lee will be a guest on Sirius XM's Classic Vinyl this coming Thursday, November 28th from 3-4PM for a special Thanksgiving interview special titled Classic Vinyl Influences with Geddy Lee.

Rush announced last month that they will be partnering with independent retail outlets to sell an exclusive 10" picture disc single of The Garden for a Record Store Day sponsored Black Friday event on November 29th. The disc will feature artwork from the animated screen projections shown during the song's performance on the Clockwork Angels tour and will include both the studio version of the song and the live version from the Clockwork Angels Tour live release. The complete video of Rush's performance of The Garden from the Clockwork Angels Tour video can be seen on YouTube.
Yesterday Clockwork Angels: The Novel author Kevin J. Anderson announced plans for a graphic novel version of the book he co-wrote with Neil Peart. BOOM! Studios will be releasing the graphic novel in six issues, scripted by Anderson, beginning next April to coincide with the paperback release of the novel from ECW Press.

This past July the Canada Post officially released a Canadian Recording Artist stamp series featuring Rush and other Canadian artists. Earlier this week the sale of a special, limited edition, signed day-of-issue cover for the Rush stamp was announced via this press release. All proceeds of the sale will go to support Toronto's First Post Office. Only 10 of these special envelopes are in existence and each is signed by all three members of the band. Each is printed on 100% cotton paper and shows an early-era photo of the band with the starman logo as a watermark. They are numbered out of ten and come with a certificate of authenticity signed by both the band's management and the museum's curator. The text on the back celebrates Rush's Rock Hall induction and reads as follows:
On April 18, 2013, the Canadian band Rush was inducted into the Rock And Roll Hall Of Fame. To celebrate that event, and to coincide with the release of a Rush stamp by Canada Post on July 19, 2013, Toronto's First Post Office has created a limited number of these commemorative covers. Toronto's First Post Office is a National Historic Site and museum operated by the Town of York Historical Society.
The covers were made available for $500 each but are unfortunately already sold out.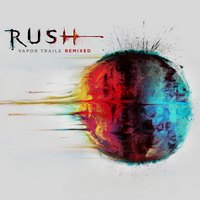 Rush released their long-awaited remix/remaster of Vapor Trails back on September 30th and the album debuted on the US Billboard 200 album charts at #35. After dropping to #137 the following week it has since fell off the charts. Jacobus Raj at The Star Online posted a short review of the remix this past week which you can check out here, and there's also this PopMatters review from a couple of weeks ago. You can order the Vapor Trails remix on CD or on 180g vinyl, and order the Atlantic-era The Studio Albums 1989-2007 box set (which also contains the remix) here. Speaking of which, Ireland's RTE Ten is running a contest where they are giving away one of these box sets. For details and how to enter just go here.
Yahoo! Music posted a list of the 5 Greatest Drum Solos According to Animal of the Muppets and coming in at #2 was Neil Peart's YYZ solo (thanks John at Cygnus-X1.net). And along those same lines (except involving a real person rather than a muppet), MusicRadar.com posted an interview with Shadows Fall drummer Jason Bittner earlier this week where Bittner chooses his 12 Essential Drum Albums. Rush's Exit ... Stage Left made his list and here's what he had to say about it:
"The reason why I picked Exit... Stage Left is because it's impossible to pick just one Rush studio album. Rush are my favorite band, and Neil Peart is my favorite drummer. I can't possibly sum up the band in one record, but I can say that Exit... Stage Left epitomizes a period in time when Neil was most influential in my life.

"When I was a freshman and sophomore in high school, I would come home every day and play along to this record - at least to the best of my ability. I set up drums up so they were just like Neil's, having everything as exact as I could - the same everything. It was that important to me.

"I could go on about how awesome the record is. The drum solo is still one of my favorites ever - ever. It's definitely my favorite Neil Peart solo. The actual drum sound on the record is amazing, too, which is saying something because sometimes the sound on live records can be lacking.

"OK, if I had to pick a favorite studio album of Rush's, it would be Moving Pictures. That's a brilliant album all the way around. The Permanent Waves/Moving Pictures period is my favorite Rush time."
Noisey posted an article earlier this week titled More Instruments Than People: Live Setups of Success And Excess where Rush was one of the artists featured. Here's some of what they had to say:
Like the salmon painstakingly vaulting towards procreation choose to swim against the stream, Rush write prog songs about Tom Sawyer and nerdy instrumentals based on the Morse Code interpretation of Toronto's airport code (Y.Y.Z.). And even though they're the biggest band in Canadian history-outselling parochial acts like The Beatles and The Rolling Stones-Rush eschew the gear bounty they're surely entitled to. ...
The 3rd KISS Kruise took place a few weeks ago and at one point the whole band sat down for a Q&A session. KISS frontman Gene Simmons spoke about touring with Rush in the early days of the band and tells one particular story about when the two bands were sharing a bill at the Winterland Ballroom in San Francisco with the Tubes, who were managed by venue owner Bill Graham. While the venue not surprisingly treated the Tubes very well, giving them an assortment of food and snacks, Rush was roundly ignored. KISS stepped in and Simmons told the promoter, "You're going to feed these guys or we're not getting up on stage... Everybody got fed". Simmons then goes on to speak kindly of Rush and even does a humorous Rush impression. You can watch Gene tell the story below or on YouTube at this location:
Today is the 8th anniversary of the release of Rush's 30th anniversary live DVD R30, and yesterday was the 24th anniversary of the release of Rush's 13th studio album - 1989's Presto. That's all for this week. Have a great weekend everyone!!