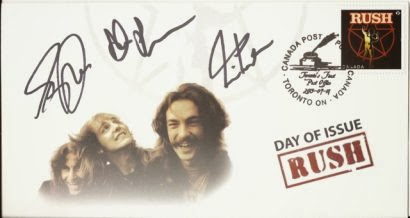 This past July the Canada Post officially released a Canadian Recording Artist stamp series featuring Rush and other Canadian artists. Today the sale of a special, limited edition, signed day-of-issue cover for the Rush stamp was announced via a press release, with all proceeds of the sale going to support Toronto's First Post Office. Only 10 of these special envelopes are in existence and each is signed by all three members of the band. Each is printed on 100% cotton paper and shows an early-era photo of the band with the starman logo as a watermark. They are numbered out of ten and come with a certificate of authenticity signed by both the band's management and the museum's curator. The text on the back celebrates Rush's Rock Hall induction and reads as follows:
On April 18, 2013, the Canadian band Rush was inducted into the Rock And Roll Hall Of Fame. To celebrate that event, and to coincide with the release of a Rush stamp by Canada Post on July 19, 2013, Toronto's First Post Office has created a limited number of these commemorative covers. Toronto's First Post Office is a National Historic Site and museum operated by the Town of York Historical Society.
The covers are available for $500 each, with all proceeds going to support Toronto's First Post Office. If you are interested in purchasing one of the covers, contact the museums's curator/director Janet Walters ASAP at 416-865-1833 or via email at tfpo@total.net. Thanks to The B-Man for the heads up.