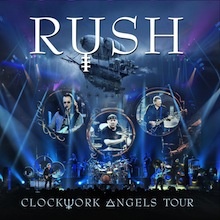 Things have been fairly quiet in Rush-land over the past week as we await the upcoming theatrical release of the band's Clockwork Angels Tour concert film on November 18th and the CD/DVD/Blu-ray release the following day on November 19th. Fans can find theaters and buy tickets for the theatrical release at the Fathom Events website in the US, and at Cineplex.com in Canada. There's also a 30-second trailer for the theatrical release now available on YouTube, along with the official movie poster. On Tuesday, November 19th Rush: Clockwork Angels Tour will be released simultaneously on CD, DVD and Blu-ray and is currently available for pre-order (DVD, Blu-ray, CD). Rush is also offering a limited edition deluxe package exclusively available at the Rush Backstage Club for $99.99. One of the special features to be included on the DVD/Blu-ray is a cartoon short parody of The Family Guy called The Family Goy, starring the voices of Geddy, Alex and Neil. Last week Rush posted a 1-minute preview of the cartoon to Funny or Die and you can check it out at this location or at the bottom of this post. There's also a 90-second preview clip of 2112 from the film available at this location, along with the full audio clip of the song available on SoundCloud, and the complete video of Rush's performance of The Garden can be seen on YouTube. Rush will be partnering with independent retail outlets to sell an exclusive 10" picture disc single of this live version of The Garden for a Record Store Day sponsored Black Friday event on November 29th. The concert was filmed/recorded on November 28th of last year in Dallas, TX and the primary footage consists of this entire concert which was one of the band's Night A setlists. As a bonus they also include 3 Night B setlist tracks (Middletown Dreams, The Pass and Manhattan Project) from the November 25th show in Phoenix along with a soundcheck recording of Limelight. The DVD/Blu-ray also includes a 25-minute tour documentary titled Can't Stop Thinking Big, the intro/intermission/outro tour videos and other exclusive bonus content. You can get all the details in the Rush.com press release and watch the official trailer for the film at this location. Speaking of the tour, we had the attendance and sales figures for one more show from the 2013 Clockwork Angels Tour trickle in this past week; the band's June 30th show at Van Andel Arena in Grand Rapids grossed $612,081 with an attendance of 8,726/9,726.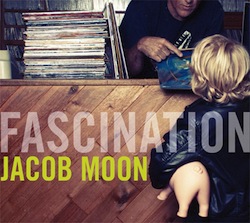 Canadian folk musician Jacob Moon's new CD Fascination includes covers of Rush's Limelight and Subdivisions and is now available for purchase at Kapipal. The album also includes covers of songs from Yes, Marillion, Radiohead and Peter Gabriel, along with two new original songs. Jacob recorded Limelight with the Alex Lifeson-produced David Barrett Trio and you can hear the entire track on Soundcloud here. Jacob will be embarking on a short European tour in support of Marillion over the next couple of weeks, but then will return to North America for a CD Release show at the Oakville Centre in Oakville, ON on November 22nd. Every ticket to the show will get you a free CD. For all the latest on the album and tour, visit Jacob Moon's website or follow him on Facebook. You can check out some in-studio footage where Jacob and David talk about The Trio's work with Alex Lifeson, the Limelight recording and more at this link. Jacob Moon garnered the attention of Rush and their fans when he posted a YouTube video of himself performing an impressive rooftop solo rendition of Rush's Subdivisions a few years ago. The video quickly went viral, and Rush later asked Jacob to perform the song at their Canadian Songwriters Hall of Fame induction ceremony back in March of 2010. A slightly different arrangement of this cover of Subdivisions is also included on Fascination and can be heard online here.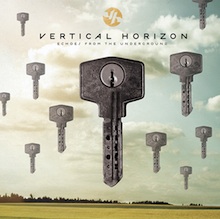 Vertical Horizon's new album Echoes from the Underground officially released early last month and the album is available for order from Amazon and other retailers. Neil Peart plays drums on the tracks Instamatic and South For The Winter. You can check out a video of Neil Peart in the studio tracking Instamatic at this location. There's also some older video of Neil in the studio with the band from back in early 2012. Neil had also made a guest appearance on Vertical Horizon's 2009 album Burning the Days, playing drums on three of the tracks along with penning the lyrics for one. Vertical Horizon frontman and Neil Peart's good friend Matt Scannell was recently interviewed for Music Times and spoke about what it was like to work with Neil:
...'Neil Peart has been one of my best friends; he's like a brother to me. When I was getting ready to make this record, he said, "Save a couple for me." I knew "Instamatic" was the right song for him. It felt like something he could just knock out of the park. Then I purposely chose "South for the Winter" because it was almost the antithesis of what one would expect from Neil. You know he is far more sensitive to the songwriter than people give him credit for. It felt to me like we needed someone with his sort of gravitas to bring the album to a close. This was sort of the climactic moment as far as the journey was going to go, and it felt like it was safe in his hands. He's as good as everyone thinks he is and dreams he might be if he were working on their song. ... On the last record on Burning The Days, [Neil] was up in Canada working with Rush on Snakes and Arrows. I sent him the demos of the songs and just a click-track, and he would record different ideas and send them to me. A slightly different tactic happened this time where we were actually able to get together in a rehearsal studio and record his performances from a reactionary standpoint. We actually have footage of that online on our YouTube channel. These songs were really constructed in the moment with the two of us in the same room. Having said that, "Instamatic" is really his vision. ...
You can order your copy of Echoes From the Underground here. It's also available on Spotify here.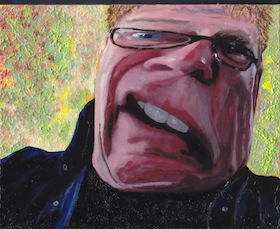 The Kidney Foundation of Canada's annual A Brush of Hope charity auction took place last week and Alex Lifeson along with dozens of other Canadian celebrities donated paintings to be auctioned off to raise money for the charity. Alex's painting for this year was a self portrait that ended up being sold for a whopping $7,600! Alex has participated in the auction a number of times over the last several years but had to skip last year due to the Clockwork Angels tour. You can check out the auction listing online here, and follow A Brush of Hope on Facebook for all the latest news and information on the project.
Back in June of 2010 we learned that Geddy Lee had optioned the film and TV rights to Dave Bidini's 2005 book Baseballissimo. Variety magazine then reported back in 2011 that development on the film was moving forward with Jay Baruchel and Jesse Chabot as co-writers. There hasn't been too much news regarding the film since then, but today the Hollywood Reporter announced that veteran director Jacob Tierney will direct the film with a script by Baruchel, David Miller producing and Geddy Lee and Bidini executive producing. Dave Bidini is a Canadian musician, author and founding member of the Rheostatics who is also good friends with Geddy. Canadian actor Jay Baruchel is best known for his starring roles in the films She's Out of My League, The Trotsky, and How to Train Your Dragon, but Rush fans probably best recognize him as the star of Rush's Clockwork Angels Tour intermission video The Appointment.

The season 2 premiere of The CW's The Carrie Diaries (Season 2, Episode 1 - Win Some, Lose Some) aired back on October 25th and the episode contains a brief Rush reference during one scene. The show is set in the mid-1980s and is a prequel to Sex and the City with the plot focusing on the highschool years of Carrie Bradshaw. At one point Carrie mentions that her friends are out at a bar without her and that the place is the place for rock and roll. They then show a series of photos of 70s/80s rock bands including a photo of Rush where Geddy and Alex are wielding their doublenecks (screenshot here). You can watch the complete episode online at the CW website here with the Rush reference coming in at about the 18-minute mark. Thanks to Greg N for the info and John at Cygnus-X1.net for the screenshot.

Reader Jon P recently visited a local pub in York, UK and spotted a YYZ dark ale on tap as shown here. Apparently it was one of the guest beers at a Wetherspoons (fomerly The Punchbowl) in York.
I don't know what quite to make of this music video from popular Czech punk band Tri Sestry, but the drummer is wearing a Rush Roll the Bones t-shirt. Thanks to Sean C for the heads up.
Oregon-based fine art photographer Lance Hardy recently unveiled his new Rush-themed art project as shown here. The exhibit consists of hi-res photographs of actual models with Rush-themed imagery projected onto their bodies, all very tastefully done and with a very interesting and beautiful result. There's no body paint or photoshop effects used; it's all done with staging and image projection. You can check out some images from the exhibit on Lance's Facebook page and read about the project on his personal blog here and here.
Here's the 1-minute preview clip of The Family Goy short cartoon parody from Rush's upcoming Clockwork Angels Tour DVD/Blu-ray:
Today is the 2nd anniversary of the release of Rush's Time Machine 2011: Live in Cleveland concert film, and this coming Sunday will mark the 15th anniversary of the release of Rush's 4th live album Different Stages. That's all for this week. Have a great weekend everybody!