UPDATE - 11/4@10:41AM: The online auction for Alex's painting ended yesterday and it ended up going for an impressive $7,600!
UPDATE - 10/24@11:14AM: The online auction for Alex's painting is now underway. You can see all the details and place your bid here.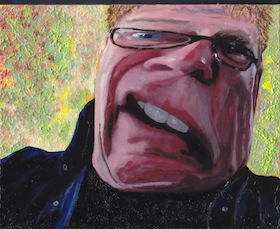 Alex Lifeson will once again be participating in The Kidney Foundation of Canada's annual A Brush of Hope charity auction this year. As they have for several years running, Alex Lifeson along with dozens of other Canadian celebrities have donated paintings to be auctioned off to raise money for the charity. Alex participated a number of times in the past but had to skip last year due to the Clockwork Angels tour. Alex's painting for this year is a self portrait that you can check out on the Brush of Hope Facebook page here. The 2013 Brush of Hope Launch Party takes place this evening at Gallery 78 in Fredericton, NB. The live eBay auction kicks off tomorrow and runs through November 3rd. For all the latest news and information be sure to follow A Brush of Hope on Facebook. Thanks to J.R. for the heads up.