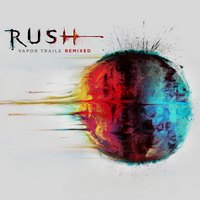 It's almost here! Rush will be releasing the long-awaited remix/remaster of their 2002 album Vapor Trails along with a Rush: The Studio Albums 1989-2007 box set this coming Monday, September 30th. Earlier this morning RollingStone.com posted a FULL preview of the album which you can listen to at this location. The album is available for purchase individually on CD or Vinyl, or as part of a new Atlantic-era Rush box set which also releases on Monday. Now that we have some full song clips to preview, for my latest poll I thought I'd ask everyone which song from Vapor Trails they think benefited the most from the remix? Please take the poll and let us know. In the last poll, Secret Touch was the winner, with 17% of you indicating that you were most looking forward to hearing that track on the new remix; complete results here.



As I'd mentioned above, the release date for both Vapor Trails Remixed and the Atlantic-era box set is now Monday, September 30th; the remix had been pushed up from October 1st a couple of weeks ago, and the box set was just recently pushed up as well. European reader RushFanBen has already received his copies and sent along some scans of the packaging for us. He reports that the booklet included with Vapor Trails is no different from the original release other than the new cover design and the note that it was mixed by David Bottril. The CDs in the box set are packaged in miniature album sleeve replicas and are also no different from the originals. There's an orange booklet included in the box set containing all the lyrics of all 7 of the included albums.

You can pre-order the Vapor Trails remix at this location, and the Atlantic-era The Studio Albums 1989-2007 box set here. You can also pre-order the double LP 180g vinyl version of Vapor Trails here. Geddy Lee had the following to say regarding the remix in a Rolling Stone interview from earlier this week:
... it was hard to get people onboard. "Why are you obsessing over this one record? You have 20 records. Why the fuck do you care about this one record?" I just felt it was so pivotal that the songs required some justice. We gave it one last kick of the can, and Andy from our management suggested that David Bottrill have a go at it. I thought it was kind of strange/full circle that the guy we almost used in the first place is trying to save it. We were on tour and Neil didn't want to have too much to do with it. The album has a lot of very painful memories for him. We said, "Don't worry. We're going to let David just follow his instincts and he'll do it while we're touring." David just got the record right away and started sending us mixes. Of course, we'd have comments here or there, but generally he understood what it should sound like. So, I'm very pleased with the end result. I think he's finally brought some completion and some justice to some of those songs we'd put so much of our heart and soul into.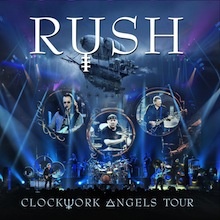 Geddy also talked about Rush's upcoming Clockwork Angels Tour concert video in the interview along with the band's future plans (or lack thereof):
... our manager is talking all the time about the future and we're choosing to ignore him. There has been talk of some sort of anniversary tour that might be the next thing we do, but we definitely have not decided if or when that's going to happen. ... The plan now is to have no plans. We have had a great 10 years of tour, album, tour album. I can honestly say that the three of us enjoyed this tour more than any one we've ever done. We left on a high note, but we recognize that we need to pay attention to our families and recharge our batteries. So we decided that we're just not going to discuss anything for a little while. ...
Alex Lifeson had similar comments regarding the band's future in his recent Classic Rock interview.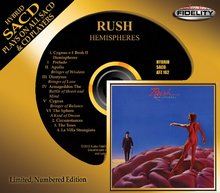 Audio Fidelity's SACD (Super Audio CD) version of Rush's Hemispheres officially released last Monday and you can purchase it now at Audio Fidelity's website. If you purchase directly from Audio Fidelity use the code CYGNUSX1 at checkout to get 20% off of your order. It's also available for pre-order at other online retailers for release this coming Tuesday, October 1st. You can pre-order your copy at Amazon at this location. Audio Fidelity released an SACD version of Counterparts earlier this year.
Late Late Show host Craig Ferguson made a reference to Rush in his monologue last Friday night when discussing the new Ron Howard film Rush. Craig mentioned that he was disappointed that the film was not about the band Rush, saying the following:
... when I heard about the movie Rush I thought "this is gonnna be great" and now I'm disappointed because I thought it was about Rush - you know the progressive jazz rock Canadian pop [trails off] ... Those guys can move their fingers really fast! Can't they? And then they pick up their instruments and play them ...
You can watch video of the monologue on YouTube at this location beginning at about the 1:40 mark. On a related note, Mike Ryan at the Huffington Post posted an article earlier this week titled Is This A Line From 'Rush' Or A Lyric From Rush? where he lists a quote and indicates whether it's a line from the movie Rush as opposed to a lyric from the band Rush. Rush is a band! ... not a movie. :)
Last Friday evening Neil Peart once again updated the news page on his website. The September, 2013 entry is titled Drummer With a Singletrack Mind and it was originally written during the Clockwork Angels European tour in May, 2013, for a British motorcycling weekly. The version that was ultimately published didn't include Neil's originally submitted photos, so Neil decided to re-publish the complete, unabridged version at NeilPeart.net. It's a short update by the standards of other NeilPeart.net updates and describes Neil's travels across Europe on that leg of the tour with his friend Brutus. You can check it out online here.
Primus singer/bassist Les Claypool and guitarist Larry LaLonde recently announced that they will be reuniting with original drummer Tim Alexander for some live dates. There's also a book in the works on the history of Primus, along with a a fishing TV show with ex-Ween member Mickey "Dean Ween" Melchiondo! Claypool recently sat down to discuss the reunion, the book, the TV show and more with Rolling Stone magazine and mentions having recently had dinner with Geddy Lee and Alex Lifeson:
... you can feel the excitement from [Alexander] and the enthusiasm, which is great, 'cause you just didn't feel that before. And for me as well, reading through the [yet-to-be titled] book as I have been, you become a little nostalgic for what we were in the "heyday," so to speak. And then I had dinner with Geddy [Lee] and Alex [Lifeson] a couple of months ago, and they're big Primus fans, but they're bigger fans of the Primus with Tim Alexander. I assume they'll be excited about this. [Laughs] ...
Primus and Rush have been good friends since Primus opened for the band on the Roll the Bones tour. You can read the entire article/interview at this location.
A new biography focusing on the early career of heavy metal pioneers KISS was released a couple of weeks ago on September 10th titled Nothin' to Lose: The Making of KISS (1972-1975). Rush toured extensively with KISS as an opening act during 1974-5, and the band is heavily featured in chapter 26 of the book (Heavy Metal Masters) on pages 375-383. The chapter includes interview snippets from members of KISS and Rush along with some members from both road crews; Rush lighting director Howard Ungerleider and the late Skip Gildersleeve are both quoted. Both groups comment extensively on the fun they had touring together, and the deep bond they developed. Here's what KISS frontman Paul Stanley had to say about Rush:
There are good guys in bands and there are great guys. Rush were great guys, fun to be around, no pretense. We seemed to share a sense of humor. Our backgrounds were similar. We shared a great bond with the whole band.
And here are some of Alex Lifeson's comments:
We hung out a lot. We'd go out to eat and hang out with each other. Gene and I used to correspond through the mail and I still have a few of those letters. There was a very heartfelt connection between both bands even though musically we were moving in two completely different directions. Their vision was looking at rock and roll as entertainment whereas we were looking to make the album and write the song. But despite all of those differences there was a real sense of unity in what we were doing and how we were doing it together. If there's affection towards us from their camp there's certainly lots of it from ours.

The book also includes some photos from when the bands toured together including this one. You can check it out yourself by going to the book's Amazon listing and click on the book cover's Look Inside feature. Then just search inside this book using the word Rush. The chapter mentioned above is on page 375. Rush also were mentioned in recent autobiographies from former KISS members Ace Frehley and Peter Criss. On a related note, Megadeth's Dave Mustaine was recently interviewed for Ultimate Classic Rock and mentions being a fan of Rush and KISS growing up (thanks ou812112):
... KISS was one of the bands from the very beginning that affected me. And this record on the shirt, 'Hotter than Hell,' on the back cover had a girl with a boob sticking out. I thought that was pretty cool as a kid (laughs). I saw KISS at the Long Beach arena back then, I saw Rush, they were a couple of the bands that affected me growing up once I saw them play live. ...
Reader rushfanben alerted me to some good news for European Rush fans. On November 4th the R30 Blu-ray will finally be available in Europe from numerous retailers.
Neil Peart got a brief mention in the latest episode of Cartoon Network's Aqua Teen Hunger Force (Season 10, Episode 6 - Skins). At about the 3:15 mark in the show Master Shake says ... like Neil Peart in Rush... Cartoon Network subscribers can watch the show online at this location. The show writers are big Rush fans and have included Rush references in past episodes. A cartoon version of Neil Peart appeared in the Aqua Teen Hunger Force movie a few years back. Thanks to Kelly M for the heads up.
Last week Rush's Tom Sawyer was featured in an ESPN Monday Night Football commercial, and this week the song was featured on the season 2 premiere of NBC's post-apocalyptic television show Revolution. A few minutes into the show during a bar scene a musician in the bar plays a solo acoustic version of the song. It goes on for a minute or so, playing in the background for most of the scene. You can watch a YouTube video of the scene below or at this location.
That's all for this week. Have a great weekend!