UPDATE - 9/20@1:18PM: Here's a longer, 30-second version of the Tom Sawyer ESPN Monday Night Football commercial (thanks Eric at Power Windows).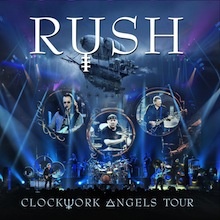 Earlier this week Rush finally announced details and a release date for their Clockwork Angels Tour concert video. On Tuesday, November 19th Rush: Clockwork Angels Tour will be released simultaneously on CD, DVD and Blu-ray, with the DVD and Blu-ray already available for pre-order. The video was filmed on November 28th of last year in Dallas, TX and the primary footage consists of this entire concert which was one of the band's Night A setlists. As a bonus they also include 3 Night B setlist tracks (Middletown Dreams, The Pass and Manhattan Project) from the November 25th show in Phoenix along with a soundcheck recording of Limelight. The DVD/Blu-ray also includes a 25-minute tour documentary titled Can't Stop Thinking Big, the intro/intermission/outro tour videos and other exclusive bonus content. You can get all the details in the Rush.com press release. The video was produced by Fadoo Productions and earlier this summer CEO Bob McCown mentioned that the video will likely premiere on HBO at some point this fall, although there's no mention of that in the announcement so it's not clear whether this will actually happen. Although the CD isn't yet available, you can pre-order your copy of the DVD or Blu-ray on Amazon today (DVD, Blu-ray). For most of the past week the video has been the #1 seller at Amazon in the Music Videos & Concerts category (it's currently at #2). For my last poll I asked everyone which of the various Night A and Night B setlists from the 2013 Clockwork Angels tour setlists they liked the best. The results are in and the clear winner with close to 35% of the vote was the Night A set featuring The Body Electric, Bravado, Seven Cities of Gold, and Manhattan Project. You can view the complete results here.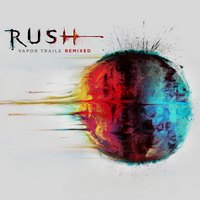 Another long-awaited Rush release that we'll be seeing soon is the band's remix/remaster of their 2002 album Vapor Trails, which will see the light of day on Monday, September 30th. The album will be made available for purchase individually on CD or Vinyl, or as part of a new Atlantic-era Rush box set which releases one day later on October 1st. Alex Lifeson recently spoke with Classic Rock magazine about Vapor Trails Remixed, revealing why the original sound of the album bothered him, how the new mix is different from the original and he also touches on the band's future plans:
... There are no definitive discussions about [touring] at this point. Right now it's only been a month since we got home and we really need three or four months to get it out of our system and then see what we feel like doing. But I think we're looking at spring of 2015 as the probable time to get back going again. ... Ged's been collecting bass guitars like a madman. He's covered the walls with all these vintage basses. He's playing them, and he's not one for playing when we're not touring. So I'm wondering if maybe he and I will sit down in the new year and do something. I'm just speculating. I'm not saying there are any plans for writing or anything like that. But if he's goofing around with his basses, that's a good sign for me.
You can read the entire interview online here and listen to some 30-second sample clips of Vapor Trails Remixed online here. The clips are low-quality mp3s, but you can definitely still hear the difference from the original mix. For my next poll I thought I'd ask everyone which song from Vapor Trails you are most looking forward to hearing on the new remix? Take the poll and let us know. You can pre-order the Vapor Trails remix at this location, and the Atlantic-era The Studio Albums 1989-2007 box set here. You can also pre-order the double LP 180g vinyl version of Vapor Trails here.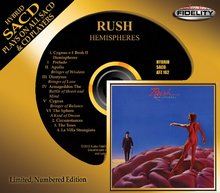 Audio Fidelity's SACD (Super Audio CD) version of Rush's Hemispheres officially released this past Monday and you can purchase it now at Audio Fidelity's website. The original release had been delayed because of shipping issues, but a newsletter that went out to Audio Fidelity members last week announced the September 16th street date. If you purchase directly from Audio Fidelity use the code CYGNUSX1 at checkout to get 20% off of your order. It's also available for pre-order at other online retailers for release on October 1st, although that may get pushed up now that it's beginning to ship. You can pre-order your copy at Amazon at this location. Audio Fidelity released an SACD version of Counterparts earlier this year.
There was some very sad Rush news to report earlier this week. Longtime Rush roadie Russell Skip Gildersleeve passed away on Tuesday at the age of 57. Skip was a roadie for Rush from way back in the early days up until 1997. Here's a short biography of Skip from the 2006 Rush biography Chemistry:
Russell "Skip" Gildersleeve is a crew veteran of many bands. He was brought in for the 'Caress of Steel' tour to replace Jimmy Johnson, And he often used to introduce the band. Skip, a.k.a. "Slider", became Geddy's bass technician, and by Counterparts he graduated to a stage management role. When not touring with Rush, he worked for Steely Dan (with Lorne Wheaton) as equipment manager, and guitar tech for Bob Seger and the Silver Bullet Band. Skip is no mean guitar player himself. He guested on Japanese artist Venus Fly Trapp's debut CD 'Shakunetsu', which means "red heat".
Our thoughts and prayers go out to Skip's family and friends. You will be missed. Yesterday the members of Rush posted the following message addressing Skip's passing at Rush.com:
"The news of Russell 'Skip' Gildersleeve's passing is shocking and very, very sad. He was one of our original crew members from the mid-70s and we all have many great memories of his friendship, his sense of humour and his association with us over all those years. Our hearts and thoughts go out to his family and close friends. He will be missed." - Geddy, Alex and Neil
There's also this short In Memorium posting for Skip at FOH Online, and Robert Scovill's blog/tribute to Skip on the SPLNetwork.
Anthem's (Rush's management company) Andy Curran, Peggy Cecconi and Meghan Symsyk recently made a trip to Hamilton's McMaster University to see a presentation by students Jotthi Bansal and James Renwick focusing on profile data of Rush's fanbase gathered via a global music download archive on campus. From the Hamilton Spectator:
... "I thought I would be wowed, which is why I came to Hamilton. But I didn't think it would be so beautifully laid out and presented," said Pegi Cecconi, vice-president of Anthem Entertainment Group / SRO Management.

Especially interesting to the delegation was the finding that Rush fans have a unique profile and tend to also be big fans of classical, jazz and Latin (the music, not the language).

The students were hoping a member of the band would show up with Cecconi and the other two visitors, Andy Curran (director of artists and repertoire) and Meghan Symsyk (SRO Management Inc.). But it wasn't to be. Too busy doing rock star stuff. ...
Some other findings from the study showed that Rush fans show a preference for songs from the '60s, '70s, and '80s, rather than more recent releases and that Rush was the most popular progressive rock band when it came to live recordings. For all the details check out the Hamilton Spectator article here. There's also this article on the study from the McMaster Daily News.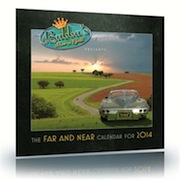 The Bubba's Bar and Grill official merchandise store at Bubbawares.com has announced the release of their Far and Near Calendar for 2014. The 12"x12" calendar will be available November 1st and features 28 pages brought to you by the West Side Beemer Boyz. You can pre-order the calendar today at this location.
Canadian folk musician Jacob Moon announced last month that he is working on a new CD titled Fascination which will include covers of Rush's Limelight and Subdivisions, and is slated for release sometime in November. It'll also include covers of songs from Yes, Marillion, Radiohead and Peter Gabriel, along with two new original songs. The project is being funded via a RocketHub campaign and although it has already reached its goal, he is still accepting contributions. In his latest RocketHub update from earlier this week Jacob had some news on the recording of Limelight with the David Barrett Trio:
Lots of progress on the new CD this week. We recorded drums, bass and guitars with the David Barrett Trio for a cover of Rush's 'Limelight' that you simply must hear! Epic, prog-rock goodness awaits! David played a really cool part on the steel guitar and rocked a killer rhythm on his electric double neck 12 string.Today it's vocals in Toronto. ...
Jacob also posted some in-studio footage where he and David talk about The Trio's work with Alex Lifeson, the Limelight recording and more - which you can check out here (thanks RushFanForever). Jacob Moon garnered the attention of Rush and their fans when he posted a YouTube video of himself performing an impressive rooftop solo rendition of Rush's Subdivisions a few years ago. The video quickly went viral, and Rush later asked Jacob to perform the song at their Canadian Songwriters Hall of Fame induction ceremony back in March of 2010.
The guitars of Alex Lifeson and Geddy Lee will be featured in an upcoming book from author/photographer Lisa Johnson titled 108 Rock Star Guitars which is slated for release on October 8th. The book includes a forward by Les Paul which he wrote before his death in 2009, and a portion of the proceeds from the sales will go to benefit the Les Paul Foundation. Guitar World recently posted a photo gallery preview of a few of the guitars featured in the book including Alex Lifeson's 1976 Gibson ES-355 Stereo. You can pre-order the book on Amazon at this location.
Crave Online recently posted their list of 10 Concept Albums We Want As Comic Books, listing Rush's 2112 at #5. Apparently they didn't realize that a comic book version of 2112 has already been written! Last year's 2112 Super Deluxe Edition contained a comic of the 2112 story written by Tom Hodges.
The 2012 documentary film Don't Stop Believin' chronicles how Filipino cover band singer Arnel Pineda came to be the lead singer of Journey, replacing Steve Perry. At one point in the film it shows him singing Rush's Tom Sawyer for his cover band The Zoo in the Philippines prior to being discovered by Journey guitarist Neal Schon. The full clip of him singing Tom Sawyer is available on YouTube here (thanks Sean).
Dream Theater guitarist John Petrucci mentions Rush and Alex Lifeson in a recent Total Guitar interview where he discusses the band's new self-titled album. Dream Theater worked with Rush sound engineer Rich Chycki on the album, and Rich helped Petrucci mimic some of Alex's guitar sounds on the track The Looking Glass. Petrucci had mentioned this track as being a purposeful tip of the hat to Rush in a recent MusicRadar.com interview. Here's what Petrucci had to say:
... it's a Roland Dimension D. I mean talk about Rush, there some things that Alex (Lifeson) did that Rich, having worked with Rush, he knows exactly how to get it. So I would say, 'How did he get that sound?' and Rich would say, 'Hold on a second' and I would be like 'I love that!' That solo really features that sound but it actually got used a bunch on the album. He actually found one and got it for me, which was really cool. One of the cool things about that solo is that I used the Axis and it has the Floyd whammy bar on it. You can hear the chirpy thing that bridge does. It's a little bit different than my signature guitars." ...
Dream Theater's self-titled album releases this coming Tuesday, September 24th and can be pre-ordered here.
Earlier this week, Cleveland's Rock and Roll Hall of Fame and Museum in partnership with the Cleveland Hopkins International airport unveiled a new exhibit showcasing the work of celebrated rock and roll photographer and Cleveland native Janet Macoska. One of the photographs featured in the exhibit is a photo of Geddy Lee from a 1982 Cleveland Rush concert.
The Cruise To The Edge was a progressive rock concert cruise taking place this past March which featured Yes, Steve Hackett's Genesis Revisited and several other progressive bands. At one point during the cruise Yes bassist Chris Squire and Steve Hackett (Squackett) sat down for a Q&A with fans. At one point during the Q&A Steve mentions that the last time he was on a cruise was in 1957 when his family emigrated by ship to Canada, before moving back to the UK only four months later. Chris then replies that in 1948 his family also nearly moved to Canada, but that his mother, who was pregnant at the time, decided it was better not to travel and therefore travel plans were canceled. He then smiles and says to Steve, "You do realize, we could have been RUSH!". You can see the full Q&A on YouTube here and the conversation described begins at the 22:30 mark. Thanks to Eric at Power Windows for the info.
Rush's YYZ gets a mention in a recent article from Craven Lovelace on how the Morse Code has been used in music:
... Rush famously used the Morse Code characters for "YYZ" to create the odd rhythm of that song. ("YYZ" is the Morse Code signal for the Lester B. Pearson International Airport in Toronto, and the inspiration to use the code snippet came to Rush's guitarist Alex Lifeson, who is a licensed pilot.) ...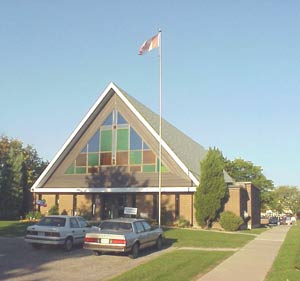 Today is a very special day in the annals of Rush history (at least we think it was today - see below). On this day (or thereabouts) back in 1968 - 45 years ago - the initial incarnation of Rush played their first paid gig at The Coff-In coffeehouse located in the basement of an Anglican Church in Toronto. For a long time the date of this first gig was thought to have occurred on September 18th because Alex Lifeson had given that date in a 2002 interview with Chum TV. However, it's been documented that the gig occurred on a Friday night, and September 18, 1968 was a Wednesday - so the actual date was more likely the 20th. This initial lineup consisted of guitarist Alex Lifeson, singer/bassist Jeff Jones, and drummer John Rutsey. From the Rush biography Visions:
... The first band formed by Alex and John [Rutsey] in the Spring of 1968 was called The Projection. By the end of the summer that band had broken up.

In August, Jeff Jones came in as bass player and lead singer and a formal line-up of John, Alex and Jeff was formed. They spent their evenings and weekends trying to learn the hard rock songs of the day and scheming for an opportunity to play outside their basements.

The boys were soon able to work out an agreement to play in another basement, but this time they would be paid. Their salary was $25. The gig consisted of playing on Friday nights at an oddly named coffee-house located in the basement of an Anglican Church. The Coff-In served coffee, doughnuts and music to local teens for 25 cents a head.

The band was excited, but they had a big problem. While they had been dreaming of playing, they had neglected to come up with a name for their group. So a few days before the gig they sat around in John's basement trying to come up with an appropriate monicker. They weren't having much luck when John's older brother Bill piped up, "Why don't you call the band Rush" and Rush it was. ...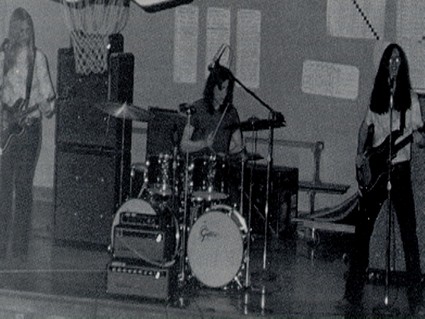 And Rush it still is, 45 years later. Jeff Jones was replaced at the last minute by Geddy Lee the following Friday after Jeff Jones canceled. After several lineup reformations, Rush's better-known initial incarnation was formed in May of 1971 consisting of Lee, Lifeson, and Rutsey. This would be their lineup on through the release of their self-titled debut album in 1974, after which John Rutsey was replaced by one Neil Elwood Peart... and the rest is history. In a February, 2006 interview with Sound & Vision Magazine Alex Lifeson remarked on the setlist for that first show (as well as he could recall):
Wow. Let's see. We did Jimi Hendrix's 'Foxey Lady,' Cream's 'Spoonful' and 'Crossroads,' the Yardbirds' 'Shapes of Things,' and maybe a few others. We only knew about seven or eight songs back then.
The band image pictured above shows Alex, John Rutsey and Geddy Lee sometime in late 1968. As far as I know, there isn't any photo of the band with Jeff Jones in it since he was only in the band for that one gig. In the Rush documentary Beyond the Lighted Stage, a much older Geddy and Alex took filmmakers Sam Dunn and Scot McFadyen on a tour of the old church and reminisced about this gig, although they had some trouble finding it! Here is the video on YouTube. Happy anniversary guys!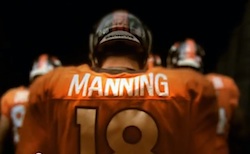 All this past week ESPN has been running a 15-second television commercial spot promoting their upcoming Monday Night Football broadcast on September 23rd where the Oakland Raiders will take on the Denver Broncos. The commercial features footage of Broncos quarterback Peyton Manning with Rush's Tom Sawyer playing in the background. ESPN finally posted the commercial to their YouTube channel late yesterday and you can watch it below or at this location:
That's all for this week. Have a great weekend everybody!