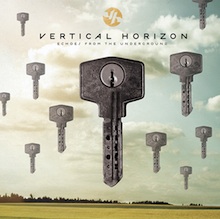 Way back in early 2012 we first learned that Neil Peart had played drums on a couple of tracks for the next Vertical Horizon album, which was finally completed back in May and is titled Echoes from the Underground. Vertical Horizon just announced this morning that the album will release on October 8th with pre-order details coming soon. The first single is called Broken Over You and was released online for free download earlier last month. We've known for a while now that Neil played on 2 tracks; Instamatic and one other track. Vertical Horizon frontman Matt Scannell recently tweeted that this other track Neil plays on is called South For The Winter. Scannell also spoke about Neil's involvement with the album in a recent interview with CBS Pittsburgh:
... "The other major contribution from a dear and wonderful friend is Neil Peart, the drummer from Rush, plays on two songs. One is called "Instamatic" and his drum performance is a master class. Of course, it's going to be amazing if he's playing on it. He is one of the best ever. He deserves that title. But, this performance in particular to me, is almost like it's sort of an overview of his entire career. I can hear elements from all the different chapters of his development as a player. And it's such an honor to have him play on the record," Scannell said. ...
Here's some video of Neil in the studio with Vertical Horizon from back in early 2012. Neil had also made a guest appearance on Vertical Horizon's 2009 album Burning the Days, playing drums on three of the tracks along with penning the lyrics for one. For all the latest information on the album, visit the Vertical Horizon website here.