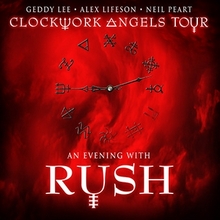 Rush kicked off the final leg of their Clockwork Angels tour this past Wednesday night in Red Deer, AB for a benefit concert to support the Alberta Flood Relief effort. The band had originally been scheduled to play the Calgary Saddledome, but due to severe flooding damage suffered by the venue last month they were forced to cancel the show. In another display of typical Rush classiness, rather than simply reschedule the show, the band decided to perform a separate show nearby on the same date in Red Deer with all proceeds going to the Alberta Flood Relief effort. The band also created a special t-shirt design just for the Red Deer Benefit Concert with all proceeds from sales of the t-shirts also going to the relief effort. These t-shirts are still available via the Rush Backstage Club, or at Long & McQuade music stores throughout Edmonton and Calgary. Tonight the band will roll the tour machine into the Rogers Centre in Vancouver, and then next week they'll move on to Portland, Salt Lake City, Denver and finally Kansas City to close things out. CTV and Live Nation are running a contest to win a Rush VIP Experience package that include 2 front row tickets to tonight's show, a meet and greet and more. Just watch CTV Morning Live today from 5:30AM to 8AM (8:30-11AM EST) to learn how you can win. For all the details visit the CTVNews website here. It's hard to believe that the tour will be over just one week from Sunday! Rush lighting director Howard Ungerleider addressed the band's future touring plans in this interview from earlier in the week:
... Are they talking about touring again? Yes. They're talking about possibly touring in two years. But there will be nothing again for two years, we know that. ...
So if this is the case, we won't be seeing any kind of 40th anniversary tour next year, nor any tour at all until 2015 at the earliest. Howard also talks at length about all the technical aspects of Rush's elaborate stage show and lighting on the Clockwork Angels tour in the interview. Here's Howard on the placement of the string section:
... There was a big debate on that. It went on for a few months. Eight months before the tour started we were coming up with all sorts of questions, "What do we do with them? Do we put them on a riser? Do we make them come off the ground? Do we put them on this?" We finally came up with a concept. There were about six of us involved in making that decision [laughs] until it finally worked. ... [not disrupting the flow] was one of the things that we were worried about. It keeps them in the background where they are and it also adds another dimension to the stage. You've got the screen, them, and the band. So that's now your third dimension really. I think it works really, really nicely. ...
Nancy Wilson of Heart was interviewed for the Huffington Post earlier this week to discuss her newfound love of fellow Rock Hall inductees Rush for a piece titled Heart 'Destroy Stigmas,' Profess Love For Rush:
... "I am into Rush," Wilson tells HuffPost Canada Music. "We are into Rush now. We watched that documentary 'Beyond The Lighted Stage.' I found it so completely great I took it on the road and me and [Heart singer] Ann and [other Wilson sister] Lynn watched it on our tour bus and we're like, 'Oh my god, we get it! We understand where it comes from now.'" ... "I wanted to check 'em out because they were so tight with our producer Ben Mink," says Wilson. "He's one of Geddy Lee's oldest dearest friends from back in the day in the '70s, so we kind of ended up hooking up with them more recently and I wanted to check 'em out again because of him and because Rush is kind of one of those bands that are kind of like a dog whistle that only men can hear." ... "I've always liked a lot of their songs on the radio over the years, but I've never felt compelled to pick up their albums," says Wilson. "But now I want to pick up their new one. We've become Rush fans." ... "They've got this incredibly cool, complex, it's thinking man's rock," starts Wilson. "But it's also got a big tongue-in-cheek sense of humour, like when they're basting their rotisserie chickens on their backline and they've got their washing and drying going [on stage]. And the movie 'I Love You Man,' too, was just hysterical." ...
It sounds like Rush loves Heart too according to reports from attendees of Heart's Tuesday night show in Toronto. Nancy Wilson reportedly gave a shout-out to Rush and revealed that the band had sent Heart a bouquet of flowers. Nancy then dedicated the next song (a solo acoustic number with just her and her guitar) to Rush, which got a big cheer from the crowd.
Someone else who really likes Rush is drummer and cofounder of progressive metal band Queensryche - Scott Rockenfield. He was recently featured in a short interview for Google Play's My Favorite Things web series where he talks for a minute or so about Rush and their Moving Pictures album. You can check it out on YouTube at this location.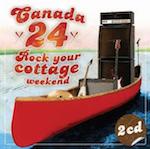 Rush's Closer to the Heart is included on a new Canadian compilation album called Canada 24 - Rock Your Cottage Weekend. The album released in Canada on July 9th and contains 24 hits from various Canadian artists. You can read more about it at this link (thanks RushFanForever).
The Sonic Reality Progressive Rock Project - Sonic Elements - posted an excerpt from their latest Rush cover project earlier this week. It's a cover of Rush's Digital Man as performed by Billy Sherwood (Yes, Circa) on vocals, guitar and bass; Fernando Perdomo (Dreaming in Stereo) on all sorts of vintage guitars; and Dave Kerzner on some swirly keys, with a virtual Neil Peart on drums using Neil Peart Drums Volume 2 - The Grooves. You can listen to the excerpt on SoundCloud at this location.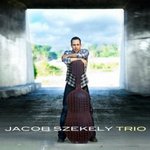 Clockwork Angels String Ensemble member Jacob Szekely just released a new self-titled CD with his Jacob Szekely Trio project. The CD just received a great review from The International Review of Music. It's available both on iTunes and from Amazon.
Reader Joe M wanted me to let everyone know about a fantasy football league on Yahoo! specifically for Rush fans. They are looking for a few new managers to join the league and they currently have 3 open spots. If anyone is interested just shoot an email to joemartinelli2112@yahoo.com and he'll send you an invite.

Reader Bucklemyshoe sent me this photo of a Rush-inspired advertisement that the GO Train (Government of Ontario Train) in Ontario is using. It states that Rush is a Band. Not a Verb. I can't help but agree. :)
Robert Cooper at 411Mania.com posted a list of his top 5 bass players earlier this week and Geddy Lee made the cut at #4:
Who doesn't love Rush?, I'll tell you who doesn't love Rush, Nazis, that's who. Geddy Lee is awesome, pure awesome, because he is an amazing bassist, which will be gotten to in a second, but he also sings and sometimes does keyboards all while playing the bass. So with that pretty much said, because he is the only person on this list who is multi-tasking with their bass playing. As a bassist, the guy can do fast and intricate, as well as the total oppposite, he has great range. He's also got a damn nice groove to him, and is in one of the greatest trios of all-time, as well as one of the greatest bands. He's awesome, and just like Geezer above, he is still going strong, and I love it!
Earlier this month Rush played a show at the Quebec City Summer Festival that they were forced to end early due to weather conditions. To make up for the six songs that fans in Quebec City missed, the band decided to record the July 12th Halifax show and make the audio of these 6 tracks available online at the Festival website for a 24-hour period this past weekend. The audio has since been taken down but you can still hear it on YouTube below or at this location:
Everyone make sure to wish Geddy Lee a happy birthday this coming Monday, July 29th. Our favorite bass player turns the big six-oh! Happy birthday Dirk!! Have a great weekend everyone!