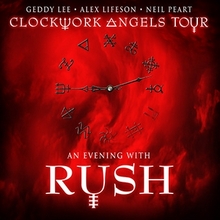 Things have been extremely quiet over the past week as Rush took an 11-day hiatus after the highly successful European leg of the Clockwork Angels tour finished up back on June 10th in Helsinki, Finland. Rush will crank up the steam engines on the tour airship once again tonight when they hit the Giant Center in Hershey, PA to kick off the summer leg of the tour. They'll play a total of 12 dates across the eastern US and Canada before taking another break and then finishing off the tour with a 6-show run out west. After that, things will quiet down even more as the band plans on taking an extended break for at least a year. Hopefully they'll get restless and decide to do something before then, but in the meantime we'll have the Clockwork Angels concert video to look forward to, which should be released sometime this fall. The film was produced by Fadoo Productions, where Geddy Lee's brother Allan Weinrib is the Head of Production and Bob McCown - who is best known for hosting Prime Time Sports on Toronto's The Fan 590 - is CEO. McCown discussed the upcoming film on his radio show a couple of weeks ago, revealing that the video is finished and will likely premiere on HBO this fall before being released for sale to the general public. You can listen to the podcast where McCown talks about the DVD at this location about 5 minutes into the discussion. A trailer for the film was mistakenly leaked online early and can still be viewed on YouTube here. The fact that the film will premiere on HBO also tends to suggest that we might see portions of the Rock Hall induction ceremony (which was produced by HBO) as bonus content on the DVD/Blu-ray release. Speaking of which, the Rock Hall has graciously offered an exclusive discount to the Museum for RushIsABand readers, where you can receive $2 off admission in addition to a 20% discount on any new membership. Simply print out this pdf file and present it at the Rock Hall box office to receive your discount. The offer runs through the end of this year. They are also offering a 10% discount on all online orders made via rockhallstore.com through September 30th by using the code FANCLUB13 at checkout. The Rock and Roll Hall of Fame officially opened a 2013 inductees exhibit 2 days prior to the induction ceremony on April 16th. The Rush portion of the exhibit includes a Neil Peart snare drum, Alex Lifeson's double-neck guitar and a Geddy Lee bass along with various other items. The exhibit also includes a three-screen multimedia presentation that tells the stories of the inductees. You can check out a short video tour of the exhibit along with some photographs at the Cleveland Plain Dealer website.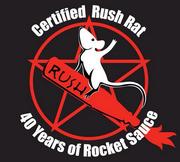 This year's Rush RatCon Rush fan convention/gathering will take place tomorrow at the infamous Club Xanadu in lovely Severna Park, Maryland. The fun will begin with a tailgating party before tonight's Rush concert at the Giant Center in Hershey, PA. Then the festivities shift to Club Xanadu tomorrow where events will include Rush tribute band Blame Canada and featured guest speakers Gerry Hilera (of the Clockwork Angels String Ensemble) and Donna Halper. There will also be a bunch of great food, games, music, prizes, company, etc. Have a blast everybody who's going!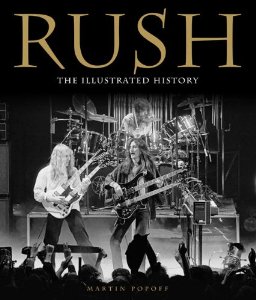 Author and music journalist Martin Popoff's new illustrative history of Rush titled Rush: The Unauthorized Illustrated History was released last month. From the book's description:
... for the first time, Rush is treated to the epic visual celebration they so richly deserve in a beautifully designed and profusely illustrated history following the band's entire career. A chronological overview history written by noted music scribe and Rush authority Martin Popoff spans the band's entire career from 1968 to today. A complete Rush discography chronicles all their albums, from the debut album to 2112, Moving Pictures, and Signals to Grace Under Pressure, Vapor Trails, and more. The authoritative text is complemented by album reviews written by well-known music journalists from around the globe, commentary from fellow musicians, a discography, tour dates, and hundreds of photographs and pieces of memorabilia, including picture sleeves, gig posters, rare vinyl, handbills, ticket stubs, and much more.
Several reviews of the book have appeared online over the past few weeks and earlier this week I posted a round-up of some of the better ones. You can check those out in this post. To order your copy of Rush: The Unauthorized Illustrated History via Amazon, go to this location. Popoff will be appearing at this year's RushCon next month to talk about the book and sign copies for fans.

The 3rd annual Lonny's Smile benefit show and auction took place last night at the Horseshoe Tavern in Toronto. Lonny's Smile is a fundraising event to help send sick kids with congenital heart disease to summer camp, and one of the hot auction items this year was a Geddy Lee signature bass guitar which ended up selling for $3,000 (thanks Tom V). The auction raised a total of $25,000 to benefit Camp Oki, a free weeklong camp for children from Quebec and Ontario who suffer from heart defects and require implanted pacemakers or defibrillators (ICDs).
Since there's not much else going on this week and it still hasn't been taken down, here once again is the trailer for the Rush Clockwork Angels concert film.
That's all for this week. Have a great weekend and fun first day of Summer everybody! A special shout-out to everyone going to RatCon this weekend; and the squeak shall inherit the Earth ...