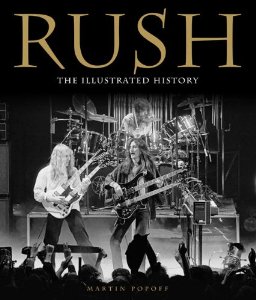 Author and music journalist Martin Popoff's new illustrative history of Rush titled Rush: The Unauthorized Illustrated History was released last month. From the book's description:
... for the first time, Rush is treated to the epic visual celebration they so richly deserve in a beautifully designed and profusely illustrated history following the band's entire career. A chronological overview history written by noted music scribe and Rush authority Martin Popoff spans the band's entire career from 1968 to today. A complete Rush discography chronicles all their albums, from the debut album to 2112, Moving Pictures, and Signals to Grace Under Pressure, Vapor Trails, and more. The authoritative text is complemented by album reviews written by well-known music journalists from around the globe, commentary from fellow musicians, a discography, tour dates, and hundreds of photographs and pieces of memorabilia, including picture sleeves, gig posters, rare vinyl, handbills, ticket stubs, and much more.
Several reviews of the book have appeared online over the past few weeks and I thought I'd compile a few of them here. Jeb Wright at Classic Rock Revisited gave the book an enthusiastic A grade in his review. And Paul Gleason of Caught in the Carousel wrote a great review of the book which also includes an introductory essay on Rush which you can check out here. Here's a little of what he had to say:
... Popoff's book is a brilliant catch for Rush aficionados, like your reporter, and newbies alike. For those of us who know the band, the worth of Popoff's work lies in the details. ... [the book] provides a series of pictures of rarely seen memorabilia (posters, tickets, t-shirts, etc.), live shots, and magazine covers on which the guys appeared, all presented in the highest quality imaginable. That is, the reproductions of these items are spectacular and well worth the purchase of the book on its own. ...
Skip Daly wrote this great review for Guitar International which concludes with the following statement:
...When I heard Rush: The Illustrated History was coming, I was afraid we'd see a collection of repackaged-yet-already-familiar images. While there are certainly some familiar images contained here, there are also a fair number of shots that I had not seen before. That is a joy, as is the fact that the author went the extra mile to include information on when and where the photos were taken. There are no "casual" Rush fans, and this book will make a nice addition to any Rush fan's collection of books about the band.
To order your copy of Rush: The Unauthorized Illustrated History via Amazon, go to this location. Popoff will be appearing at this year's RushCon next month to talk about the book and sign copies for fans.