UPDATE - 5/31@1:30PM: Eric of Power Windows points out in the comments that Neil did explain how The Wreckers was inspired by the 1936 book Jamaica Inn by Daphne du Maurier in a Rolling Stone interview from last summer:
"This Daphne Du Maurier novel 'Jamaica Inn' describes these people called 'The Wreckers' on the coast of the Cornwall in Britain. They would not only plunder shipwrecks, but they would actually put up a fake light and attract the ships in a storm to crash on their shores so they could loot them. It's just a shocking example of inhumanity, and it happens to be a true story. I wove it all of that into the story of this album." - Neil Peart, Rollingstone.com, June 12, 2012
So Lawrence's book was likely also inspired by this same source. Thanks Eric!
----- snip -----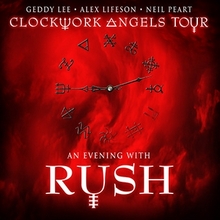 Rush finished up their 5-show, mini-tour of the UK yesterday at the SECC in Glasgow Scotland. They'll continue the European leg of the 2013 Clockwork Angels tour on Sunday when they fly the airship across the North Sea to Amsterdam. From there they'll hit 4 more stops in Europe before heading back across the Atlantic for the North American summer leg of the tour. Geddy Lee did a number of interviews with the Scottish press in the lead up to yesterday's Glasgow show. He spoke with The Herald Scotland, the Glasgow Evening Times, and The List. In all three interviews Geddy touches on all the usual subjects including the Rock Hall induction, the Clockwork Angels album and tour, and more. In his interview with The List Geddy talks about the Clockwork Angels album, placing it among Rush's best:
... 'I'd say it's probably in our top three records, without question.' So what are their best albums? It'd be like picking a favourite child out of a family of twenty young 'uns. 'Probably Moving Pictures, 2112, Power Windows and Clockwork Angels, but not necessarily in that order. To me, they are the most satisfying records that we've made.' ...
Earlier this week Neil Peart updated the news page on his website with a story titled The Sweet Science. Neil describes his motorcycle travels between shows on the spring 2013 leg of the Clockwork Angels tour along with several behind-the-scenes moments from Rush's Rock Hall induction last month, including a letter in which he relates a must-read story regarding Jann Wenner and the all-star Crossroads jam rehearsal. You can read the entire update on Neil's website at this location.
This past Tuesday MusicRadar.com posted the third and final installment of Chad Smith's 3-part In Conversation podcast interview with Alex Lifeson. You can listen to part 1 here and part 2 here. The interview took place a few days before the band's Rock And Roll Hall Of Fame induction over a leisurely dinner at the Sunset Marquis in West Hollywood, California. In part 3 Chad and Alex talk about Rush's comeback after the tragedies suffered by Neil Peart, the current state of the music industry, side projects, growing older, and more. You can listen to it and read the transcript at this location, or get the podcast on iTunes here.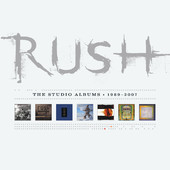 A couple of weeks ago Rush released 2 new digital-only album colections: Rush The Complete Mercury Years and Rush: The Studio Albums 1989-2007. Rush The Complete Mercury Years contains Rush's complete Mercury catalog (all their albums up through A Show of Hands), including the new 2112 Deluxe Edition and 2008's Working Man vault edition. This Mercury collection was essentially already made available via 2011's Sectors box sets (excluding the 2112 Deluxe Edition and Working Man vault edition), but this marks the first time they've been released for sale digitally. Rush: The Studio Albums 1989-2007 contains the entire Atlantic-era Rush studio catalog (Presto through Snakes & Arrows). The collections were made available via iTunes for $79.99 and $49.99 respectively, and billed as being mastered for iTunes (see this article explaining what that really means). The Atlantic-era Rush: The Studio Albums 1989-2007 along with the Sectors collections were also made available as 96kHz/24bit lossless audio via HDTracks.com for a significantly higher cost, but with much better quality. The latest Masterdisk newsletter also revealed that the remastered The Studio Albums 1989-2007 collection will eventually be made available on a physical format as well. Note that the Atlantic-era collection contains a remastered version of Vapor Trails. Eric at Power Windows recently emailed Andy VanDette of Masterdisk to verify that this was just a remix of the album and not the long-awaited Vapor Trails remaster of the original master tapes. Here's what he had to say:
These are the original mixes, but with a much different treatment. For what it is worth........A typical album takes me about 8 hours to master. I spent 4 days on VT, trying to find a way to emphasize the positive, and downplay the negative, with a "car test" every morning on my way in to the studio. I knew this album in particular would receive tremendous scrutiny. Being a musician, growing up on the other side of Niagara Falls from the band, Rush had a huge influence on me. I hope I have done their catalog justice. Check it out. I hope you will agree that VT sounds much less 'overblown'. I tried to design it to be more open and dynamic. I hope you enjoy it.
So - although it has a different treatment - it is not the long-awaited remaster (this project is currently in limbo) which was partially released (One Little Victory and Earthshine) on the Retrospective 3 compilation.
British rock photographer Ross Halfin's online diary enty for this past Monday, May 27th describes how he went to a record fair with Jimmy Page and played him Rush's Fly By Night in the car:
May 27th: A very nice and sunny - and hot - Bank Holiday Monday. Did I sit in the garden and enjoy it? No, I drove to Jimmy Page's, picked him up and headed to Reading to the record fair. As I had Rush's Fly By Night in the car it was time for Jimmy to experience Anthem and Beneath, Between and Behind on the motorway. He liked the drumming and I did catch him listening to Alex Lifeson. Jimmy told me he liked La Villa Strangiato. ...
Jimmy Page is one of Alex Lifeson's biggest influences. Alex talks about finally meeting his idol in this 2006 Guitar Player interview. Halfin has photographed a number of rock icons over the years including Rush.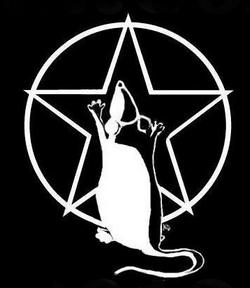 Details for this year's Rush RatCon Rush fan convention/gathering were revealed earlier this week. RatCon 2013 will take place on Saturday, June 22nd at the infamous Club Xanadu in lovely Severna Park, Maryland. The fun begins with a tailgating party before the Rush concert at the Giant Center in Hershey, PA on Friday, June 21st (note: concert tickets are not part of RatCon's admission price). Then the festivities shift to Club Xanadu on Saturday. Events will include Rush tribute band Blame Canada and featured guest speakers Gerry Hilera (of the Clockwork Angels String Ensemble) and Donna Halper. There will also be a bunch of great food, games, music, prizes, company, etc. For all the details and to register, visit the RatCon Facebook event page and/or the official RatCon website at RushRat.com.


A couple of rare Rush items are currently being auctioned off on eBay to raise money for charity. There's this autographed Clockwork Angels Fender Squire Jazz Bass up for bidding through tomorrow with all proceeds from the auction going to benefit Arts Enter Cape Charles. There's also this autographed Neil Peart drum head which was used on the All the World's a Stage tour. This auction will end on June 6th with all proceeds going to benefit the American Red Cross towards the relief efforts of the violent EF5 tornado that struck Oklahoma on May 20th.
Ultimate Classic Rock compiled their list of the Top 10 Rush Songs this past week. Tom Sawyer unsurprisingly topped the list at #1.
Reader Dennis B let me know that Green Man Brewing of Asheville, NC are creating a new brew in honor of Rush and their recent Rock Hall induction:
Red Barchetta: is our salute to Rush getting into the rock and roll hall of fame (finally!). It's a west coast style red ale with a deep, complex caramel flavor balanced with a firm hop character. Massively dry hopped with Chinook hops for a piney, citrus aroma. 7.1% ABV
Legendary heavy metal band Judas Priest just released a new live DVD called Epitaph this past week. Music Radar recently sat down with frontman Rob Halford for an interview to discuss the DVD and asked him about Rush's recent induction into the Rock Hall (thanks snowdog2113):
... "Yes! Yes, I'm so happy for them. I'm a huge fan and have been following those guys from day one." ...
PopMatters posted their list of the 10 Greatest Rock Documentaries yesterday and the Rush documentary Rush: Beyond the Lighted Stage made the cut at #9:
What would you expect from the seminal Canadian power trio that's managed nearly five decades in the limelight without a single significant scandal or split? Rush have always been the nice guys of proto prog-rock, and this indepth look at their entire career cements said reputation. But it also offers intriguing details like Geddy Lee's connection to the Holocaust and the horrible tragedies that befell drummer Neil Peart. With a collection of testimonials from current, "cool" musicians and a wealth of rare footage, this film is actually cited as the reason for the band's recent induction into the the Rock and Roll Hall of Fame.
Reader Lynne K noticed this 1999 book from Canadian author Iain Lawrence called The Wreckers. From the book's description:
... On the barren coast of Cornwall, England, lived a community who prayed for shipwrecks, a community who lured storm-tossed ships to crash upon the sharp rocks of their shore. They fed and clothed themselves with the loot salvaged from the wreckage; dead sailors' tools and trinkets became decorations for their homes. Most never questioned their murderous way of life. Then, upon that pirates' shore crashed the ship The Isle of Skye. And the youngest of its crew members, 14-year-old John Spencer, survived the wreck. But would he escape the wreckers? This is his harrowing tale. ...
Sound a little familiar? I haven't seen any specific reference to this book in any of the interviews with Neil Peart or Kevin J. Anderson discussing the Clockwork Angels novel, but I wouldn't be surprised if it was the inspiration for The Wreckers portion of the story.
Tomorrow marks the 3rd anniversary of the release of Rush's Caravan/BU2B single. Here's a 2-minute video excerpt of the concert visuals for Caravan:
That's all for this week. Have a great weekend!