This past Tuesday Geddy Lee had the honor of throwing out the ceremonial first pitch at the Toronto Blue Jays home opener against the Cleveland Indians. Geddy was introduced to the tune of Tom Sawyer, excitedly ran out to the mound wearing his own very special baseball glove, and then proceeded to throw a strike! Afterwards Geddy went to his regular seats behind home plate, grabbed a hot dog and a beer and watched the rest of the game. There are plenty of photos and some video of the first pitch floating around the internet which you can check out in this post. Prior to the game Geddy was a guest on Toronto sports radio station The FAN 590's Prime Time Sports with Bob McCown. The interview podcast is available online here, and Geddy comes in at about the half way point of the audio clip. Geddy talks baseball with the guys for about 10 minutes.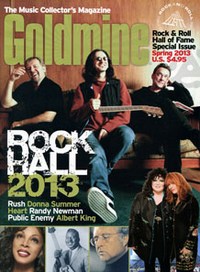 Goldmine magazine has released a Rock and Roll Hall of Fame induction special issue which contains a feature on Rush including a new interview with Geddy Lee. John over at Cygnus-X1.net transcribed the entire article earlier this week and made it available online at this location. Here are Geddy's comments on what his reactions were when he heard that the band would finally be inducted:
I was pleased, y'know? It wasn't one of those fist-pump things or anything, but I was especially pleased and relieved for our fan base, who made it into a real cause célèbre for the last couple of years. I know how much it means to them. I was pleased they could finally get the monkey off their back. I was also happy and honored to hear this news. ... It's not something I ever thought about, no. It was never really in my control, and I try to take the attitude of, "If you can't control something, don't worry about it." I can't say I ever obsessed over it, no, but I realize it's a great honor, and I'm happy to receive it.
The article also contains an interview feature with Rush's fellow Rock Hall inductees Ann and Nancy Wilson of Heart. Here's what Ann Wilson had to say about Rush:
... I know that Rush deserves to be there. Rush being inducted is a fine moment in rock justice, if there ever was one. I mean that. Those guys are so beloved, and so true to themselves and they are such an amazing band. It has always been a question mark to me sometimes when it comes to people who have been inducted vs. others who have not been inducted. It is sometimes a dog whistle that I can't understand. Where Rush is concerned, it is dead on and it's who should be in there.
And when the interviewer said that they hope Heart gets to jam with Rush at the end of the event, here's what Nancy said:
Me too. I am a super Rush fan. We didn't grow up Rush fans because there was a secret dog whistle that only males could hear. We watched the documentary "Beyond the Lighted Stage," because they are really good friends with our producer. Ben Mink and I thought it would be really cool to see that. I got way into it. I loved the way they had their chicken basting machines and their washing machines as their backline. I loved their intelligence and their humor. I brought it to the tour bus and I watched it with Ann. We have been big Rush fans ever since.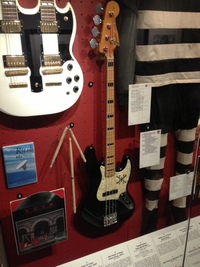 The Rock and Roll Hall of Fame will be officially opening a 2013 inductees exhibit on April 16th, 2 days prior to the induction ceremony in Los Angeles on April 18th (the exhibit can actually be visited now). The Rush portion of the exhibit includes a Neil Peart snare drum, Alex Lifeson's double-neck guitar and a Geddy Lee bass along with various other items. The exhibit will also feature a three-screen multimedia presentation that tells the stories of the inductees. You can check out a short video tour of the new exhibit along with some photographs at the Cleveland Plain Dealer website. Syndicated radio program In the Studio with Redbeard will be airing a special the week of April 15th celebrating the band's upcoming induction. You can get all the details at the In the Studio website. The induction ceremony will take place at the Nokia Theatre in Los Angeles on Thursday, April 18th and then be broadcast on HBO in the US and Canada on May 18th. In addition to Dave Grohl and Taylor Hawkins of the Foo Fighters inducting Rush, John Mayer and Gary Clark Jr. will perform for inductee Albert King, with Mayer giving the induction speech; Don Henley will induct Randy Newman, who will perform with Jackson Browne and John Fogerty; and Christina Aguilera and Jennifer Hudson will perform in honor of the late Donna Summer. Pearl Jam's Mike McCready and Jerry Cantrell of Alice In Chains will perform with Heart, and Chris Cornell of Soundgarden will induct them. Also, Usher will perform a tribute to Quincy Jones and Cheech and Chong will induct producer Lou Adler in honor of both artists' Lifetime Achievement Awards. The show is sold out but tickets are still available on a number of broker websites, and VIP ticket packages are also available (see rockhall.com for details). The Rock Hall is running a contest through Facebook where the winner will get a trip for 2 to LA for the ceremony. And Chicago's WLUP is also running a contest of their own where they'll send one lucky winner to LA for the induction. Just listen in to WLUP today at 4PM and be the 97th caller. You can get all the details at the WLUP website (thanks Dave S).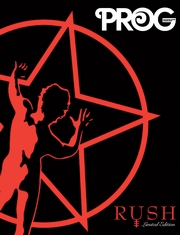 Prog magazine issue #35 will feature a 14-page Rush article in celebration of the band's upcoming Rock Hall induction and tour. They are also releasing a special, limited edition hardback version of the issue which contains an additional 12 pages of Rush coverage. The hardback edition of the issue releases on April 17th and can be pre-ordered now.
Alex Lifeson will be a guest on Sirius XM's Classic Vinyl on Monday, April 8th for an interview feature titled Classic Vinyl Influences with Alex Lifeson. From the Classic Vinyl website:
Founding member and guitarist of Rush, Alex Lifeson remembers 10 classic rock songs that influenced his career. With Lifeson and bassist Geddy Lee at its core, Rush has released 20 studio albums, and on April 18, 2013, they will be inducted into the Rock and Roll Hall of Fame.

Airtime: Monday, April 8, 12 pm ET
Rebroadcasts: Tuesday, April 9, 9 pm ET; Wednesday, April 4, 6 am ET; Thursday, April 4, 3 pm ET; Friday, April4, 3 am ET
This past week's episode of American Idol (Season 12: The Top 7 rock -n- roll) focused on classic rock music and used Rush's Limelight during the opening theme. They even showed a brief picture of Rush along with a number of other classic rock artists. Unfortunately (or fortunately depending on how you look at it) nobody actually sang a Rush song during the competition though. You can watch some video of the opening on YouTube at this location.
Rush was featured on CBC Radio's Rewind with Michael Enright yesterday. The hour-long special takes a look back on Rush's history as told through past CBC interviews with the band. The special is available online for listening at this location.
This past Monday was April Fools' day and for this year's annual RIAB joke I claimed to have some rehearsal footage from the Rock Hall induction ceremony all-star jam (I didn't). If you missed the joke you can check it out in this post. Quebec-based CJAD 800's The Ric Peterson Show posted a funny April Fools' joke of their own which involved Geddy Lee. The post detailed a new program from the Royal Canadian Air Force called Tails of Glory where the tails of RCAF aircraft were decorated with the faces of famous Canadians - one of which was Geddy Lee. You can check out the story at this location.

The folks at Rush RatCon released the date and location for this year's convention earlier this week. RatCon 2013 will be held at Club Xanadu in Baltimore, MD the weekend of June 21st-22nd to coincide with the June 21st Hershey, PA Rush concert. It will feature Friday night's Rush show (tickets not provided) followed by a full day of Rush-themed events on Saturday including a performance from Rush tribute band Blame Canada. RatCon 2013 will be the fifth time Rush Rats have officially gathered to feast on pellets and share their love of the best band of all time! For all the details check out the RatCon Facebook page.
Jos. von Weinerhaus at Gun Shy Assasin posted an article earlier this week describing how he and his friends discovered something interesting about Queensryche's The Warning album:
... my roommates and I put on Queensrÿche's The Warning but we hadn't realized that the record player had been set to 45 RPMs. What we found out is if you play this album at that speed, it turns into a god damn Rush album. You can turn the pitch knob down if you're more of a fan of early '80s Geddy Lee than the mid-'70s Geddy. ...

Nashville-based guitarist Sean Spicer is profiled in the May, 2013 issue of Guitar Player magazine on page 32 and talks about his obsession with Rush and Alex Lifeson:
... "When I was young, a friend introduced me to Rush's Moving Pictures album, and I became consumed by Alex Lifeson and his style," ... "Today, I can't even pick up a guitar without playing a Rush riff" ...
You can read the entire article by clicking on the thumbnail.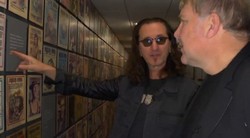 Earlier this week RollingStone.com posted a new video interview with Geddy Lee and Alex Lifeson from when the pair visited Rolling Stone headquarters in New York for an interview back in February. Rolling Stone's Andy Greene takes Geddy and Alex on a tour of all of the Rolling Stone covers, and the pair reminisce about John Lennon, Led Zeppelin and more. From RollingStone.com:
Rush's army of fans will probably never forgive Rolling Stone for neglecting to ever put them on the cover, but the members of the band truly couldn't care less. Geddy Lee and Alex Lifeson stopped the the magazine's headquarters a few weeks ago and we gave them the grand tour, including a long hallway that displays every cover from the magazine's 46-year history.

The journey through our past caused the future Rock and Roll Hall of Famers to reflect on their own history, including their first meeting with Neil Peart, waiting in line to see Led Zeppelin and working on Moving Pictures when word came down that John Lennon had been murdered. A Rodney Dangerfield cover from 1980 also caught Geddy's eye. "I think this is the most appropriate cover to remind me of Moving Pictures," he says. "I identify with Rodney." Much like the comedian, they didn't get nearly enough respect at the time.
You can check out the video below or at this location:
That's all for this week. Have a great weekend!