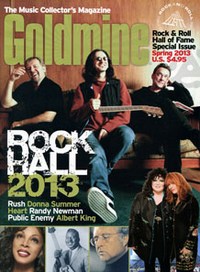 UPDATE - 3/31@8:49PM: The article also contains an interview feature with Rush's fellow Rock Hall inductees Ann and Nancy Wilson of Heart. Here's what Ann Wilson had to say about Rush:
... I know that Rush deserves to be there. Rush being inducted is a fine moment in rock justice, if there ever was one. I mean that. Those guys are so beloved, and so true to themselves and they are such an amazing band. It has always been a question mark to me sometimes when it comes to people who have been inducted vs. others who have not been inducted. It is sometimes a dog whistle that I can't understand. Where Rush is concerned, it is dead on and it's who should be in there.
And when the interviewer said that they hope Heart gets to jam with Rush at the end of the event, here's what Nancy said:
Me too. I am a super Rush fan. We didn't grow up Rush fans because there was a secret dog whistle that only males could hear. We watched the documentary "Beyond the Lighted Stage," because they are really good friends with our producer. Ben Mink and I thought it would be really cool to see that. I got way into it. I loved the way they had their chicken basting machines and their washing machines as their backline. I loved their intelligence and their humor. I brought it to the tour bus and I watched it with Ann. We have been big Rush fans ever since.
Thanks once again to John at Cygnus-X1.net for the heads up and interview snippets.
----- snip -----
Goldmine magazine has released a Rock and Roll Hall of Fame induction special issue which contains a feature on Rush including a new interview with Geddy Lee. John over at Cygnus-X1.net has transcribed the entire article and made it available online at this location. Here are Geddy's comments on what his reactions were when he heard that the band would finally be inducted:
I was pleased, y'know? It wasn't one of those fist-pump things or anything, but I was especially pleased and relieved for our fan base, who made it into a real cause célèbre for the last couple of years. I know how much it means to them. I was pleased they could finally get the monkey off their back. I was also happy and honored to hear this news. ... It's not something I ever thought about, no. It was never really in my control, and I try to take the attitude of, "If you can't control something, don't worry about it." I can't say I ever obsessed over it, no, but I realize it's a great honor, and I'm happy to receive it.
You can read the entire article online here.