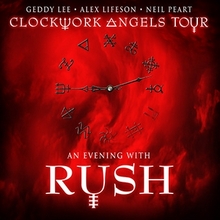 Tickets for the 15 North American dates recently added to the Summer leg of Rush's Clockwork Angels tour all were on sale to the public as of Monday of this past week. Then on Wednesday the lineup for this year's Ottawa Bluesfest was announced and it was revealed that Rush will be headlining the Festival on Monday, July 8th. Tickets went on sale yesterday at 10 AM via Capital Tickets. It's still expected that Rush will be adding another Canadian date on July 10th, possibly as part of the Quebec City Summer Festival, although nothing has been confirmed yet. There's also still no word on whether Rush is working to reschedule the previously-announced show in Boston. The Power Windows website reported earlier this week that the planned Clockwork Angels tour concert video would be releasing this Fall on September 24th. They later retracted that date, citing Rush's management as saying that no release date has been confirmed as of yet. That said, it will still likely follow the same pattern as previous releases, and end up being available later this Fall close to Christmas. Last month there had been a false report by MusicTap.net that the DVD would be released as early as May. Rush filmed both the Phoenix and Dallas shows last November for the planned DVD release. Reports at the time indicated that the Dallas show would be the primary source for the film with the Phoenix footage used mainly as a backup. On another tour-related note, the sales and attendance figures in the tour section for both legs of the Snakes & Arrows tour and the 2010 leg of the Time Machine tour are finally complete thanks to reader Sean. You can check them out here (2007 leg), here (2008 leg), and here (2010 Time Machine leg).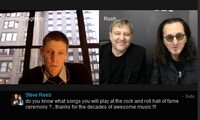 Geddy Lee and Alex Lifeson were all over New York City this past week doing the PR interview circuit to promote Rush's upcoming Rock Hall induction and the 2013 leg of the Clockwork Angels tour. On Tuesday afternoon they did a slew of interviews, one of which was a live, 30-minute Spreecast chat hosted by Conor Dougherty of The Wall Street Journal. Over 1000 people were online watching the event and several great questions were asked, although no earth-shattering news was revealed. If you missed it you can watch the entire thing online here. Geddy was also a guest of Q104.3's Jim Kerr Rock and Roll Morning Show yesterday for an in-studio interview. Geddy discussed Rush's upcoming induction into the Rock and Roll Hall of Fame, the Clockwork Angels tour, baseball, his kids and more. The entire 18-minute interview was posted online and you can watch it at this location. There's also this gallery of photos from the interview.
Geddy Lee and Alex Lifeson also stopped in to the VH1 Studios Wednesday afternoon to tape an interview for VH1's Big Morning Buzz program. The episode aired yesterday morning on VH1 and is available for viewing online at this location. Carrie Keagan is a big fan and spent much of the time gushing over the boys. They also talked about the band's Rock Hall induction and upcoming tour in the 6-minute interview.
Geddy Lee also paid a visit to the MLB Studios in New York Tuesday for an interview where he talked baseball for an article that was published for USA Today online titled Rush singer Geddy Lee expecting big year for Blue Jays. There's also a short, 1-minute video of a portion of Geddy's interview that was posted online by MLB Networks at this location. Reader Dario D happens to work at MLB Networks and posted some great photos of Geddy's visit (Alex showed up too) to her Facebook page. Geddy and Alex also sat down with NYC-based DJ and That Metal Show host Eddie Trunk for an interview that will air on Trunk's Q104.3 radio show on March 15th. The pair also stopped in at the Nights with Alice Cooper studio Tuesday as shown in this Facebook photo, although it's not clear whether they were interviewed or if they just stopped by to say hi to their old touring buddy. Geddy was also spotted at the offices of US Weekly/Rolling Stone as well, most likely for yet another interview. And both Alex and Geddy visited the Sirius XM Studios as shown in these photos from Getty Images (thanks RushFanForever). Suffice it to say that a lot of band interviews should be surfacing in the coming days/weeks.
Neil Peart and his wife Carrie Nuttall attended Global Green USA's 10th annual Pre-Oscar Party last Wednesday, February 20th at the Avalon Hollywood and were photographed by the media upon arrival along with all of the other celebrity guests. They are included in a number of online photo galleries including this one from Global Green, this Monsters and Critics photo gallery and Contact Music has a large number of photos posted in this photo gallery.


The special Clockwork Angels: Watchmaker's Edition of the audiobook for Clockwork Angels: The Novel is officially released today. The special package is designed by Hugh Syme and contains the unabridged audiobook along with a WORKING clocktower. Author Kevin J. Anderson posted a detailed description of the package along with photos over at his blog a couple of weeks ago:
... The seven CDs of the novel are specially packaged, and include a special booklet created by Hugh Syme and me, a Rush/KJA/Clockwork Angels timeline, a mini poster ("I can't stop thinking big"), and a full-color clocktower to hold it all. Neil just wrote today to say "It really is a nice piece of work. Prettier than I could have hoped, from every side, and inside, too. Fine materials and finishes. The individual CD jackets are lovely, and the Timeline is a clever touch. I am proud of this piece of work. (And it does keep good time!)" ...
The special Clockwork Angels: Watchmaker's Edition is now available for order through Amazon at this location.

On Rush's 2012 Clockwork Angels tour Alex Lifeson used custom Lerxst Omega amplifiers from MojoTone. Yesterday they announced that they are partnering with Alex Lifeson to make these available for sale. From the press release:
... The Lerxst® Omega amplifier was created by Mojotone based on a vintage Marshall amp Lifeson used in the studio while recording the band's latest album, "Clockwork Angels." ... "It sounds so good!" stated Lifeson, moments after receiving the very first build of his new signature amp. "We pulled the Marshall last night after A/B-ing the two. The tonal character is quite similar, but the response of the Lerxst® has greater immediacy, sustain and grip." ...
The all hand-wired Lerxst® Omega amp and matching Celestion G-12M loaded Tall 4x12 speaker cabinet are now available for purchase via the lerxstamps.com website.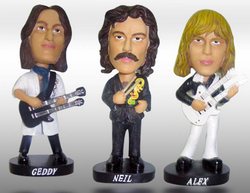 The Rush Backstage Club is once again offering for sale the very popular Rush Bobblehead dolls. They are available for purchase from the Rush Backstage website as a set for $59.99.
Billboard compiled a list of the 40 highest-paid musicians of the past 12 months earlier this week and Rush made the cut coming in at #28 with a total of $8,719,834.30. Here's what they had to say:
With or without recognition from the Rock and Roll Hall of Fame, Rush fans are tremendously loyal, turning out en masse for tours and ponying up for records, the latter to the tune of more than 500,000 physical units in 2012. These guys are perennials.
Other rock acts that came in higher than Rush were The Rolling Stones (#26), Red Hot Chili Peppers (#25), Nickelback (#17), Coldplay (#9), Dave Matthews Band (#6), Van Halen (#4), Roger Waters (#3) and Bruce Springstein (#2). Topping the list was Madonna with a whopping total of $34,577,308.62. You can check out the entire list at this location.

In the lead-up to the 2013 Clockwork Angels tour, Rush has released the third single from the album: The Anarchist. John over at Cygnus-X1.net got his hands on a copy of the single and put together a page with the artwork and liner notes at this location. The single contains the full 6:52 album version along with a 4:18 radio edit.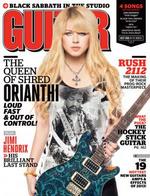 The April, 2013 issue of Guitar World magazine recently hit newsstands and contains an article feature on Rush titled Rush 2112: The Making of a Masterpiece. The article includes an interview with Alex Lifeson where he discusses the making of 2112, the band's upcoming Rock Hall induction and more.
MusicRadar.com recently ran a poll to determine the Greatest Bass Player of All Time and Geddy Lee ended up coming in at #2. Here's what they had to say:
It's Geddy Lee. The Rush man has inspired thousands to pick up the bass guitar, and many of the other bassists in this rundown cite him as an influence. A leading frontman, songwriter and a remarkable bass talent, it's no surprise he remains perennially popular with you guys.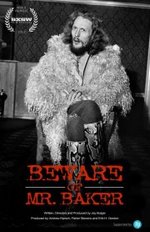 Neil Peart is one of several drummers featured in Jay Bulger's documentary on legendary drummer Ginger Baker - Beware of Mr. Baker. The film screened in select theaters last month and will be released on DVD in May; it can be pre-ordered at this location. You can watch a clip from the film featuring Neil Peart in a couple of spots (1:50, 2:15 marks) at this location. Thanks to RushFanForever for the heads up.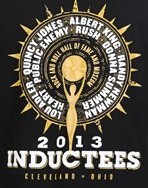 The Rock and Roll Hall of Fame store has started selling a commemorative 2013 Inductee Class t-shirt through their online store. The t-shirt comes in black and includes a design with all the names of the 2013 inductees including Rush. Thanks to RushFanForever for the heads up.
The Broward Beach New Times posted a satirical article today which lists 5 Musicians, Other Than Morrissey, Who Might Have Food Restrictions at Their Concerts. One of their selections is Rush and here's what they had to say:
Dietary Restriction: Only sausages being served on premises.
Press Release: Singer Geddy Lee proclaims, "After years of looking out at our audience and seeing a ratio of men to women that approximated 20:1 or 30:1 we decided to celebrate our fans with an honest to goodness sausage party. We will offer canned Vienna sausages, little cocktail wienies, and massive bratwursts!"

Jammit! has added Vital Signs to the long list of Rush tracks already available for the Jammit! app which includes nearly the entire Moving Pictures album, Closer to the Heart, 2112, and Headlong Flight. For more information and to listen to some demo tracks, visit the Rush page at the Jammit website. The Jammit app is available for both the iPhone and iPad, as well as for Mac and PC.
Last month Escrow.com auctioned off an autographed bass guitar signed by all three members of Rush with all proceeds going to benefit The Fender Music Foundation charity. The black Fender Geddy Lee Jazz Bass ended up raising more that $10,000 as described in this DN Journal article. The article also includes this photo of Neil Peart signing the guitar.
Reader Michael R let me know that YouTube user mrjoneys2112 recently uploaded a bunch of old Rush bootlegs to YouTube at this location. If you enjoy Rush live bootlegs I highly suggest that you check them out.
Here is Geddy Lee's Q104.3 interview from yesterday:
That's all for this week. Have a great weekend!