UPDATE - 2/16@8:46AM: As expected, the Edge Magazine issue featuring Neil Peart that I'd mention below is now available online for free download (thanks Mark R). The article was written before the start of last year's Clockwork Angels and Neil describes his preparation routine for touring.
UPDATE - 2/15@1:40PM: Here's some late-breaking news. Now that the July 6th date in Hamilton has been announced, the folks at RushCon have revealed that this year's RushCon will revolve around that date, running the weekend of July 5-7th. The convention will still take place in Toronto but will involve a bus trip to Hamilton to see the show on Saturday. For all the details check out the RushCon website.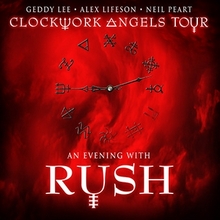 Rush finally threw us a tour date bone late last night when they announced via Rush.com the official addition of shows in Hamilton and Halifax for the Summer leg of the 2013 Clockwork Angels tour. They'll be playing a show at the Copps Coliseum in Hamilton, ON on Saturday, July 6th; and they'll be returning to Halifax, NS for the first time in 26 years for a date at the Halifax Metro Centre on Friday, July 12th. VIP and Fan pre-sales will begin next Tuesday at the usual time of 12PM local time (note that Halifax is 1 hour ahead of EST, so that's 11AM EST). Both shows are listed at the VIP Nation website already although not at the Music Today website yet. The VIP pre-sales will use a password of 2013Rush for the first 24 hours; no password is required for the fan pre-sales. General ticket sales for the Hamilton show will begin next Friday, February 22nd at 10AM through Ticket Master Canada, and general ticket sales for the Halifax show will be handled by Ticket Atlantic/Evenko and begin next Saturday, February 23rd at 10AM (9AM EST). For all the details on the 2013 tour be sure to check out the tour section, and for questions regarding all the various pre-sales be sure to read my guide to ticket sales and pre-sales.
Now that we have 2 official dates announced for the Summer Clockwork Angels tour, we can try to speculate as to the rest of the Summer tour itinerary based on the rumors we've heard thus far and Rush's typical tour scheduling habits (no back-to-back shows, 10-12 date legs with 10-12 day break, etc.). As per Rush's announcement of the Spring leg a few weeks ago, the cities on the Summer leg will include but not be limited to Hershey, Wantagh, Saratoga, Chicago, Cincinnati, Milwaukee, Boston, Calgary, Vancouver, Portland, Salt Lake City, Denver, and Kansas City. They then also called out separately that there will be shows in Halifax and Grand Rapids for the first time in many years. We now know that the Halifax date will be on July 12th, in addition to a previously unannounced Hamilton date on July 6th. From the rumors that I've been able to compile so far, it seems that Rush may have given us a clue as to the order the tour will follow when providing this list of cities. They have the Chicago, Cincinnati and Milwaukee dates listed in that order, and this matches up with the rumored dates I've heard for these cities; that Rush will play on June 28th at the First Midwest Bank Amphitheatre in Tinley Park, IL; on July 2nd at the Riverbend Amphitheater in Cincinnati; and on July 4th at the Milwaukee Summerfest (the July 5th date at the Marcus Amphitheater has been filled, plus they wouldn't play back-to-back anyways with the July 6th Hamilton show; 6/30 is also still a potential date for this). So based on this, I'm guessing that Rush will kick off the Summer tour in Hershey around June 20th or 21st (likely at Hersheypark Stadium), then head to Jones Beach and Saratoga Springs in late June. Then they'll play the Chicago, Cinci, Milwaukee and Hamilton dates. I had been hearing rumors that they'd play Boston at the Comcast Center on July 13th, but now that we know they'll be in Halifax on July 12th that seems unlikely. That leaves June 30th, July 8th and July 10th open for shows and my guess is that Grand Rapids and Boston will fill up 2 of those - with June 30th in Grand Rapids (since its closer to Chicago and Cinci) and July 8th or 10th in Boston making the most sense (since Boston is in relative proximity to Halifax). Although they might also push the Boston date to July 14th (Bastille Day!). Another plausible scenario would put the Milwaukee date on 6/30 and Grand Rapids on 7/4. That would make 10 or 11 dates for that leg of the tour which falls within the pattern Rush has been taking with their tours lately. After their standard 10-12 day break they'll likely head out West to hit the remaining dates they listed in Calgary, Vancouver, Portland, Salt Lake City (which I'm hearing will be on July 31st at the Usana Amphitheater), Denver and Kansas City. To make it an even 10-12 shows they'll probably add at least 3 more dates to the Western leg. That would still leave room for another North American leg or even a South American leg in August/September if they so choose, although I haven't heard any indication that this will happen. Keep in mind that all the speculation on the tour dates above is just that - speculation based on rumors. Nothing is official until Rush makes the announcement. If you think my speculation is way off base, or have some speculation of your own to add, please share in the comments.
Keeping on the subject of the Clockwork Angels tour, longtime Rush lighting director Howard Ungerleider was interviewed for the February, 2013 issue of PLSN (Projection, Lights and Staging News) to discuss the lighting and stage show on Rush's Clockwork Angels tour. Howard also talks about how much he enjoys working with Rush. You can check out the entire interview online at this location along with this great photo gallery of the Clockwork Angels tour stage show.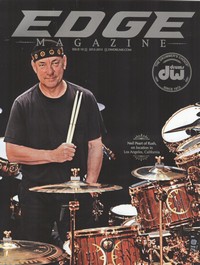 The 2012-13 edition (issue #10) of Drum Workshop's Edge magazine newsletter features Neil Peart on the cover along with a new article written by Neil titled Gearing Up for the Road. The issue was apparently in a promotional bag for attendees of last month's Winter NAMM show in Anaheim and recently started popping up on eBay. It should also be available for free download at the Drum Workshop's Edge magazine website in the near future. Speaking of Neil, voting in Modern Drummer magazine's 2013 Readers' Poll will be closing later today. Neil Peart is up for voting in several of the categories, so if you haven't yet - go vote!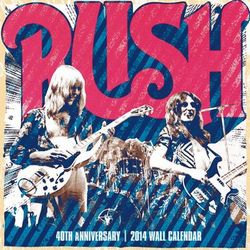 Earlier this week the cover art for the official Rush 2014 wall calendar was revealed by NMR Distribution via this product listing on their newly revamped website. Not surprisingly, the 2014 calendar will celebrate Rush's upcoming 40th anniversary of the release of their first album back in 1974. The cover art includes the Rush explosion logo from the band's eponymous 1974 debut in the background with an early, 70s-era live photo of the band superimposed in the foreground with the words 40TH ANNIVERSARY | 2014 WALL CALENDAR. The 16-month 2014 calendar will officially release sometime this summer and should be available for pre-order via various online outlets in the near future. NMR distribution will also be releasing a new 24"x36" commemorative tour poster for the band's first show with Neil Peart on drums - Rush's August 14th, 1974 appearance at the Civic Arena in Pittsburgh. You can check out the listing for the poster online at this location.

Yesterday was Valentine's Day and to celebrate the occasion CBC Music created a bunch of free printable musical valentines including one Geddy-themed Valentine which you can check out here. It has a dreamy photo of Geddy with a sailboat in the background and a verse from Closer to the Heart written on it.
Rumor has it that a Rush-themed t-shirt for Record Store Day this coming April 20th is in the works and will be available for purchase online via the Record Store Day website (thanks Lynn E). To learn more about Record Store Day check out their website at RecordStoreDay.com.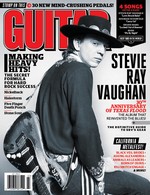 The March, 2013 issue of Guitar World magazine has a short interview on page 33 with Jane's Addiction guitarist Dave Navarro where he discusses the band's current setlist and how he likes to insert Rush riffs during certain songs:
... I like to secretly throw in all kinds of stuff during our sets. During [Up the Beach] I'll throw in a piece of Rush's '2112'. Nobody ever catches it. But you'll see me and Stephen [Perkins-drummer] look at each other and smile like, "if Perry [Farrell-vocalist] ever knew we were playing Rush in Jane's Addiction!" [laughs] ... Here's a little-known fact: at the end of [Three Days], I usually break into Rush's 'Xanadu.'" ...
The issue also happens to contain guitar and bass tabs for Fly By Night. Last year Navarro was interviewed in his car by the PopCandiesTV YouTube channel and the interviewer asks him about the Rock and Roll Hall of Fame. Dave then explains how much of a travesty it is that Rush hasn't been inducted (at the time of the interview at least). You can check out the video at this link.
Earlier this week Blabbermouth reported that a new KISS biography titled Nothin' To Lose: The Making Of Kiss - 1972-1975 will be released on August 20th. The 544-page hardcover book is written by Gene Simmons and Ken Sharp and includes original interviews with Paul Stanley, Gene, Ace Frehley, and Peter Criss, as well as producers, engineers, management, roadies, costume and stage designers, fans, and musical contemporaries from the time, including members of Rush. Rush toured extensively with KISS as their opening act back in the mid '70s. The book is available for pre-order at this location.
This past weekend Ultimate Classic Rock posted their list of the Top 10 Rush Songs of the '80s and topping their list was Limelight.
The Grammy Awards took place this past weekend and Buzzfeed decided to mark the occasion by compiling this eye-opening list of 18 artists that have never won a Grammy, one of whom is Rush of course. Rush is in very good company as such legendary rock acts as Led Zeppelin, Queen, The Who, Journey, KISS and Jimi Hendrix have also never won a Grammy. You can check out the entire list online at this location.
This week's episode of the audiojunkies podcast (episode #6) focuses solely on Rush. Hosts Cam, Lee and Mark talk about Rush for 60 minutes. You can give it a listen online at this location.
Reader Pat let me know that professional golfer Rocco Mediate was interviewed for Golf World magazine to discuss his recent victory in his Champions Tour debut this past Sunday. Mediate is good friends with Alex Lifeson and describes how Rush is a part of his warm-up routine:
Rocco Mediate warmed up Sunday ... the way he always warms up at a tournament, with a Venti ice coffee from Starbucks that included a quad shot of espresso and a splash of light mocha. From an iPhone speaker in his back pocket, his favorite band, Rush, was playing his favorite song ("The Garden") from their new album. "Alex Lifeson is a very dear friend," Mediate said of the band's guitarist and backing vocalist. ...
Porcupine Tree's Steven Wilson is set to release his next solo album The Raven That Refused to Sing in a couple of weeks and sat down with MusicRadar.com to discuss the album (thanks Kelly M). One of the songs is coincidentally called The Watchmaker and Wilson mentions Rush when describing the track:
... "We got some great bass sounds on the album, thanks to Alan [Parsons]. There's kind of a bass solo on this song, but it's one that I wrote out and planned meticulously. In the past, there haven't been a lot of opportunities for me to explore that. In my solo work, however, I've backed off heavy guitar stuff, which has opened up all of this space for things like keyboards and woodwinds but also this big, upfront lead bass sound. Think Geddy Lee or Chris Squire of John Entwistle." ...
Peter Brocklehurst has posted the next couple of chapters of his Neil Peart diary to his The Legends of Brocklehurst blog. In these chapters Peter covers the events leading up to the European leg of the Roll the Bones tour, where he was once again tasked with driving Neil from show to show. You can check out these installments and Peter's previous chapters at The Legends of Brocklehurst blog.
Thrash metal pioneers Anthrax will be including a cover of Rush's Anthem on their upcoming tribute EP Anthems. The EP is slated for release on March 19th and is available for pre-order at this location. A few weeks ago RollingStone.com made the track available for streaming online at this location. Apparently Rush has already heard the track and given it their seal of approval as pointed out in this RollingStone.com article:
... "A friend of ours sent [Rush guitarist] Alex Lifeson the track ["Anthem"], and he sent an email back saying he thought we did an incredible job with it and the arrangement," guitarist Scott Ian tells Rolling Stone. "And his actual quote was, 'I don't know that we could've done better; we certainly could've done worse.' We couldn't believe it. We were flipping out that Alex Lifeson even knows who our band is." ...
The track is now also available on YouTube. You can listen to it below or at this link:
That's all for this week. Have a great weekend!