UPDATE - 2/11@1:06PM:

You can check out Geddy Lee at about the 2:35 mark of this behind the scenes video for Sunshine Sketches of a Small Town (thanks VapourTrail).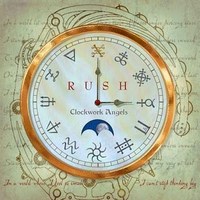 The big news of this past week was yesterday's announcement by sci-fi author Kevin J. Anderson that he will be writing a novelization of Rush's upcoming Clockwork Angels album! From Anderson's Facebook page:
... For more than twenty years, Neil and I have wanted to collaborate on something MAJOR, a way we could tie together our imaginations, and at last that's happening.

I'm writing the novelization of Rush's forthcoming album Clockwork Angels, their first new CD in five years. Imagine if someone had written the novel of The Wall, Tommy, or Sgt. Pepper's Lonely Hearts Club Band when those classic albums were released. For Rush fans, CLOCKWORK ANGELS is that project.

I worked together with Neil to flesh out the epic story told over the course of the music, as well as the artist Hugh Syme whose paintings fill the CD booklet. In a young man's quest to follow his dreams, he is caught between the grandiose forces of order and chaos. He travels across a lavish and colorful world of steampunk and alchemy, with lost cities, pirates, anarchists, exotic carnivals, and a rigid Watchmaker who imposes precision on every aspect of daily life. To whet your appetite, Rush released the first two tracks, "Caravan" and "BU2B"-listen to those songs to get an idea of the story's beginning.

I'm writing the chapters now, incorporating the lyrics into the narrative, and having a fantastic time. More details to come, but for now-to quote a line from Caravan: "I can't stop thinking big."
Anderson is a huge Rush fan and has drawn inspiration from Rush for a number of his writings. His 1988 Rush-inspired novel Ressurection, Inc. drew the attention of Neil Peart and the 2 have been friends ever since, even collaborating on the 1994 short story Drumbeats. Neil also wrote the introduction to Anderson's 2006 short story compilation Landscapes. Anderson's announcement certainly lends weight to the notion that Clockwork Angels will be conceptual in nature as Alex Lifeson explains in this recent Guitar World interview:
... Alex Lifeson stops short of calling Rush's upcoming Clockwork Angels a concept record, but he does admit that a theme runs through most the songs. "We have Caravan and BU2B; both of which we released already and played on the Time Machine tour," he says, referring to the group's extensive 2010-2011 outing. "Those two, along with three other songs, form a suite. The story of Clockwork Angels is in those five tracks." ...
Geddy Lee also adds the following in his recent Classic Rock interview:
... the title track is shaping up to be a classic Rush epic. "That song is a longer piece ... "There's a story going on," confirms Lee. "When we had discussions about themes for the album it was connected to the idea of a different kind of future and the whole aesthetic of steampunk, which is so cool. It's a futuristic point of view that's rooted in the past, which makes it so interesting. When you look at the steampunk designs they all look Victorian yet fast-forwarded in some magical way to the future. The idea of building a story around that world appealed to us. The Time Machine tour really was a preview of that. We jumped the gun a bit and got too excited and couldn't hold it back." ...
In light of the news that there will be a novelization of Clockwork Angels I thought I'd start a new poll asking everyone what they think of the idea and whether they'll read the book. Take the poll and let us know. For all the results from past rushisaband.com polls, view the poll archive. In other album-related news, it's assumed that the band is busily working on finishing up the mixing of Clockwork Angels and that we can still look forward to a release around late April. There are some signs that the band's new label Roadrunner Records is starting to slowly ramp up a promotional campaign for the album. Yesterday they released a video of several Roadrunner-signed heavy metal and progressive rock artists sharing their memories of Rush and why they love the band. The video contains interview segments with members of Opeth, Mastodon, Staind and Machine Head and you can watch it online at this link. Hopefully we'll see a single released in the coming weeks. Ultimate Classic Rock posted an article on the album earlier this week, but it only contained recycled information that was already well-known. On the tour front it looks like the band is definitely routing dates for a Fall tour, as several sources have reported that Rush has holds on dates at a number of venues for September and October. It's way too early to read too much into these reports, but at this point it looks like the band may be in the Midwest in September and the Southeast in October. More as I learn it.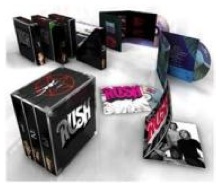 This past week there was finally some movement on obtaining replacements for the faulty Fly By Night and A Farewell to Kings discs in the Sector 1 and Sector 2 box sets respectively. The Sector box sets were released back in late November, and the flaws in the disks were immediately noticed by Rush fans worldwide. In early December Rush acknowledged the flaws via an official message posted on Rush.com and on their Facebook page. The message indicated that instructions on obtaining replacement disks would soon follow. It took a little over 2 months, but those instructions were finally posted earlier this week:
Replacement 'Fly By Night' CD's and 'A Farewell To Kings' DVDs are now available.

For US & Canadian fans, please contact Universal customer services team on:
e-mail: FishersCustSvc@umusic.com
Phone: 1-800-288-5942

For fans in the UK & Ireland please contact:
UK e-mail: mk.customerservices@umusic.com
UK Phone: +44 (0) 845 250 0965

For fans in Germany please contact:
Germany e-mail: rush@universal-music.de

For fans in any other country please contact your original Sector store where you made the purchase for assistance in getting your replacement discs.

Universal will ensure corrected discs get to the Sector-buying fans worldwide as soon as they possibly can.

Fans who have reported calling the 800 number in the US were simply asked to give their name, number and address and told that they'd be contacted later. Apparently they are still working on how to distribute the disks. Others who have sent messages to the provided email address have received replies saying that they'd be sending the replacements as soon as possible - hopefully in the next couple of weeks. If you use the email address, be sure to include your mailing address so they can send you the disks. Reader ReGorLaTroy contacted Amazon US directly and was assured by them that the Sector box sets now in stock are the corrected versions. So if you still need to purchase a copy of the sets, then if you buy them through Amazon you should be getting the corrected versions now. On a related note, the February/March edition of Sound and Vision magazine contains a review of the three 5.1 surround sound disks included in the Sector box sets - namely Fly By Night, A Farewell to Kings and Signals. The reviews are very good overall and there are no mention of the flaws, so I assume they reviewed the corrected disks. You can read a scan of the review here (thanks Jeff B).
Sunshine Sketches of a Little Town is a sequence of stories by Canadian author Stephen Leacock that was first published 100 years ago in 1912. It is generally considered to be one of the most enduring classics of Canadian humorous literature. In celebration of the 100th anniversary, the CBC will be airing a film adaptation of the book this coming Sunday, February 12th. Canadian actress Jill Hennessy appears in the film and was interviewed for the CBC yesterday morning to discuss her role. About 4:25 into her interview she reveals that Geddy Lee makes some kind of mysterious cameo appearance in the film:
... and even Geddy Lee makes a cameo appearance. At the very end - stay for the credits - Geddy Lee will reveal himself. No spoiler, but he is - well, he's supposed to be throughout - but you see him at the end of the film. ...
You can watch the CBC interview online at this link.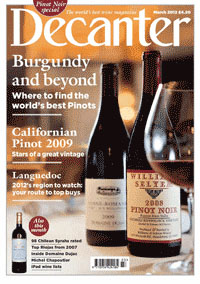 Speaking of Geddy Lee, he is featured in the March, 2012 issue of the UK wine magazine Decanter for a short interview in their My Passion For Wine column. Geddy talks about how he first became a collector and what his current preferences are. Here's a brief excerpt:
... I was introduced to fine wine while touring in the late 1970s. Alex Lifeson (Rush's lead guitarist) had a big interest in wine so promoters would sometimes give us wine as gifts... Alex and I always reward ourselves after a show with a good bottle of wine. It's a kind of hobby of mine to find a good bottle in whatever city we're touring in and surprise Alex with that. ...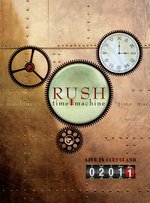 The list of 2012 Juno Award nominees (the Canadian equivalent of the US Grammy Awards) was announced Tuesday morning. Rush's live concert video Time Machine 2011: Live in Cleveland was nominated for Music DVD of the Year. Winners will be announced at the Juno Awards Ceremony at Scotiabank Place in Ottawa, ON on April 1st. Rush won a Juno award in this category for Rush in Rio back in 2004 and last year for Rush: Beyond the Lighted Stage.
Instrumental progressive rock band 4Front will be releasing their third album Malice in Wonderland on March 1st. 4Front's drummer is Hudson Music's senior drum editor Joe Bergamini. Bergamini co-produced and conducted the interviews on Neil Peart's Taking Center Stage: A Lifetime of Live Performance instructional DVD. The band is heavily influenced by Rush and other progressive rock acts and the new album includes a tribute track to Rush titled Many Places in a Rush. Rush album artist Hugh Syme also did the cover art for Malice in Wonderland. You can pre-order the album at Bergamini's website here, and it will also eventually be made available for digital download via iTunes, Amazon and other outlets. You can follow 4Front on Facebook here and watch this video of the band performing Blur from their 1998 album Gravity.

The latest edition of Classic Rock's Prog magazine goes on sale this coming Wednesday, February 15th. The issue includes exclusive interviews with the hottest acts in prog today including Rush, and also contains the results of their 2011 Readers' Poll. Geddy Lee won for Best Bassist, and Rush's Time Machine video took top honors in the Best DVD category. The cover is a collage of prog-rock artists and includes a small photo of Geddy Lee.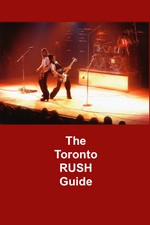 Reader and Apple Developer Steven Rae is a Rush fan born and bred in Toronto. He recently developed a Toronto Rush Guide app for the iPhone and iPad. The guide is extremely detailed and includes maps and descriptions for each location. It includes all the obvious landmarks like the site where the photo was taken for the Moving Pictures album cover. But there are also several obscure ones like the route a very young Geddy and Alex used to travel to/from each others houses to play music. You can purchase the app for just $1.99 for the iPhone or iPad via the iTunes app store.
Back in 2007 there was a Rush reference on the BBC comedy series Saxondale. In Episode 13 which first aired on September 28, 2007 there are several references to Rush's Caress of Steel album. The opening of The Necromancer, Part III, Return of the Prince was played a few times. Towards the end of the show Mags is chatting with Saxondale and is recounting a recent psychic cleansing experience she had. She then says, Bugger this, I want to listen to a bit of Rush, so I put on Caress of Steel, the Necromancer part III, Return of the Prince .... She continues on and then Saxondale interrupts her saying, SHHHH, you had me at Caress of Steel, the Necromancer part III, Return of the Prince. There's now video of this scene available on YouTube (thanks MickO) if you haven't seen it before.
Reader interceptor let me know that a few Rush road crew members received Tour Link 2011 Top Dawg Awards at the group's annual awards show on Saturday, January 28th in the Ballroom at Talking Stick Resort. The awards are bestowed upon the very best of the best in the touring community as voted on by their peers every year. Rush Front of House Engineer Brad Madix, Video Director Dave Davidian and Lighting Designer Howard Ungerleider won awards this year. Congrats guys!
Online satirical news site The Spoof posted an article earlier this week titled Rush: Why Do You Dorks Like This Band?, which features a perplexed non-Rush fan wondering why all of us dorks like Rush. :)
Reader Ronnie in Cumbria England noticed a recent Lord of the Rings-inspired Rush reference at memebase.com.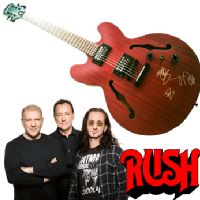 If you are a frequent flyer and looking to cash in on some of your miles, Aeroplan has a DOT Studio guitar signed by Rush available for just 260,000 miles. 100% of the proceeds go to War Child Canada - an Aeroplan Beyond Miles charity. Thanks to Eric D for the heads up.
Andrew Olson has posted 3 new replica Neil Peart drum kits to his Neil Peart fan site; Tom Hildreth's Chrome Ddrum Reflex kit, Sam Kesteven's Chromey Replica, and Shawn Freeman's Chromey Replica. He's also added some new functionality to his replica kits page, adding a slide show that plays on the main page and voting options for every kit.
Last year members of the Swedish metal band In Flames opened a new restaurant in Gothenburg, Sweden named Restaurant 2112 as a tribute to Rush's 2112 album. Blabbermouth.net reported earlier this week (thanks John at Cygnus-X1.net) that the restaurant has been nominated for a Best Restaurant award by the Swedish magazine Nöjesguiden Göteborg. For more information on the restaurant and to check out some pictures you can go to their website or visit them on Facebook. There's also this video interview from Metal Hammer magazine on location at the restaurant with co-owner Peter Iwers.
Spanish reader Brett sent along this impromptu interview of guitarist Dave Navarro (Jane's Addiction, Red Hot Chili Peppers) from PopCandies TV. Dave is driving in his car and the interviewer asks him about the Rock and Roll Hall of Fame. Dave then explains how much of a travesty it is that Rush hasn't been inducted.
Baltimore-based Rush tribute band Blame Canada will be making their debut performance this coming Saturday, February 11 in Baltimore, MD at The 8x10. For more information visit their website and visit The 8x10's website for ticket information.
Here's the video mentioned above of members of Opeth, Mastodon, Staind and Machine Head sharing their Rush memories and proclaiming their love for the band:
That's all for this week. Have a great weekend!