UPDATE - 12/24@1:54PM: As several have pointed out, this list is almost definitely bogus. I only posted it to point out that fact and be sure everyone is aware of it. After it was posted to Twitter I received several emails asking me as to whether it was authentic. This post is to address those questions and make sure everyone knows that it is not authentic.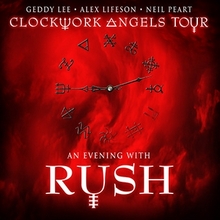 A few weeks ago Rush confirmed that they planned to extend the North American tour into 2013 via this message that was posted to Rush.com:
... Clockwork Angels 2013 in Europe is on sale now. And just because we had such a good time, we are now making plans for more dates in the spring and summer of 2013 in North America - so stay tuned for more announcements. Looking forward to seeing you out on the road again soon!
But now that the Holidays are in full swing, it's very unlikely we'll hear any sort of official tour dates announcement from Rush until after the New Year. However, rumors have already started floating around the net with regards to the specific tour dates including this photo of an alleged list of 2013 North American dates. The photo was posted to the InfoServ4Rush Twitter feed a few hours ago and lists the following dates (thanks Barry):
April 3rd: SPAC, Saratoga Springs, New York
April 5th: Nikon at Jones Beach, Wantagh, New York
April 7th: Mohegan Sun. Uncasville, Connecticut
April 9th: Susquehanna Bank Center, Camden, New Jersey
April 11th: PNC Bank Arts Center, Holmdel, New Jersey
April 14th: Giant Center. Hershey, Pennsylvania
April 16th: Jiffy Lube Live Amphitheater, Washington DC
April 18th: Nikon at Jones Beach, Wantagh, New York
April 21st: Charter One Pavilion. Chicago, Illinois

May 2nd: BI-LO Center, Greenville, South Carolina
May 4th: Intrust Bank Arena, Wichita, Kansas
May 6th: New Orleans Arena,, New Orleans, Louisiana
May 8tIn Cruzan Amphitheatre, West Palm Beach, Florida
May 11th: Ford Amphitheatre, Tampa, Florida

August 9th: Molson Canadian Amphitheatre. Toronto, Ontario
August 11th: Pengrowth Saddledome, Calgary, Alberta
August 13th: Colisee De Quebec, Quebec City, Quebec
August 15th: Post Gazette Pavillion, Pittsburgh, Pennsylvania
August 17th: Nissan Pavillion, Bristow, Virginia
August 20th: MGM Grand Garden Arena, Las Vegas, Nevada
August 22th: Red Rocks Amphitheatre, Morrison, Colorado
August 24nd: Amphitheater at Clark County, Portland, Oregon
August 27th: Shoreline Amphitheater, Mt. View, California
August 29th: sleep Train Pavillion, Concord, California
September lst: White River Amphitheater, Seatle, Washington

September 14th: Madison Square Garden, New York, New York
September 16th.: Nikon at Jones Beach, Wantagh, New York
September 18th: United Center, Chicago, Illinois
September 21st: Quicken Loans Arena, Cleveland, Ohio
There are a few things about this list that cause me to doubt its authenticity. For one, I'm unsure of the source. It also lists 3 separate dates at Jones Beach in Wantagh, NY including one on April 18th - the date of the Rock Hall induction ceremony in Los Angeles that Rush has promised to attend. It also would seem odd for the band to have a run of 11 dates in August, take a 2-week break and then play a short run of 4 dates. But since this list is now out there on the internet, I thought I would address it and point out that it's not an official list and that I can't independently verify its authenticity at this time. I'll continue to look into it and be sure to post anything that I can learn. Have a great Christmas everybody!
Related Posts:
[Rush confirm plans for 2013 North American Clockwork Angels tour]
[Robe Lighting website feature on Rush's Clockwork Angels tour; confirms 2013 North American tour?]
[Rush to film Phoenix and Dallas shows for live DVD release]
[Clockwork Angels VIP package merchandise finally shipping]
[Interview with Clockwork Angels String Ensemble violinist and concert master Joel Derouin]
[Getting to know the Clockwork Angels String Ensemble]
[Rush Clockwork Angels tour setlist update]
[Rush Clockwork Angels tourbook now available online]
[Clockwork Angels tour opening night in Manchester open thread]
[Clockwork Angels tourbook and other merchandise now available at the Rush Backstage Club]
[New Rush Backstage Club contest: Win a Rush meet & greet!]
[Follow the Clockwork Angels tour on Twitter]
[Rush's Clockwork Angels tour to include a string section]
[Official Rush 2012 Clockwork Angels tour announcement and dates!]