UPDATE - 12/14@3:20PM: Akron-based Classic Rock radio station 97.5 WONE is running their annual Chords for a Cause charity auction to benefit The Wounded Warrior Project and up for bidding this week is an autographed Rush guitar (thanks The Gardener). You can view the auction and place your bid at this link.

UPDATE - 12/14@12:37PM: Here's a very cool holiday-related Rush news item from Chicago's WGN. Chicago Police officer Ron Haislet has been working on a miniature Christmas Village he sets up in his home for the past 10 years. He's also a big Rush fan:
... Ron is also a big fan of the rock band Rush, and he's created a miniature Rush concert experience. The scene features a rotating drum set and dozens of working lights he can control to the music. ...
You can watch some video of Ron's awesome Rush concert setup at this location.
----- snip -----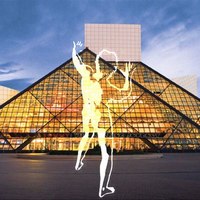 Whew ... what a week!! This past Tuesday Rush was announced as one of the 2013 inductees to the Rock and Roll Hall of Fame, ending 14 years of being snubbed by the institution and causing Rush fans across the globe to rise up in celebration (most Rush fans at least). The inductees were announced at a press event at the Nokia Theatre in Los Angeles by 2012 Rock Hall inductee (and Rush fan) Flea of the Red Hot Chili Peppers, with Rolling Stone magazine breaking the news via this press release at about 2:15PM EST.
The Rock and Roll Hall of Fame has officially announced next year's inductees: Rush, Public Enemy, Heart, Randy Newman, Donna Summer and Albert King will all join the class of 2013, with Summer, who passed away this May, and King, who died in 1992, earning the honor posthumously. Lou Adler and Quincy Jones will both receive the Ahmet Ertegun Award for non-performers.

"It's a terrific honor and we'll show up smiling," Rush's singer and bassist, Geddy Lee, tells Rolling Stone. "It made my mom happy, so that's worth it." Lee is especially happy for Rush's army of hardcore fans. "It was a cause they championed," he says. "I'm very relieved for them and we share this honor with them, for sure." ...
A flurry of press coverage followed the announcement including some comments from both Geddy Lee and Alex Lifeson. Here's what Alex Lifeson had to say in this Toronto Star article covering the induction:
... "I never really cared if it happened or not, to be honest with you," a cheerful Lifeson said down the line this week. "It doesn't change anybody's life at the end of the day. Are we going to become more popular? Are we going to sell more records? Are more people going to come to the shows? I don't know. We're quite happy where we are and with what we've accomplished. "So we continue to do the kind of work we want to do and we will continue regardless of our induction or not," he added. "I think at the end of the day, really, what this is about is making our fans feel like their support has been worthy." ...
Rolling Stone conducted an extensive interview with Geddy Lee (*SETLIST SPOILERS*) concerning the band's induction. Here's what Geddy said about his fellow inductees:
... I certainly have worked with Heart and I know them well. I'm very happy for them. I have great respect for Albert King and for Randy Newman. I don't know the music of Public Enemy very well, but I know they have a very strong fan base. They've certainly played a role in the development of that style of music for sure, so it's a nice group. To be frank, I am disappointed that Deep Purple is not included in that group. Certainly Heart and Rush would not sound the way we sound without Deep Purple. ...
And here was the band's official statement as posted at Rush.com:
"We are honored to be inducted into the Rock and Roll Hall of Fame. The 3 of us are especially appreciative of our loyal fans whose support and dedication has gone a long way to making this possible. P.S. And special thanks to our moms for voting 6000 times!" - Alex, Geddy, & Neil
The induction ceremony itself will occur on Thursday, April 18th, 2013 and Rush has promised that they will be there. Here are details from the Rock Hall website regarding tickets - which will go on sale January 25th:
Tickets to the 2013 Rock and Roll Hall of Fame Induction Ceremony go on sale to the public on Friday, January 25th. Rock and Roll Hall of Fame and Museum Members will have the opportunity to purchase advance sale tickets to the Rock and Roll Hall of Fame 2013 Inductions. Memberships must be active as of January 1st, 2013. Some restrictions apply. Stay tuned for more details! Not a member? Click here to become one!

Scheduled for Thursday, April 18, 2013, the 28th Annual Rock and Roll Hall of Fame Induction Ceremony will be held at the Nokia Theatre L.A. LIVE in Los Angeles. This marks the first time since 1993 that the Rock and Roll Hall of Fame Induction Ceremony will be held on the West Coast. The ceremony will again be open to the public, as it was in 2009 and 2012 in Cleveland.
So if you are planning on going, be sure to become a Rock Hall member by year's end to get access to the pre-sale; the tickets will sell out FAST. The ceremony will not be broadcast live but will be shown on HBO one month later on Saturday, May 18th at 9PM EST. VH1 Classic has declared today as Rush Day in celebration of the band's induction. From the VH1 Classic Facebook page:
We're celebrating RUSH's induction into the Rock and Roll Hall of Fame by play Rush ALL DAY long on VH1 Classic!! Tune in + rock out starting RIGHT NOW!
For complete coverage of the Rock Hall induction, be sure to check out this post.

Speaking of Rush Day, next Friday, December 21, 2012 (written as 21/12/12 in some parts of the world) is International Rush Day! To celebrate the occasion a group of Rush fans are launching a new Rush Day YouTube channel which will feature tribute covers of various Rush songs. Over 20 amateur artists have already submitted videos created specifically for the Rush Day online event, and these will all go live on 21/12. You can subscribe to the Rush Day YouTube channel here. Thanks to DubLife for the heads up.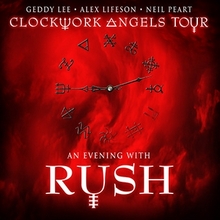 Now that Rush has been confirmed as an inductee and also indicated that they will attend the ceremony as well as perform, this brings into question how the timing of the ceremony might affect their Spring touring schedule. Last week Rush confirmed that they planned to extend the North American tour into 2013 via this message that was posted to Rush.com:
... Clockwork Angels 2013 in Europe is on sale now. And just because we had such a good time, we are now making plans for more dates in the spring and summer of 2013 in North America - so stay tuned for more announcements. Looking forward to seeing you out on the road again soon!
It's possible they were waiting to finalize some dates until they knew whether or not they would be inducted. In order to get a good run of 10 or so dates before Europe, they would have to start touring in mid-April. They may just schedule around the April 18th induction date, or maybe postpone and possibly shorten the first leg of the tour until after the ceremony. I'm presuming that if they don't announce any official tour dates in the next week or so, they will then wait until after the Holidays and we wouldn't likely hear anything until early January. It sure would be nice to have some new tour dates to put under the Christmas tree though!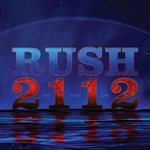 The 5.1 Surround Sound Deluxe Edition version of 2112 will be released this coming Tuesday, December 18th in the US/Canada and be available as a CD plus Audio DVD Deluxe Edition, a CD plus Audio Blu-ray Deluxe Edition and a CD plus Audio Blu-ray Super Deluxe Edition. All 3 versions will contain a digitally remastered CD with 3 unreleased live tracks along with a DVD or Blu-ray 5.1 Surround Sound mix of the album. Also included in each version will be expanded artwork, liner notes, lyrics, unreleased photos and brand new liner notes by David Fricke. The Super Deluxe version will be housed in a hardbound book with a 40 page comic book by story artist Tom Hodges. The DVD/Blu-ray will contain a digital version of this comic book, and an iBook version which also includes the lyrics, liner notes and photos will be available for sale separately. For all the details and technical specs, check out the Rush.com press release. There's also this short, 20-second preview video that shows a few images from the included 2112 comic book with 2112: Temples of Syrinx playing in the background which you can check out online at this location. The 2112 Deluxe Edition has already released in parts of Europe and reader rushfanben received his copy of the standard Deluxe Edition and sent along some scans of the liner notes.


When you play the DVD/Blu-ray, a picture (also drawn by comic book artist Tom Hodges) is displayed depicting the song, as shown in this image for Something for Nothing. The comic book faithfully depicts the story of 2112 as described in Neil Peart's lyrics - with each section of the song broken out in a chapter of its own. I've attached a screenshot of a scene from Discovery.
You can pre-order your copy today at Amazon (pre-order CD+DVD Deluxe Edition, pre-order CD+BD Deluxe Edition, pre-order CD+BD Super Deluxe Edition).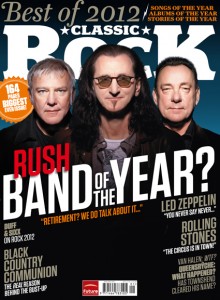 With 2012 nearing its end comes the inevitable year-end best of lists such as the January, 2013 issue of the UK's Classic Rock Magazine - which is a special edition featuring The Best Of 2012. The issue features five different cover photos with the headline Band Of The Year? with each cover depicting a photo of 5 bands deserving this distinction; Led Zeppelin, the Rolling Stones, Black Country Communion, Rivals Sons and ... RUSH! Earlier this week John over at Cygnus-X1.net transcribed the included Rush feature article and made it available online at this location. The article is an interview with Alex Lifeson and Geddy Lee where the pair reflect back on 2012, including the highly successful Clockwork Angels album and tour, the tragic death of Rush photographer Andrew MacNaughtan, the band's future plans, and more. R40 anyone?
... So what's next for Rush?
Alex: If we do a 40th anniversary tour, we probably won't make a record in that time, so that tour will probably be a retrospective. But I don't know. We've been touring a lot, and I wouldn't want us to get overexposed.
Geddy: The idea of touring year in year out is exhausting. There's got to be a point where we cut that back. But as long as we have the desire to keep being creative together, we'll keep moving forward.

And if that anniversary tour does happen, why not put The Fountain of Lamneth back into the set?
Alex: That would be a bit of a stretch! Maybe down the road somewhere. God, it's been so long since we revisited that era...

All the more reason to do it!
Alex: Um ... You know, there's a chance. I'd say one in a million.
Geddy: And I'm sticking with those odds.
Also publishing a few best of lists this past week was Guitar World magazine. They listed out their list of the Top 50 Albums of 2012 and Rush's Clockwork Angels came in at #2 - second only to Van Halen (thanks ou812112). They also included a quote from Alex Lifeson in their Year in Quotes feature:
"It is challenging to try to create as big a sound as I think we have, particularly live-you can do anything on record, of course. So when you come offstage, knowing that you nailed it, that's an amazing feeling."
And MusicRadar.com included Rush's The Wreckers in their best of 2012 playlist saying the following (thanks Ralph H):
Bucking all standards and practices of Music 101, Rush insist on getting better and cooler, looser and more vibrant, and in 2012 they released Clockwork Angels, a grand concept album that moved at a brisk pace and didn't get bogged down by plot or other clunky artifices. The Wreckers, propelled by rousing flamenco strums, at times evokes The Who and The Kinks, but it's clearly the work of a band comfortable in their own skin - more so now than ever. (Joe Bosso)
Earlier this week wine expert Mark Oldman posted more of his 2010 video interview with Alex Lifeson from inside the Lifeson wine cellar. You can watch the interview at this location. Alex Lifeson along with dozens of other celebrity wine lovers are featured in Oldman's 2010 book Oldman's Brave New World of Wine where they discuss their favorite wines and wine-based experiences.
Speaking of Alex, Lerxst used Mesa Engineering's Mesa Boogie Mark V amplifiers on Rush's Clockwork Angels tour. Mesa recently caught up with Lifeson's guitar tech Scott Appleton backstage where he gives a video tour of Alex's amps and effects, explaining how they no longer need to use acoustic guitars or live guitar cabinets on stage. You can watch the video tour at this location.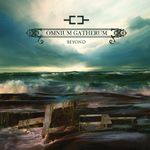 BW&BK reports that the follow-up to Finnish death metal band Omnium Gatherum's 2011 release New World Shadows will be titled Beyond, and is set to be released on February 25th in Europe and March 5th in North America via Lifeforce Records. Apparently a special edition of Beyond will be released which will include a cover of Rush's Subdivisions.
In celebration of Rush's Rock Hall induction, Chris Holmes at PopDose.com wrote an article earlier this week where he picks The 15 Best Rush Songs Since the 1990s. You can check out his list at this location.
Reader Hentor the Barbarian pointed me to this article at The English soccer website Football365. The author uses a bunch of Rush references to illustrate his point. You can check it out at this location.
In celebration of today's release of the film adaptation of J.R.R. Tolkien's The Hobbit, RollingStone.com posted an article titled Ramble On: Rockers Who Love The Lord of the Rings where they profile artists who have written songs inspired by the works of Tolkien including Rush:
Rush's drummer-lyricist Neil Peart has always been a voracious reader. He must have worked his way towards The Lord of the Rings by the mid-1970s, because 1975's "Rivendell" was named after the great Elven city where Elrond dwelt. The following year, Peart wrote "The Necromancer" - which was Gandalf's name for Sauron in The Hobbit.
Ultimate Classic Rock also included The Necromancer at #9 and Rivendell at #5 in their list of the Top 10 The Hobbit-Lord of the Rings Songs.
The St. Catharines Standard published an article in today's edition where they reflect back on Rush's 1976 appearance at the Welland Rose Festival with Ivy Riddell - the chair of the Festival at that time:
... As soon as the band struck its first note, the crowd was ecstatic, Riddell said. "I remember going out onto the walkway at the arena and thinking the music was so loud, but the young people loved them." Riddell remembers that no matter where anyone went in Welland that day, they could hear the band's performance. "My husband couldn't stand (being) inside the arena because the music was so loud for him. He went all the way to Burgar St., and he could still hear them playing at the arena." ...
Here is the video of the Rock Hall announcement press event from earlier this week:
Wow. Rush is actually going to be inducted into the Rock and Roll Hall of Fame... still can't quite believe it. What will we complain about now!? Well - they still haven't won a Grammy! Have a great weekend everybody!!