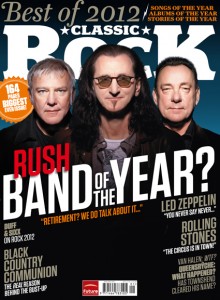 As we learned yesterday, the January, 2013 issue of the UK's Classic Rock Magazine is a special edition featuring The Best Of 2012. The issue features five different cover photos with the headline Band Of The Year? with each cover depicting a photo of 5 bands deserving this distinction; Led Zeppelin, the Rolling Stones, Black Country Communion, Rivals Sons and ... RUSH! John over at Cygnus-X1.net has transcribed the included Rush feature article and made it available online at this location. The article is an interview with Alex Lifeson and Geddy Lee where the pair reflect back on 2012, including the highly successful Clockwork Angels album and tour, the tragic death of Rush photographer Andrew MacNaughtan, the band's future plans, and more.
... So what's next for Rush?
Alex: If we do a 40th anniversary tour, we probably won't make a record in that time, so that tour will probably be a retrospective. But I don't know. We've been touring a lot, and I wouldn't want us to get overexposed.
Geddy: The idea of touring year in year out is exhausting. There's got to be a point where we cut that back. But as long as we have the desire to keep being creative together, we'll keep moving forward.

And if that anniversary tour does happen, why not put The Fountain of Lamneth back into the set?
Alex: That would be a bit of a stretch! Maybe down the road somewhere. God, it's been so long since we revisited that era...

All the more reason to do it!
Alex: Um ... You know, there's a chance. I'd say one in a million.
Geddy: And I'm sticking with those odds.
So it sounds like the band is planning to embark on an R40 world tour in 2014 where they will play Caress of Steel in its entirety. Right?! ;)