UPDATE - 11/30@1:07PM:

Reader Tony R sent me a lightened version of the screenshot from the movie TED that betters shows the Rush Starman poster on the wall.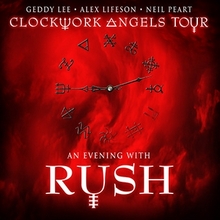 It's hard to believe, but only 2 more dates remain of Rush's 2012 Clockwork Angels tour. They'll play San Antonio tonight and then close things out in Houston on Sunday. This past week saw the band playing shows in Las Vegas, Phoenix and Dallas where both the Phoenix and Dallas show were filmed for an upcoming live DVD release. The Dallas crowd lucked out in that they got to hear one extra track from Clockwork Angels; the band had been consistently swapping out 2 songs from the album for their A and B setlists, but they played both for the Dallas show. Rumor has it that the Dallas show will be the main source for the DVD, with Phoenix being used for backup - so the band likely wanted to capture all the Clockwork Angels tracks in one show. Although it's still not clear how the Phoenix material will be utilized. Maybe some of the Phoenix tracks will be bonus material? Or maybe they'll intersperse some of the Phoenix footage with the Dallas? More details should be forthcoming next year closer to the CD/DVD release, which should occur next Fall. After Sunday the band will take a long, 5-month break until they pick things back up again in Europe next May. All signs point to Rush adding a 2nd North American leg next summer but there's still been no official word.


The official Rush tour photo gallery website at RushShowPhotos.com has begun offering customizable Rush Christmas cards from now through the Holidays. You can choose either a 4x8 flat card (20 for $40 or 50 for $75) or a 5x7 folded card (10 for $40 or 25 for $60). Simply go to the RushShowPhotos.com and click on the Buy link for any photo - then choose the Create a Card option. You'll then be able to customize your card with the photos available on the site along with a personal message. There are dozens of different holiday templates to choose from.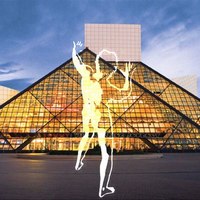 Early last month the Rock and Roll Hall of Fame announced their annual list of nominees for induction and much to our surprise Rush was finally included on the list. They also announced that for the first time ever the Rock Hall would offer the public a chance to participate in the induction process by creating an online fan poll that would count as one fan ballot towards the official vote on the ultimate list of inductees. As of this post, Rush still has a very comfortable lead in that poll with about 24.8% of the vote; Deep Purple is next with 16.8%. Voting will end this coming Monday, December 3rd when the fan ballot along with ballots from 600 or so rock historians, music industry insiders and past inductees will be counted up to determine the 5 or 6 inductees for inclusion in the 2013 class, which they will then announce sometime next week. I would be very surprised if Rush is not included on this list, and according to my latest poll so would most RIAB readers. You can read Geddy Lee's reaction to the band's nomination in this post and Alex Lifeson's here.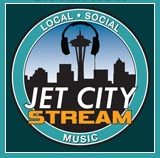 This coming Sunday, December 2nd at 9AM PST (12PM EST) Seattle-based digital radio station Jet City Stream will be airing a new interview with Neil Peart conducted by Michael Shrieve for his Notes from the Field program. The interview took place backstage at Seattle's Key Arena when Rush played there earlier this month. Michael chats with Neil for 40 minutes about music, drums, life, books and more. You can listen in live at JetCityStream.com and the program will also be posted online via SoundCloud the next day.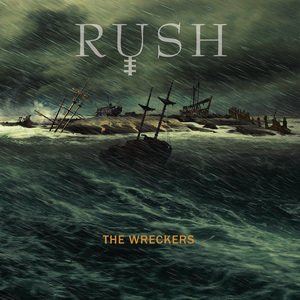 Rush's The Wreckers - the second single from Clockwork Angels - moved into the top 4 on the Mainstream Rock Charts last week although as of today it has dropped back to #7. The song also made Ultimate Classic Rock's list of the Best 2012 Songs coming in at #4 (thanks Chris S):
Rush pulled off one of the biggest surprises of the year by releasing a conceptual album that is sonically reminiscent of some of their best past work. 'The Wreckers' is part of that work, but strong enough to stand on its own, and musically the band have dialed back their approach to the three-piece format that served so well in their classic era, before every track became buried under layers of synths. There are orchestrations here, but the focus is on the core of drums, bass and guitars, and Rush are still one of the most lyrically intelligent rock groups in the world.



Classic Rock Magazine's 2012 Classic Rock Awards took place a couple of weeks ago at the Roundhouse in London. Rush was nominated in both the Band of the Year and Album of the Year (for Clockwork Angels) categories and won them both. Most of the awards including the 2 that Rush won were voted on by fans in an online poll that launched back in August. Rush obviously could not be there to accept their awards since they were playing the KeyArena in Seattle that night, but acknowledged the honor via this Twitter post. Accepting the awards on behalf of the band was James Dean Bradfield of the Manic Street Preachers. Bradfield was interviewed for a special iPad edition of Classic Rock Magazine covering the 2012 Awards. Reader Boolee sent along some scans of the interview which you can check out by clicking on the thumbnails above.

Former KISS drummer Peter Criss recently released his new autobiography Makeup to Breakup: My Life In and Out of Kiss and tells a funny story involving Rush on pages 330-31:
... When we first started headlining, we toured with Rush. Gene and Paul were more standoffish, but Ace and I really became good friends with them. They were good old Canadian boys who liked to smoke pot and drink scotch, really down-to-earth guys. And they came up with a character that they called the Bag. One of them would put a large brown paper bag over his head. Then they drew a face on the bag and they cut out eye holes so that, if whoever was under the bag was smoking a cigarette, smoke would come out one of the eyes. It looked very creepy. The Bag was very rude and nasty to women. So we'd invite him to the party just to cause chaos and anarchy. He'd come in and start insulting the women who were there, calling them whores and sluts. ...

Ace Frehley also mentions The Bag in his autobiography No Regrets that was released last year. Peter Criss's version gives a lot more detail, but in Ace's version he attributes The Bag idea exclusively to Alex Lifeson. You can read Ace's version of the story in this post and order Peter's book on Amazon here.
Speaking of touring with Rush, Cheap Trick drummer Bun E. Carlos was recently interviewed for the Legendary Rock Interviews website and talked a little about when the band opened for Rush back in 1976 (thanks blazebutler):
You know, we didn't actually do a tour with RUSH, we did a half dozen dates with them in about a period of a year. The first one was in Rockford down at the Armory at the end of 1976 and they gave us about 5 feet of stage (laughs) and uhh... no sound check and they wouldn't speak to us of course. Back then they were just a guitar, bass and a double kick set of drums. They didn't have a lot of gear to start but it seemed like each date we played they added stuff! One day Alex would add an acoustic guitar.. the next date they would have 2 acoustic guitars on stands... the next they would have some synth stuff and Neil would add bells or chimes and extra stands! So we didn't have much room! (Laughs) So after about the fourth show they had begun to warm up to us a bit I suppose. One day before a show one of their roadies came down to our dressing room with a hand full of joints and said Geddy sent these and wants you guys to come up and say hello! They ended up being the nicest guys in the world after they realized that we weren't competing with them or anything.
Earlier this week Rush made us aware via Facebook and Twitter of an eBay auction that's currently underway for a Rush Autographed Gibson Les Paul with all proceeds going to the Canadian Diabetes Association. For more information or to place your bid go to this location
.
Over the Thanksgiving weekend New York classic rock station Q104.3 compiled their annual list of the top 1043 songs as chosen by their listeners, and 14 Rush songs made the cut including 5 in the top 100: Tom Sawyer at #21, The Spirit of Radio at #48, 2112 at #51, Closer to the Heart at #74 and Limelight at #88. You can see how all the other Rush tracks did by going to this location and searching on Rush. Thanks to jtbald for the heads up.
Rock Square recently caught up with Porcupine Tree keyboardist Richard Barbieri for an interview and the subject of Rush came up a few times. It turns out that Barbieri only recently discovered Rush and had plenty of good things to say about them:
... I only just started listening to Rush about a year ago. I'd never heard Rush before. I started listening to Rush and I started to hear all these riffs I'd heard in Porcupine Tree or very similar, like the track "Signify." I said to Steven, "I heard a Rush track like that," and he just smiled.

I saw a Rush DVD and I really enjoyed it. I think I enjoyed it because of the strength of the band and the connection they have with each other. There's just something you can feel. It just works. ... even if you're not totally into the music, you know there's something magical and connected going on there. I felt that with Rush, they've got it whatever it is. ...
Barbieri also mentions recently meeting Alex Lifeson and the pair plan on golfing when their schedules allow. You can read the entire interview at this link (thanks Rob T).
Sports writer Sean Highkin recently wrote an article comparing Houston Rockets GM Daryl Morey to Rush. It's titled Daryl Morey, The Anarchist and you can check it out at Highkin's blog at this link (thanks Daniel G).
Peter Brocklehurst has posted Chapters 5-7 of his Neil Peart diary to his The Legends of Brocklehurst blog. You can check out these installments and Peter's 4 previous chapters at The Legends of Brocklehurst blog.

Reader Stergios K noticed a Rush reference in the recent Seth MacFarlane film Ted. In one scene towards the beginning of the movie (about the 8:45 mark) the main character and Ted are watching TV and a Rush Starman poster can be seen on the wall. It's dark, so it's hard to see - but it's in the upper right of this screenshot.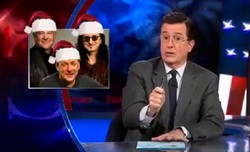 There was a humorous Rush reference in this past Tuesday's episode of The Colbert Report on Comedy Central. In the opening news segment Colbert relays a news story out of Canada about a 24-year-old Canadian grinch who was arrested for harassing children and telling them Santa Claus wasn't real. Colbert then goes on to say that there is no Santa Claus ... but only in Canada:
... but don't worry Canadian kids, you still have a Santa - it's just a Canadian Santa. Every year I believe it rotates to a different Canadian celebrity. Last year it was Nelly Furtado Claus (shows a picture of Nelly Furtado in a Santa hat), this year it's Rush (shows a picture of Rush with Santa hats on - see above). So that jing-jing-jingle you hear on the roof is just Neil Peart breaking into a 45-minute high hat solo.
You can watch the segment below or at this location. Rush was a guest on The Colbert Report back in 2008 where they played Tom Sawyer - their first TV performance in over 30 years.
That's all for this week. Have a great weekend everyone, and have a fun time at the Rush show tonight San Antonio!!