UPDATE - 11/23@12:37PM: Here's a bit of late-breaking news. Ultimate Classic Rock has posted their list of the Top 10 Albums of 2012 and Rush's Clockwork Angels came in at #2 behind Van Halen's A Different Kind of Truth (thanks John at Cygnus-X1.net):
Rush are quite simply a band to whom the rules don't apply. There's absolutely no logical reason why an uber-geeky Canadian progressive rock trio ought to be able to release a conceptual album in 2012 and not only get away with it, but still tour at the arena level. But with 'Clockwork Angels,' Rush not only pulled it off, they did so with such style that - almost alone of any classic rock band in the world - they've actually increased their critical respect. The much-maligned rockers are not only selling out arenas, they are also (finally!) in the running for the Rock and Roll Hall of Fame.
----- snip -----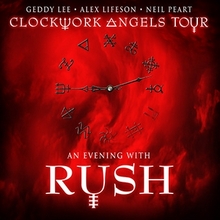 Rush made their way across SoCal this past week, bringing the Clockwork Angels tour to Anaheim, Los Angeles and San Diego. As is usually the case, several celebrities were spotted at Monday's LA show including actor Eric McCormack, actress/model and Playboy centerfold Carrie Stevens, actor Nate Barlow, poker director Matt Savage, actor Adam Baldwin, Robert Trujillo from Metallica, Matt Scannell from Vertical Horizon, Tool drummer Danny Carey, and actress Katrina Law. Tonight they'll play Sin City before working their way east to Phoenix and Dallas where they'll be filming both shows for an upcoming live DVD. After that they will finish off the 2012 tour with stops in San Antonio and Houston before taking an extended break. They'll be back out on the road in Europe next May. Those of us in the US and Canda should get another chance to see the band next summer; rumor has it that Rush has already begun the process of routing another run of North American dates for the July-September timeframe. Hopefully we'll get some official word on that front soon.
This past Tuesday between their LA and San Diego tour stops, Rush was inducted into Guitar Center's RockWalk in a private ceremony that took place at Guitar Center's Hollywood location on Sunset Boulevard. Jim Ladd gave an introduction speech followed by a short acceptance speech from Alex Lifeson. After that the band put their hands in the concrete and posed for photographs. Noisecreep.com posted video of the ceremony to YouTube at this location and Artisan News Service also covered the event. Getty Images has a bunch of photos of the induction posted at this location, as does ImageCollect.com. For complete coverage check out this post.
Last Friday Neil Peart once again updated the news page on his website with a story titled Witness to the Fall (contains tour setlist SPOILERS). Neil chronicles his travels between stops on the 2nd leg of the Clockwork Angels tour, including a little political discussion inspired by the Presidential election and the array of political signs he encountered. He also describes a meeting with Don George - his very first drum teacher - before the first Toronto show last month. It was the first time he'd seen Don in 45 years. Neil goes on to describe his recent struggles with tendinitis, his foray into social media with the West Side Beemer Boyz Twitter feed, he and Michael's attempts to stay one step ahead of the Frankenstorm, and the untimely death of Shane Danniels - son of Rush manager Ray Danniels - earlier this month. Shane was diagnosed with a brain tumor a few months ago and passed away on November 1st. He ends with some more political talk and his reaction to the outcome of the election, attempting to explain his current political beliefs. You can read the entire update at this location. Speaking of Neil Peart, his drum tech Lorne Gump Wheaton has launched his revamped website at LorneWheaton.com. The revamped site includes a sleek new design along with a ton of new photos, videos, Lorne's Edge Magazine interview and more.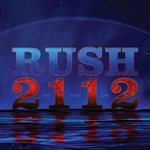 Last week Rush posted the cover art and other details for the 5.1 Surround Sound Deluxe Edition of 2112. You can check out a high-res version of the cover here, and here is an image of the Super Deluxe Edition showing the hardbound cd case, the comic book open to a page, the cd and the blu-ray disc. On December 18th the band will be releasing a CD plus Audio DVD Deluxe Edition, a CD plus Audio Blu-ray Deluxe Edition and a CD plus Audio Blu-ray Super Deluxe Edition. All 3 versions will contain a digitally remastered CD with 3 unreleased live tracks along with a DVD or Blu-ray 5.1 Surround Sound mix of the album. Also included in each version will be expanded artwork, liner notes, lyrics, unreleased photos and brand new liner notes by David Fricke. The Super Deluxe version will be housed in a hardbound book with a 40 page comic book by story artist Tom Hodges. The DVD/Blu-ray also contains a digital version of this comic book. For all the details and technical specs, check out the Rush.com press release. If you haven't already, you can pre-order your copy today at Amazon (CD+DVD Deluxe Edition, CD+BD Deluxe Edition, CD+BD Super Deluxe Edition).

Rush is featured in the latest issue of Canadian men's magazine Sharp for an article titled Rush's Rock Renaissance. The article discusses Rush's surge in popularity in recent years, focusing specifically on their Rock Hall nomination. It features interview segments with Geddy Lee, Randy Bachman (of Bachman Turner Overdrive), producer Nick Raskulinecz, author Chris MacDonald (Rush, Rock Music and the Middle Class), Jian Ghomeshi, and RushCon creative director Jillian Maryonovich. Here are some comments from Geddy Lee on the band's unique style of music:
... "We're not a Top 40 band," says Lee. "So it's not easy for someone on the street, who'd never been exposed to us, to listen to a Rush song and say, 'Hey! Love that, man. How catchy!' It takes a little effort to get into our music. We've marginalized ourselves in a way. We're a strange little band." ...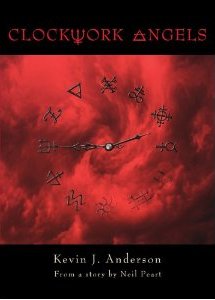 The latest issue of the ECW Press newsletter focuses on the Clockwork Angels novel and is tailored specifically to Rush fans. It includes details on a contest to win their last signed copy of Clockwork Angels: The Novel. The newsletter also contains an excerpt from My First Guitar by ECW Press author Julia Crowe where Alex Lifeson describes his first guitar:
"I was twelve years old when I received my first guitar from my parents for Christmas in 1965. It was a Kent Classic - a classical guitar that I put steel strings on."
There's also a short article included where Kevin J. Anderson describes his experience at last month's RushCon in Toronto:
... The RushCon attendees were warm and welcoming, very enthusiastic, and they asked questions about the creative process, details of the story, close connections with the lyrics. The line of fans for my book signing was the most gratifying I've had in years. I could have hung around with them for much longer - but we all had a concert to get to. ...
You can check out the newsletter online at this link.
Just in time for the Holidays, Mercury Records is offering up yet another reissue of Rush's back catalog. As part of their 5 Classic Albums series, they recently made available a 5 Classic Rush Albums package which includes Fly By Night, 2112, A Farewell To Kings, Moving Pictures and Signals. The albums are the standard 1997 remasters (NOT the 2011 remasters from the Sectors box sets), are packaged in individual jewel cases, and housed in an overall slip-case box.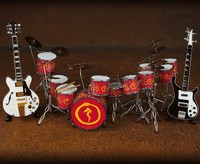 Axe Heaven in conjunction with The Power Windows site is offering a 15% discount on their revamped line of miniature replica Rush instruments. Included is a new replica of Geddy Lee's '72 Jazz Bass authorized by Fender along with Alex Lifeson's Gibson EDS-1275 Doubleneck or his Gibson ES-355, Geddy Lee's Rickenbacker 4001, and Neil Peart's Snakes & Arrows Drum Kit. You can also get the Rush three-piece miniature gift set, which includes the complete Neil Peart Snakes & Arrows drum kit set, Alex Lifeson's ES-355 and Geddy Lee's 4001. To get the 15% discount just use the coupon code PWRPROMO15. AxeHeaven is also offering a special 20% Black Friday discount today only - just use the coupon code 2012BFRI.
Reader rushmixtape5 noticed a Rush reference on a past episode of MTV's Ridiculousness. In Season 2, Episode 1 (first aired April 30, 2012) Justin Beiber was on the program. Towards the beginning of the show host Rob Dyrdek joked with Beiber - who is Canadian - about Canadian pride. Rob then showed a montage video of Canadians doing failed stunts played to the tune of Rush's Fly By Night. You can check it out online at this location with the Rush piece coming in at about the 2:25 mark.

A current commercial for CitiBank's iPad app contains a Rush 2112 reference (thanks David L). The 15-second spot shows a woman sitting in an airport using her iPad. She looks up and notices her flight is delayed. The flight information screen lists a flight 2112 departing to Toronto. You can watch the commercial on YouTube here and check out a screenshot here.
Reader David_MSP noticed an Alex Lifeson mention in the latest edition of guitar case manufacturer Xikar's email newsletter. They apparently presented Alex with a custom Clockwork Angels cigar case at a recent show:
[here] is a custom travel case we designed for Alex Lifeson, the guitarist for Rush. Alex had the travel case sitting on stage with him at the concert he played in New York City where Ron Melendi from De La Concha presented it to him.
You can see a photograph of the cigar case by clicking on the thumbnail above.
Rush documentary filmmaker Sam Dunn was recently a guest on CBC Radio 2 with George Stroumboulopoulos and the topic of Rush came up in the interview. After playing La Villa Strangiato the pair then discuss the band's impact on music and culture for about 10 minutes. You can listen to the interview online at this location from about the 2:35:00 to 2:46:00 mark. Thanks to RushFanForever for the heads up.
Here's the video of Rush's Guitar Center RockWalk induction ceremony:
I hope everyone here in the US had a great Thanksgiving and is surviving Black Friday. That's all for this week. Have a great weekend!