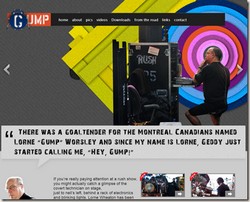 Neil Peart's drum tech Lorne Gump Wheaton has launched his revamped website at LorneWheaton.com. The redesign was first announced about a month ago, but it's taken a few weeks to work out all the kinks. The revamped site includes a sleek new design along with a ton of new photos, videos, Lorne's Edge Magazine interview and a cool bit of trivia about how Lorne got his Gump nickname:
There was a goaltender for the Montreal Canadians name Lorne "Gump" Worsley and since my name is Lorne, Geddy just started calling me , "Hey, Gump!"
Be sure to check out the site when you get a chance. You can also follow Lorne on Twitter at LorneGumpWheaton. Thanks to hermy and rosmakloma for the heads up, and Andy Olson for the screenshot.