UPDATE - 11/23@10:39AM: Photographer Alan Hess posted this great gallery of photos from the show.
UPDATE - 11/22@1:01PM: Here's a review from The Republika.
UPDATE - 11/22@10:27AM: There's a great photo gallery from the show posted over at Cygnus-X1.net.
UPDATE - 11/22@9:57AM: Reader Frank F was at the show and reports that Rush played the same, standard Night B set that they played in Seattle last week; complete setlist here. Official photos have been posted over at RushShowPhotos.com.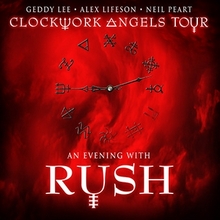 Happy 11/21/12 day everybody! Rush makes their last 2012 stop in California tonight when they bring the Clockwork Angels tour to the Vally View Casino in beautiful San Diego. They are due to play their Night B setlist but if they decide to make any changes, I'll be sure to post them here. This makes show number 30 on the 2012 tour with only 5 more to go after tonight. They'll go to Vegas on Friday before heading into Phoenix and Dallas where they'll be filming both shows for an upcoming live DVD. For everyone going to tonight's show - have fun, be safe and make sure to share your reports, reviews, photos and any celebrity sightings with us. RRUUUSSSSHHHHH!!!!!!
Date/Time: Wednesday, November 21st @ 7:30PM
Show Number: 30
Venue: Vally View Casino
Place: San Diego, CA
gallery: [view] [upload] [YouTube videos]
reviews: [reviews] [setlist]