UPDATE - 11/20@11:40AM: Here's a photo gallery slideshow from OCWeekly.com.
UPDATE - 11/19@4:34PM: Official photos are now posted at RushShowPhotos.com.
UPDATE - 11/19@12:29PM: Here's a review from the Orange County Register (thanks Mike A).
UPDATE - 11/19@11:41AM: Here's a review and a few photos from NoiseCreep.com.
UPDATE - 11/19@9:48AM: Here's a gallery of photos that was posted over at Cygnus-X1.net.
UPDATE - 11/18@5:37AM: Reports in the comments (thanks everyone!) indicate that the band played the slightly altered B set that they had played in Atlanta earlier this month; complete setlist here. It looks like Matt Scannell of Vertical Horizon was in the house; he tweeted a few pics from the show. Kevin J. Anderson was also in attendance.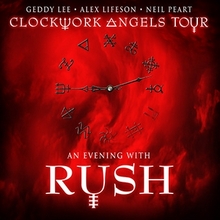 Rush continues their trek through California tonight when they bring the Clockwork Angels tour to sunny Anaheim to play the Honda Center. They are due to play their Night B setlist, likely the one they played in Seattle earlier this week, but might change up a track or two. As soon as I verify which setlist was played, I'll be sure to post it here. For everyone going to tonight's show - have fun, stay safe and be sure to share your reports, reviews, and photos with us. Rush on!!
Date/Time: Saturday, November 17th @ 7:30PM
Show Number: 28
Venue: Honda Center
Place: Anaheim, CA
gallery: [view] [upload] [YouTube videos]
reviews: [reviews] [setlist]