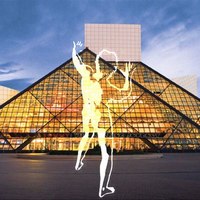 In the lead up to this coming Sunday's Rush show at the Quicken Loans Arena in Cleveland, Alex Lifeson spoke with the Cleveland Plain Dealer's John Petkovic about Rush's recent Rock Hall nomination, his friendship with his bandmates and Rush's longevity. Alex reiterates some of his other recent comments regarding the band's nomination:
... "We're happy for the fans that supported us over the years," Lifeson said during a phone interview before a show in Philadelphia. "But honestly, it's never really mattered to us." ... "I like to think that we're normal guys who never got caught up in the trapping of the record industry," Lifeson said. "I married my first girlfriend, I do the dishes at home and we're all still buddies. "That's why the whole Rock Hall nomination isn't that big of a deal," he added. "We've always been under the radar and just done what we wanted." ...
You can read the entire interview at this location. For the first time ever the Rock Hall is offering the public a chance to participate in the induction process by creating an online fan poll that will count as one fan ballot towards the official vote on the ultimate list of inductees. As of this post, Rush still has a very comfortable lead in that poll with about 24.5% of the vote; Deep Purple is next with 17%. Voting ends on December 3rd when the fan ballot along with ballots from 600 or so rock historians, music industry insiders and past inductees will be counted up to determine the 5 or 6 inductees for inclusion in the 2013 class; the final announcement should be made shortly thereafter.
Related Posts:
[Cleveland Plain Dealer profiles Rush superfan Peter Chakerian in wake of Rush's Rock Hall nomination]
[Geddy Lee on Rush's Rock Hall nomination in new interview]
[Alex Lifeson on Rush's Rock Hall nomination in new interview]
[Rush Rock and Roll Hall of Fame nomination news updates]
[It's official! Rush FINALLY nominated for induction into the Rock and Roll Hall of Fame!!]
[Rush finally nominated for induction into the Rock and Roll Hall of Fame!?]