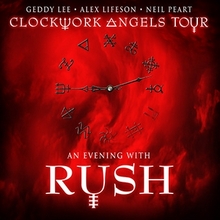 The Clockwork Angels album has fallen 9 spots from #61 last week to #70 on the Billboard 200 album chart in its 7th week of release. This past Wednesday Amazon.com began running an incredible deal where they offered up the entire album as a digital download (including the digital booklet) for only $0.99! This deal caused sales of the digital album to go through the roof, propelling it to #1 on the Amazon bestseller chart. The deal has since ended and the album is currently sitting at #2. Planet Rock named Clockwork Angels the best album of the year so far (thanks Lifeson_Times) and the album continues to get good reviews in the press and online. MetaCritic's metascore for the album is currently a strong 79 based on 11 reviews from major publications. Here are a couple more reviews that have come in over the past few weeks:
[cokemachineglow.com] 70/100
[Beats per Minute] 80/100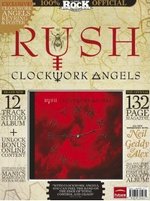 The Clockwork Angels Classic Rock fanpack magazine has been transcribed and scanned and is now available online at both the Power Windows site and at Cygnus-X1.net (thanks guys!!). The 132-page magazine includes extensive and exclusive interviews with all 3 band members, along with a full Clockwork Angels track-by-track rundown by Geddy Lee, and interviews with producer Nick Raskulinecz and long time cover artist Hugh Syme, and more. There's also a special iPad version of the fanpack available which you can purchase from iTunes.

The Clockwork Angels tour Twitter feed that I'd first mentioned last week has now morphed into the official Neil Peart Twitter feed complete with a call out on the NeilPeart.net homepage. The feed has been dubbed the WestSideBeemerBoyz and even has a cool logo to boot. Here's the feed's description:
Neil Peart Official - Join Neil, Michael, Brutus, and pals as they ride the Clockwork Angels Tour 2012-13 from a two-wheel motorrad perspective!
There have already been a bunch of great posts made to the feed since last week. Here's a good one from yesterday that gives us some insight into what the band is currently up to:
Another long day making intro videos. Full rehearsals come in two weeks then back on the scooter trash road! MM
I can't wait to see those new vids! You can follow the WestSideBeemerBoyz on Twitter at @praetorianx1.

Guitar Center is running a sweepstakes in celebration of their 48th anniversary where the grand prize is a VIP Rush concert experience in Los Angeles. The grand prize package includes:
* VIP trip for 2 to Los Angeles to see Rush in concert
* Chance to win $1,000,000 during the Guitar Center Anniversary Dice Roll
* VIP experience of Guitar Center's RockWalk induction of Rush
* Fender Road Worn Geddy Lee Jazz Bass Guitar
* $500 spending cash
The tickets will be for either Rush's November 17th show at the Honda Center or the Gibson Amphitheatre show on November 19th. Rush will be inducted into Guitar Center's RockWalk on either November 18th (according to the contest Rules & Regulations page) or November 20th (according to the official press release). The official press release also contains these extra details regarding the RockWalk induction:
... Each Guitar Center RockWalk induction will be held at the retailer's historic Hollywood location on Sunset Boulevard. The inductions, which are invite only, will include an induction speech and ceremony, in which the musicians' handprints will be immortalized for the millions of music fans who visit Hollywood each year. ...
For all the contest details and to enter just go to this link.
Rush was featured in last Friday's edition of UK newspaper The Sun for an article titled Rush: We've found a groove ... It's only taken 38 years. The article showcases the band's new Clockwork Angels album, declaring it the band's finest since the classic Moving Pictures in 1981. The article also contains interview snippets from all 3 band members. Here are some comments from Geddy:
... "We were allowing ourselves more improvisation on stage - that great feeling of not quite knowing where you were going or how you were going to get out of it. It was really exciting. We were really pushing ourselves. Later we said, 'Wouldn't it be great to have those moments on record too?' "

So Peart, perhaps rock's greatest drummer, abandoned his customary meticulous preparation.

"Neil just said, 'Look, I'm not going to figure out all the arrangements, I'm just going to do it on the fly'," said Geddy.

"What he got out of it was that he was just playing, just flying. He wasn't a slave to the traditional structure. He was experimenting throughout. We all were. You can see that we're really going for it. We're jamming - it's loose, accidental, experimental, and it works.

"We found a groove, the three of us. It only took us 38 years to get our groove on!" ...
You can read the entire article at this location.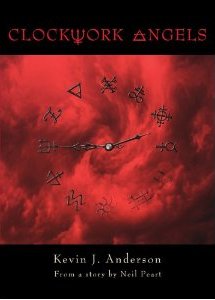 Kevin J. Anderson's novelization of Rush's Clockwork Angels album will release in about a month from now. This past Friday ECW Press in partnership with the Rush Backstage Club made a limited number of Gold and Silver signed editions of the novel available for sale, but sold out of both editions by the weekend. However, Anderson announced via his blog earlier this week that he would be offering signed copies (by him, not Neil Peart) of Clockwork Angels: The Novel for $24.99 via AnderZoneShop.com:
... you can order [an autographed hardcover] through AnderZoneShop.com for the cover price of $24.99. To be clear, this is signed by me (Kevin J. Anderson) and not by Neil Peart, but there's no extra charge. I will even personalize the copy, if you make a note in the "comments" field. Copies will ship at the beginning of September, as soon as I receive and sign them. (International customers, be aware that international shipping is pricey... I don't set that!) We also have bundles up if you would like to buy Clockwork Angels: The Novel along with my first novel Resurrection, Inc. (which was inspired by the Rush album "Grace Under Pressure," and was the book that originally brought me together with Neil) or a bundle with my new novel Death Warmed Over, the first in my Dan Shamble, Zombie PI series, which will be released at the same time as Clockwork Angels: The Novel. Save $5 with each bundle.
Another way to get a signed copy of the novel is to attend one of the several book signings and appearances that Anderson has scheduled over the next several weeks. He posted a list of all the conventions he'll be attending (including RushCon) to his blog last Friday. Anderson also has an appearance scheduled for August 23rd at Chapters bookstore in Toronto (thanks Andrew W). You can pre-order the audiobook version of Clockwork Angels (narrated by Neil Peart) at this location, and the hardcover edition here.
Carter Biel at The Lofty Oaks website was lucky enough to receive an advanced review copy of the Clockwork Angels novel from ECW Press and over the past week has written a series of blog posts as he reads the novel. The posts so far are - as he describes it - a sort of play by play movie trailer of highlights:
I don't think it is possible to "give away" a book like you can a movie. Books have much more happening on many levels. Plus the action is scrolling in your own mind with characters, scenes and settings of your own device. In that light I have decided to write a series of posts about "Clockwork Angels - The Novel" by Kevin J. Anderson and Neil Peart, as I am reading it. A sort of play by play movie trailer of highlights. I'll try not to divulge any real plot secrets or serious spoilers. I just wish to relay a few thoughts and insights as to go along with my reading. This will all lead up to an official review of the book in total. ...
He does a good job of setting the scene and giving a high-level description of what's going on in the novel without giving away any important plot points, but the posts do contain some spoilers so consider yourself warned. That said, the Clockwork Angels album itself is sort of a spoiler for the novel anyways, and we've all already heard the entire album and read the lyrics. He's currently well into the book and has written a total of 7 blog posts which you can check out at the following links (SPOILERS!): part 1, part 2, part 3, part 4, part 5, part 6, part 7. He'll also be writing more posts as he progresses through the novel.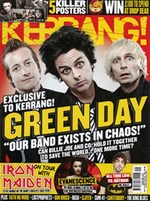 The latest issue of UK magazine Kerrang! contains a 2-page feature on Rush by Simon Young titled Conquering Mount Rush-more. The article includes a 10-point list of reasons why Rush are awesome, along with comments from Geddy Lee. John over at Cygnus-X1.net transcribed the entire feature earlier this week and made it available online at this location. Point number 1 on the list reads They inspired everyone!. Here are Geddy's comments on that:
"We've met so many bands who're massive fans, like The Mars Volta, but we've not had any [Wayne's World style] 'we're not worthy!' moments. When Foo Fighters came through Toronto a couple of years ago, Dave Grohl invited Alex and I to play YYZ [Moving Pictures, 1981] with them. They nailed it. It's a compliment when great musicians are fans of what you do."
You can read the entire article here.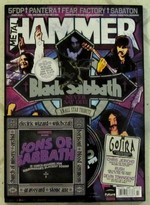 The July, 2012 issue of Metal Hammer magazine contains an article on Rush titled Kingdom Come where Alex Lifeson is interviewed and discusses the recording of Clockwork Angels, the band's Time Machine Tour, the Rush documentary and more. The magazine is a special issue paying tribute to Black Sabbath and contains a sidebar piece about how Rush met Ozzy Osbourne during the recording of A Farewell To Kings. Ozzy stopped by Rockfield Studios in Wales where Rush was recording - he was apparently looking for drugs and couldn't find any. Alex Lifeson also cites Iron Man as his favorite Black Sabbath song. There is also another sidebar piece as titled What Rush and Machine Head Have In Common.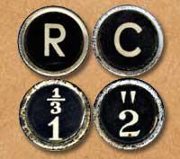 The folks at RushCon put out a request earlier this week for items to donate to their charity auction. From Facebook:
... It is that time again! Time for me to ask if there is anyone out there that would like to donate something cool and Rush-y to the RushCon Charity Auction. If you have anything you feel you can part with, please send me an email and let me know! I have some great items already, but always looking for more. :) Thanks, everyone!! auction@rushcon.org
The 12th annual RushCon will be held in Toronto at the Hard Rock Cafe on October 12-14, 2012 to coincide with the Rush concert on October 14th (and October 16th). For all the details just go to RushCon.org, and be sure to follow RushCon on Facebook and Twitter to stay up to date on all the latest RushCon news.
Jason Keller at the A.V. Club penned a great article earlier this week titled Dead zones: Why we shouldn't overlook recording artists' worst work. He uses Rush and particularly 1987's Hold Your Fire album to help make his point:
... Most Rush fans will agree that even at the band's stretch of lowest inspiration, it still can still crank out some good songs. But upon reexamination, many of albums that fall squarely in the middle of Rush's supposed low point-I'll call it the band's "dead zone"-aren't just relatively good. They're really good.

For example: 1987's Hold Your Fire. When it was released amid the fading glow of Rush's Permanent Waves/Moving Pictures heyday, Hold Your Fire must have felt like a weak echo. The thing is, even a weak echo of prime Rush is pretty fantastic. ...
You can read the entire article at this link.
Satirical website The Onion recently included a Rush reference in their American Voices series. They asked some fake Americans what they thought about the recent computer virus that targets Iran's nuclear facilities and is believed to be causing AC/DC's Thunderstruck to blast at full volume from Iranian scientists' workstations in the middle of the night. Here's what Salvage Inspector Brittany Tobias had to say (thanks Ralph H):
AC/DC is a good start. Then, slowly, they can be introduced to Boston, then some Rush, then Judas Priest, and then on to Mötorhead, after which they'll be so enlightened that they'll discontinue any nuclear weapons program.
Goldmine magazine recently posted an article where Blind Guardian guitarist Marcus Siepen counts down the 10 albums that changed his life (thanks RushFanForever). Number 10 on his list is Rush's Grace Under Pressure:
Surprise, surprise, I am not listing "Moving Pictures." "Grace Under Pressure" was my first Rush album and it still impresses me big time - what huge walls of sound those three guys can create, even live on stage, without all the options you have in the studio. I love this band, and actually many of their albums deserve a place on this list, but I guess "Grace Under Pressure" will always be my fave. Maybe because it was my first contact with this band.

Reader Russell G noticed a Rush reference in a series of webisodes for the SyFy channel's Warehouse 13. They are currently running a short series of webisodes called Grand Designs (another possible Rush reference) where Pete accidentally triggers an artifact that transforms the team into two-dimensional diorama versions of themselves, and returns the Warehouse to its original, unstable design. In episode 5, Lena finds the aisle where the artifact is located - aisle YYZ-2112. You can watch the webisode online at this link. The Rush reference comes in at about the 2:15 mark. You may recall that back in Season 1, Episode 9 of the Warehouse 13 television show there was a major Rush Snakes & Arrows reference. In that episode agents Myka and Pete are examining a drawing of an ouroboros - a snake swallowing its tail and forming a circle. Myka comments that the picture is a symbol of self-reflection and simplicity. Pete then adds ... and the best Rush album since Roll The Bones. Snakes & Arrows rocks!
Blogger Ben Sommer (bensommer.com, bandslikerush.com) recently put together a blog post where he performs some geeky analysis of Rush's album's sales data through 2007. He also posted a nice review of his favorite Rush album - 1989's Presto.
Back in April we first heard that thrash metal pioneers Anthrax would be including a cover of Rush's Anthem on an upcoming tribute EP. Some more information regarding the EP came to light this past week via a recent Loudwire interview with Anthrax drummer Charlie Benante:
To commemorate the first year of 'Worship Music' being out, we're putting together a little companion EP with some fun s--t on it," he said. "It started out as what I call 'The '70s EP.' It's made up of some cover songs from our favorite bands - consisting of Rush, Thin Lizzy, Boston, Journey... We're still working on it now, but I think it's gonna be really cool.
Gibson.com also adds that the EP is expected to release around September 13th and also include covers of AC/DC's T.N.T., Boston's Smokin' and Journey's Keep on Runnin'. Here's a one-minute YouTube video of Benante laying down the drum track for Anthem:
That's it for this first week of August. Have a great weekend everyone!