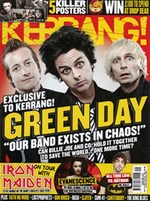 Last week I let you know that the latest issue of UK magazine Kerrang! contains a 2-page feature on Rush by Simon Young titled Conquering Mount Rush-more. The article includes a 10-point list of reasons why Rush are awesome, along with comments from Geddy Lee. John over at Cygnus-X1.net has transcribed the entire feature and made it available online at this location. Point number 1 on the list reads They inspired everyone!. Here are Geddy's comments on that:
"We've met so many bands who're massive fans, like The Mars Volta, but we've not had any [Wayne's World style] 'we're not worthy!' moments. When Foo Fighters came through Toronto a couple of years ago, Dave Grohl invited Alex and I to play YYZ [Moving Pictures, 1981] with them. They nailed it. It's a compliment when great musicians are fans of what you do."
You can read the entire article here. Thanks John!