UPDATE - 12/16@12:56PM: The band's management has also informed me that they are in the process of setting up an 800 number for folks to get the fixed discs (just replacements for the flawed discs, not a box set replacement), and will have all that information up on Rush.com once the discs are ready to ship. They also shared with me their response regarding some emails they are getting regarding other issues that fans are reporting hearing on the discs:
Please be assured that once the technical issue was found, the entire Sectors masters were revisited (again).

Rich Chycki had good time revisiting By-Tor on All The Worlds A Stage, and the listeners are correct that 'a sound' appears midway through the song. Like the studio version, that is the sound of ByTor-- a phase shifty type of angry animal sound that pops in and out around Alex's guitar solo. It's identical to the original vinyl version. There is no technical issue.

We know Rush fans in particular appreciate that the product being released now is the highest resolution to date, and that can reveal details that weren't apparent previously as well as revealing limitations of past media formats. I'm sure that fans appreciate that the masters are simply not recycled but fully re-transferred and remastered and will enjoy the differences in the products.
----- snip -----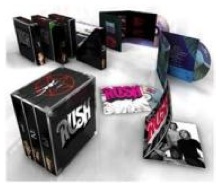 Since the release of Rush's Sector box sets a couple of weeks ago, several fans have reported issues with the Fly by Night CD on the Sectors 1 set, and with the A Farewell to Kings 5.1 DVD on the Sectors 2 set. If you've experienced these issues for yourself, you were not imagining things. The band has acknowledged these flaws and have taken steps to correct them as shown by this post on Rush.com late yesterday:
We are aware of some slight technical issues surrounding the CD of 'Fly By Night' inside the Sector 1 box set release and the DVD for 'A Farewell To Kings' inside the Sector 2 box set that some fans are experiencing. It stems from a production flaw and it is currently being addressed. As soon as production is completed a formal announcement of how to replace the discs will follow shortly. Please be aware that there may be a time delay in shipping and receiving the disc and we sincerely apologize for this inconvenience – Geddy, Alex & Neil
Related Posts:
[In the Studio with Redbeard special on Rush Sector box sets]
[Masterdisk chief engineer Andy VanDette on the Rush Sector box sets]
[Rush Sector box sets release open thread]
[Rush Sector box sets preview video now online]
[Rush sound engineer Rich Chycki on Clockwork Angels recording, Sector box sets]
[Rush 6-disc Sector box sets; Fly by Night, A Farewell to Kings, Signals in 5.1 coming November 21st]
[Rush 5-CD Sector box sets to release November 21st]
[Rush signs with Roadrunner Records]