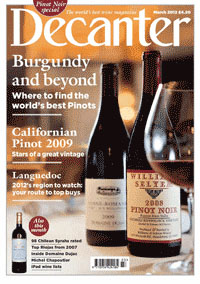 Geddy Lee is featured in the March, 2012 issue of the UK wine magazine Decanter for a short interview in their My Passion For Wine column. Geddy talks about how he first became a collector and what his current preferences are. Here's a brief excerpt:
... I was introduced to fine wine while touring in the late 1970s. Alex Lifeson (Rush's lead guitarist) had a big interest in wine so promoters would sometimes give us wine as gifts... Alex and I always reward ourselves after a show with a good bottle of wine. It's a kind of hobby of mine to find a good bottle in whatever city we're touring in and surprise Alex with that. ...
Thanks to Power Windows for the heads up and the excerpt.