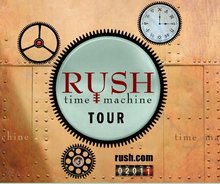 Rush rode the Time Machine up the Southern California coast this past week playing a show in San Diego on Sunday and back-to-back shows at the Gibson Amphitheatre in Los Angeles on Monday and Wednesday respectively. Tonight they'll head to Sin City to play the MGM Grand Arena and then make their way to the Pacific Northwest by way of Northern California, playing shows in Concord, Portland, Vancouver and finally closing out the tour in Seattle. Several celebrities were spotted at the LA shows including Jack Black, Danny Carey of Tool, Tommy Thayer (KISS), Tom Morello (Audioslave, Rage Against the Machine), John Wesley (Porcupine Tree), Matt Scannell (Vertical Horizon), Eric Kretz (Stone Temple Pilots), actor Adam Baldwin, publisher Andrew Breitbart and music industry insider Bob Lefsetz. Lefsetz wrote up a glowing report of the show in the latest edition of his popular Lefsetz Newsletter which you can read at this link.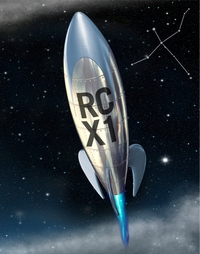 RushCon 11 (aka RushCon X1) takes place this weekend in Las Vegas. The festivities kick off tonight with the Rush concert at the MGM Grand followed by an after party at the Hard Rock Cafe on the Strip. Then there's the convention itself on Saturday at the Hooters Hotel and Casino - Night Owl Room. Online registration closes today at 12PM Vegas time but you may also pay at the door or during early check-in. For all the details be sure to visit RushCon.org, and if you can't make it you can follow all the action on Twitter and Facebook.
Back on March 21st Neil Peart taped an interview for the CBC's Strombo which aired last Friday night. The complete episode was posted online earlier this week to the CBC's Strombo website and you can check it out here. The interview is about 20 minutes long and Neil talks about a number of subjects including drumming, the early days of Rush opening for other acts like Kiss and Aerosmith, touring and his new book Far and Away. Neil's track-by-track breakdown of Moving Pictures that was posted online to the Strombo website a few weeks ago was not included in the telecast and looks to have just been a web exclusive. You can check out that 15-minute video at this link. There was also a 4-and-a-half minute preview video that the show posted online the week prior to the interview airing - part of which was included in the telecast. You can check that out at this link.
The Drunk and On Drugs Happy Fun Time Hour is a new Canadian television comedy series from the creators of the Trailer Park Boys which is set to debut on Showcase on July 22nd. The CBC reported earlier this week that Alex Lifeson will make a guest appearance on the show:
... The Drunk and on Drugs Happy Funtime Hour reunites actors Mike Smith, Robb Wells and J.P. Tremblay for a six-part miniseries, debuting July 22. The show begins with the boys accidently ingesting a variety of psychedelic drugs that make them believe they are creating a sketch comedy show. The trio portray a range of quirky characters, including the three stars of a fictional children's TV series called The Happy Funtime Hour. The trio have moved from Sunnyvale trailer park — the setting for Trailer Park Boys — to the fictional town of Port Cockerton. Rush guitarist Alex Lifeson, actor Jay Baruchel and other comedians have guest spots in the series, written and developed by Smith, Wells and Tremblay. ...
It's not clear exactly what Alex's guest role will consist of, but at one time in the show's development Alex had been cast as a mad scientist character. He ultimately had to turn down the role which was then given to Maury Chaykin who then passed away last summer, leaving some question as to whether this role was re-cast or just dropped from the show.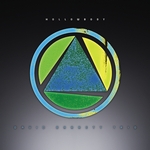 Speaking of Alex, all three of the David Barrett Trio tracks that he produced - Hollowbody, Sonar, and Disappearance - are now available for listening on SoundCloud at this link (thanks RushFanForever). Hollowbody and Sonar are also available for download on Amazon (Hollowbody, Sonar) and iTunes (Hollowbody, Sonar). David talks about the songs and how his collaboration with Lifeson came about in this January post on his blog.
Rush's Fly by Night was named one of Toronto's top 50 rock songs of all time by Post City Magazine. Here's what they had to say about it:
"Fly by Night" RUSH - it all began with the hiring of legendary drummer Neil Peart, who replaced John Rutsey for the band's second album and helped take the Willowdale group to dizzying heights of musical complexity.
They also posted 2 accompanying articles by Rush friend and Rheostatics co-founder Dave Bidini where Dave describes the contributions of both Geddy Lee and Alex Lifeson to rock music.
Vertical Horizon frontman and friend of Neil Peart Matt Scannell (who was at the 2nd LA show as I'd mentioned above) recently answered fan questions for a video that was posted to the Vertical Horizon website. Matt mentions Rush and Neil Peart a few times in the video when talking about influences and collaborations. You can watch the video at this link. The Rush mentions occur at the 7:00, 8:05 and 11:28 marks respectively. Thanks to sbabsovitch for the heads up.
Orange Amplifiers has organized a fund-raising charity auction called Music Aid for Joplin to benefit victims of the US tornado disaster in Joplin, Missouri. Among the items donated are a money-can't-buy 14" Sabian Paragon Crash cymbal personally signed by Neil Peart and personalized with the winner's name, and an Orange CR50BXT bass amp signed by Geddy Lee. The auction will begin on July 18th at FameBureau.com and end on August 24th. For more information read the press release at this link.
As I'd made known to you last month, NMR Distribution will be celebrating the 30th anniversary of the release of 1982's Signals with a Signals-themed 2012 wall calendar. The calendar is now available for pre-order through Amazon and other retailers. Although an official release date of September 1st is given, judging by past years the calendar will likely ship sometime in late July or early August. Along with this official wall calendar, Mead Calendars will be releasing their own version of a Rush 2012 calendar which is also now available for pre-order. This 16-month calendar depicts a different Rush album cover for each month as shown in this image. Thanks to plunge for the heads up.
Reader Jordan let me know that Rush: Beyond the Lighted Stage filmmaker Sam Dunn will be at the Jacob Burns theater in Pleasantville, NY on Monday, August 1st to do an interview and Q&A after a screening of the Rush documentary. For all the details check out this link.
The Slate's sports podcast Hangup and Listen has a weekly trivia question and this week's question was Rush-related. The question references Boston Red Sox first baseman Adrian Gonzalez who committed his first error of the year this past week and asks, What does that error have to do with the Rush album Signals? You can listen to the podcast at this link and the question is asked around the 15-minute mark. Thanks to Rob for the heads up.
Comedian and That Metal Show co-host Jim Florentine was a guest on this past Tuesday's episode of Jimmy Kimmel Live. Florentine recently became engaged and at one point in his interview Jimmy asks him when the wedding will take place. He explains that immediately after giving his fiancee the engagement ring she asked him when he wanted to get married. So he then says to his wife...
Florentine: [to his wife] Did you ever here of that rock band Rush? Do you know they have an album out called 2112? Well- that's when I want to get married.
Jimmy: you're basing it around an album.
Florentine: Pretty much. But [the wedding] will be in 2012- next July.
You can watch the clip at this link and the Rush mention occurs at about the 1:30 mark.
It's hard to believe but one year ago tomorrow on June 25th, 2010 Rush was awarded their star on the Hollywood Walk of Fame. Here's video of the Hollywood Reporter's coverage of the event including Billy Corgan's introduction along with Alex and Geddy accepting the award and some post-ceremony interview clips:
That's all for this week. For everyone in Las Vegas for the Rush show and/or RushCon - have a blast!