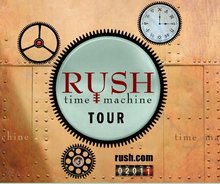 UPDATE - 6/23@9:12PM: Here's a review from the Hollywood Reporter.
UPDATE - 6/23@4:22PM: Official photos are now posted at the Rush on the Road Photo Store website.
UPDATE - 6/23@4:17PM: Here's a review from KLOS/TourBusLive.com along with this Facebook photo gallery (thanks JillyBean). JillyBean also tells me that she spotted Eric Kretz (Stone Temple Pilots) at the show.
UPDATE - 6/23@4:10PM: Here's a review from NoiseCreep.com.
UPDATE - 6/23@2:18PM: Apparently actor Adam Baldwin and journalist Andrew Breitbart were at the show hanging out together according to this tweet from Baldwin last night (thanks therockstar30):
Awesome!! Hanging with my 3 kids & @AndrewBreitbart & his kid at #Rush Concert during intermission! ~ #Priceless #ILoveLA! #WishYouWereHere
----- snip -----
UPDATE - 6/23@1:35PM: Brad of Used Bin Radio let me know that - in addition to Danny Carey - Tom Morello (Audioslave, Rage Against the Machine), John Wesley (Porcupine Tree) and Matt Scannell (Vertical Horizon) were also at the show and hanging out backstage.
UPDATE - 6/23@7:20AM: Reader cougar69351w spotted Danny Carey of Tool at the show.
Rush plays the second of their 2 back-to-back shows at the Gibson Amphitheatre in Los Angeles, CA tonight. Just like on Monday night, there should be a lot of celebs/VIPs in attendance for this one so keep a look out. After tonight's show there will be just 5 dates of the 2011 tour left! For everyone going tonight, have fun, be safe and make sure to share your photos, videos and reports with us.
Date/Time: Wednesday, June 22nd @ 7:30PM
Show Number: 33
Venue: Gibson Amphitheatre
Place: Los Angeles, CA
gallery: [view] [upload] [YouTube videos]
reviews: [reviews]