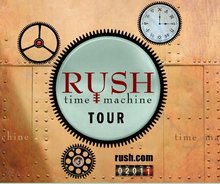 Rush kicked off the third and final leg of the 2011 Time Machine Tour Wednesday night at the BI-LO Center in Greenville, SC. Tonight they head to the Big Easy to play the New Orleans Arena, and on Sunday they head west to Texas to play the Frank Erwin Center in Austin. Speaking of Rush live shows, yesterday we learned that the title of the upcoming Rush live concert video of the band's April 15th performance at Quicken Loans Arena in Cleveland will be Time Machine. It is slated for release on both DVD and Blu-ray on September 27th. And if you haven't already, be sure to vote for Rush in MusicRadar.com's poll to determine The Best Live Act in the World Today. Rush is currently far out ahead of the pack with over 41% of the vote.
The past week was chock full of Neil Peart news, culminating with his appearance on The Late Show with David Letterman last night to round out the show's Drum Solo Week. Neil performed a 4-and-a-half minute truncated version of his tour solo. The full episode is now online at the CBS website and you can watch a YouTube video of Neil's solo at this location. MusicRadar.com caught up with Peart in New York City for an interview before his performance on the show this past Monday. Neil spoke at length about drum solos and described the solo he performed for the show:
... It's half improvised and half composed. I've tried to become more of an improvisational soloist over the past few years, pushing myself in the direction. So the first half of it follows a certain pattern of basic grooves – essentially, I try never to repeat, though – and then the second half is composed. I always say, 'I know where I'm going, but I don't always know how I'm going to get there.' To me, drum soloing is like doing a marathon and solving equations at the same time. Trying to edit everything for the Letterman performance is a lot for my tiny poo brain." ...
On Wednesday night's episode of the Late Show they did a humorous bit promoting Drum Solo Week at the expense of Representative Anthony Weiner, who is the latest US politician dealing with a sex scandal. They superimposed a photo of Weiner sitting behind Neil Peart's Snakes & Arrows kit and playing the drums with ... his weiner. :) You can watch the video at this link.
On Wednesday Neil updated the News page on his website with a story titled Singletrack Minds in the Sceptered Isle. In this installment Neil discusses his motorcycle travels throughout Ireland and the UK on the second leg of the 2011 Time Machine Tour including a bunch of spectacular photographs. You can read the update at this link.
Back on March 21st Neil taped an interview for the CBC's Strombo and a couple of weeks ago we learned that the interview would air next Friday, June 17th. According to reports from fans who attended the taping Neil talked about touring, his new book Far and Away and also did a track-by-track breakdown of Moving Pictures. As a sneak peak of sorts, earlier this week the show posted online the portion of the interview where Neil breaks down the Moving Pictures album to their website. You can check out the 15-minute video at this link.
The folks at Rhythm Magazine caught up with Neil Peart drum tech Lorne Wheaton at Rush's recent stop at the O2 Arena in London for a tour of Neil's Time Machine Tour kit. You can check out the 9+ minute video tour at this link.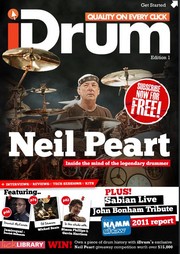 Back in March Lick Library launched a very cool and unique new interactive online drumming magazine called iDrum. Neil Peart graced the cover of their debut issue and was also featured in an in-depth video interview which you can check out online at www.idrummag.com. The magazine recently announced via their Twitter feed that part 2 of their Neil Peart interview will be included in issue #2 of the magazine which is due out soon.
Les Claypool of Primus was recently interviewed by the San Francisco Examiner regarding the upcoming release of the band's first album in 11 years - Green Naugahyde. Claypool got on the subject of his performance of The Spirit of Radio at Rush's Canadian Songwriters Hall of Fame ceremony last year and had this to say:
... "And it's funny, because I don't get nervous really," said the perpetually garrulous Claypool. "The things I get nervous about are strange things, like hanging out at my kid's school with all the parents. But that Rush thing I was really nervous about — we played 'Spirit Of Radio' with cello, vibraphone and marimba, and I said a little speech, and I actually kinda croaked a bit during the speech. And that's just not like me. But it was certainly strange playing in front of what looked like a society crowd. And the Rush guys! It was like everyone was wearing a monocle or something!" ...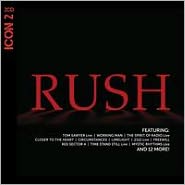 Yesterday we learned that Universal will be releasing an enhanced 2-CD version of last year's Rush ICON compilation on Tuesday, July 19th. The first disc in the set will contain the 12 tracks on the original release, and the second disc will include a selection of 11 live tracks taken from Rush's first 4 live albums; All The World's A Stage, Exit Stage Left, Grace Under Pressure Live and A Show of Hands. For all the details including the tracklist check out this post. You can pre-order your copy at this link.
Songmaster Studios' online music education website iVideosongs.com first went live back in 2008. The site has video downloads of guitar pros demonstrating their playing technique and Alex Lifeson was one of the original artists featured. You can learn how to play Limelight, The Spirit of Radio and Tom Sawyer directly from Lerxst himself. Each downloadable video is shot in high definition with a 1280x720 resolution, is around 35-45 minutes long, and costs $4.99. Rush fan and RIAB member Darin Loccarini picked up the guitar back in 2003 and learned how to play some Rush tunes through iVideosongs. He was recently featured in an article discussing the online video lessons which you can check out at this link.
Speaking of Lerxst, reader Eric D let me know that Alex Lifeson was featured in the latest email newsletter from PRS Guitars in regards to him using their new NF3 guitar on tour. It also includes a photo of Alex with the NF3. From the newsletter:
Alex Lifeson on Tour With The NF3

As a follow-up to our April feature on the NF3, more people are getting to know the MIPA award winning Narrowfield instrument. When RUSH came to Baltimore on the Time Machine Tour in April, we took one to sound-check for Alex Lifeson. We had a chance to listen through his rig before the show and it sounded amazing to us. Alex liked what he heard as well and used the guitar live that evening. The tour continued into Europe where Alex put the NF3 into regular rotation. Currently the band is making its way across the US, giving stateside fans another chance to catch RUSH and the NF3 live.
RushCon 2011 (aka RushCon X-1) will take place in two short weeks over the weekend of June 24-25th in Las Vegas, coinciding with the Rush concert at the MGM Grand Hotel on Friday, June 24th. One of the planned events for the Saturday convention is a 3-D Rush photography show. From the RushCon website:
The journey of being a concert-going Rush fan doesn't end with the last note. Live the full 'fan experience' being told through moving 3D photography from beyond the front row. See the stories from the die-hard fans who hit the road following the tour, the friendships formed along the way, and the live Rush experience itself. You will feel as if you are there, and the images will jump off the screen in this exclusive RushCon multi-media event. Featuring the steroscopic photography of famous Rush Fan Christopher Schneberger, and Official 'Rush on the Road' Tour Photographer, John Arrowsmith! You won't believe your eyes!
Christopher has posted a few preview shots to the Counterparts Rush Messageboard here. For all the RushCon event details check out this link, and go here to register.
Max Mobley of Crawdaddy.com recently penned an article discussing the state of the music industry and summer concert season which mentions Rush (thanks RushFanForever:
... Meanwhile, Rush is quietly packing amphitheatres for another go-around of their very successful Time Machine Tour. They're getting very little PR from their label, because they don't really need it. Rush, in spite of recent mainstream success, remains at their core a cult band. Besides, we Rush fans probably know what they're doing before their label does. At least it feels that way. In spite of the show being exactly the same as the one from last year, they are still selling them out, or nearly so. Rush's 2010 Time Machine Tour grossed almost 19 million dollars and sold over a quarter of a million tickets, making it number one on Billboard's Hot Tours for 2010, right behind my arch-nemesis Toby Marie Keith (yep, his middle name is Marie. Also, Pinkie Pie is his favorite My Little Pony). ...
Actor/writer Wil Wheaton tweeted the following this past weekend (thanks John H):
So it turns out that today is all about 2112 and Caress of Steel as I install a new VM on my lappy, and mod the hell out of my cellphone.
Reader Shawn let me know of a Rush reference in the new track from rapper Tech N9ne - Rock and Roll Nigga - on his recently-released 12th album All 6's And 7's. The particular line/reference is:
... Until we find them killas you know we will search for those who killed first, we gon' let the steel squirt, and this mentality's valid because we real hurt to ease the pain I listen to Geddy, Alex and Neil Peart. ...
You can listen to the track on YouTube at this link. The Rush reference occurs at about the 2:10 mark. He pronounces Peart wrong though... but I guess it wouldn't rhyme if he pronounced it correctly. :)

Reader narpet2112 noted that Rush's Countdown was quoted in this Rolla Daily News article about the last Space Shuttle launch next month. The author uses the line magic day when super-science mingles with the bright stuff of dreams. Just a couple of weeks ago was the final flight of the Space Shuttle Endeavour and a one-minute, edited clip of Rush's Countdown from 1982's Signals was beamed to the Shuttle as the wake-up music for the crew, specifically at the request of Mission Specialist Mike Fincke.
The Modern Rock Review website published an extensive feature on Rush a couple of weeks ago which includes two multi-part articles, two editorial articles, and a discography. You can check it out at this link.
Here's Neil Peart's drum solo performance on the Late Show with David Letterman last night:
That's all for this week. Have a great weekend everybody!