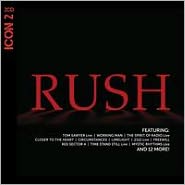 UPDATE - 6/9@9:30PM: Barnes & Noble has the cover art (pretty drab design) along with a complete tracklist (thanks Power Windows):
Disc 1
1) Working Man
2) Fly Be Night
3) The Necromancer
4) The Twilight Zone
5) Closer To the Heart
6) Circumstances
7) Freewill
8) Limelight
9) The Analog Kid
10) Red Sector a
11) Marathon
12) Force Ten
Disc 2
1) Bastille Day Live
2) 2112 Live
3) The Spirit of Radio Live
4) Tom Sawyer Live
5) La Villa Strangiato Live
6) Closer To the Heart Live
7) New World Man Live
8) Vital Signs Live
9) The Big Money Live
10) Mystic Rhythms Live
11) Time Stand Still Live
----- snip -----
Universal will be releasing an enhanced 2-CD version of last year's Rush ICON compilation on Tuesday, July 19th. The first disc in the set will contain the 12 tracks on the original release, and the second disc will include a selection of live tracks taken from Rush's first 4 live albums; All The World's A Stage, Exit Stage Left, Grace Under Pressure Live and A Show of Hands. You can pre-order your copy at this link. Thanks to RushFanForever and Power Windows for the info.